Hunt Photos Show Ketchikan in Pioneer Days
By DAVE KIFFER
March 22, 2008
Saturday

Ketchikan, Alaska - Of the handful of people who helped Ketchikan grow from a collection of beach shacks to a city in the early 1900s, one would be hard pressed to find a more crucial family than the Hunt family, which not only established one of the earliest businesses, but also documented the founding of Ketchikan with an extensive photo collection.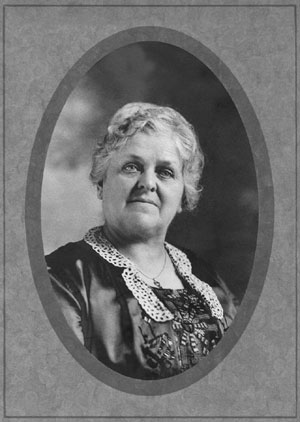 Harriet Elizabeth Frost Hunt
Born January 26, 1865, in Tumwater, Washington
Died June 14, 1934, in Ketchikan, Alaska
Photograph courtesy Ketchikan Museums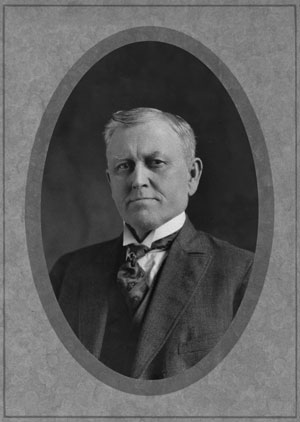 Forest Joseph Hunt
Born: January 15, 1858, in Newaygo County, Michigan
Died July 07, 1947, in Ketchikan, Alaska
Photograph courtesy Ketchikan Museums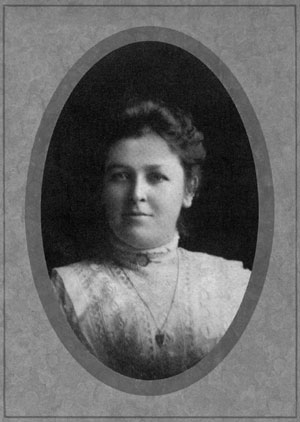 Bertha Elsie Hunt
Born March 20, 1883, in Pierce County, Washington
Died March 23, 1972, in Seattle, Washington
Photograph courtesy Ketchikan Museums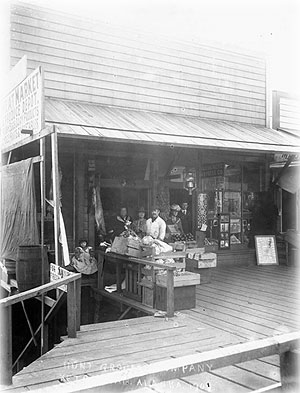 Hunt Grocery Store in Ketchikan, 1902
Hunt photo
Donor: Forest J. Hunt, Tongass Historical Society
Photograph courtesy Ketchikan Museums



Many of those familiar photos of Ketchikan's early years are now on display at the Ketchikan museum through mid April. Harriet (Frost) Hunt and her daughter, Bertha Hunt Wells were two of the first female photographers in the Territory.

The Hunt family history was one of moving west in order to make a better life. Several economic slumps hit the country in the years following the Civil War and that led the Frosts and the Hunts to head west as well.

The Frost family had come out West by wagon train in the 1844, surviving robberies and Indian attacks to make it to the Oregon Territory and become one of the first families to inhabit what eventually became Washington state. Harriet Elizabeth Frost was born in Tumwater, Washington on January 2, 1865.

The Hunt family was originally from New York, but was living in Michigan at the time of Forest's birth in 1858. After Forest's father served in the Civil War, the family moved to Nebraska, where Forest Hunt graduated from school. He and his father ­ Miles Hunt - then headed to Puget Sound where they heard jobs were plentiful.

First, they tried logging in the Gig Harbor area. Then Forest got a job teaching school.

In her family journal, Bertha Hunt Wells noted that it was common in those days for teachers to "board" with local families.

"Dad soon found the home where he much preferred boarding (the Frost Home), as mother was a pretty, vivacious girl, with light brown hair, blue eyes and a baby complexion ­ and his favorite pupil," Hunt Wells wrote in 1965. "Dad laughingly told me that the mother of some of his other girl pupils talked about him saying that he had been seen kissing her. Being a hot headed young man, not yet 22 years old, (he) went up to their farm and (accused) her of slander. Her husband came in and asked what the trouble was and when Dad told him, the man looked at his wife and said 'old woman, you keep your mouth shut.' That settled it."

Wells also wrote that from her father's expression it was clear that the 'old woman's' gossip had at least a grain of truth to it.

Lizzie Frost and Forest Hunt were married on March 31, 1880 at her home. Forest was 22, Lizzie was 15. Shortly after, he quit teaching and opened a store.

The Hunts had five children; Elmer, Dale, Bertha, Elaine and Amy. Elmer died at age 9 in Washington and the 1890s proved hard for Forest's business efforts. A depression hit the country and his store was failing, primarily because the local banks were in trouble.

When news arrived of gold strikes in Alaska, he decided to go north to Wrangell. He arrived there in 1898 and sent for his family. Harriet immediately took over the operation of a small café, the Blue Front. She was very popular for her lemon pies, according to a 1932 article about her in Juneau's "The Stroller Weekly."

In the fall of 1899, Harriet and the children went back to Tacoma for the winter. It was then that Forest decided to relocate to the village of Ketchikan which was showing an increase in mining activity. The "boom" in mining on the Stikine River had ebbed, primarily because the Canadian government was blocking efforts to build a railway up the Stikine River valley.

Hunt moved to Ketchikan in March, 1900 and his family joined him in June. The Hunts immediately opened a small store and became active in community affairs.

Harriet founded the lyceum club which became the library board and would serve on it for the rest of her life. She would also found the women's Chamber of Commerce and be active in local lodges and other groups.

Forest was elected to the city council and would eventually serve as mayor and then be elected to the Territorial Legislature. He was president of the Senate for one term. In the mid 1920s, he would make headlines by calling Ketchikan "vice ridden" and "wicked" as he urged the federal government to help "clean up" the First City.

During her time in Wrangell, Harriet Hunt had taken an interest in photography. Originally, she purchased a camera from Fred Carlyon to give to her daughter Bertha. But Harriet also discovered she enjoyed taking pictures as well. When the family was settled in Ketchikan, Harriet Hunt opened a photo studio and gallery in the family store. The Hunt store was one of the first to recognize the need to serve the visitor trade as well, making postcards and even putting Harriet's photos on china souvenirs.

She took hundreds of photos over the next few years, but then gave up photography over concerns about working with the chemicals and the physical exertion of lugging the big camera back and photographic plates back and forth, according to Bertha Hunt Wells. Harriet Hunt would work in the family store and also operate a book store for the rest of her life. One Hunt store was located on the water side of Front Street, across from the Ingersoll Building. The family lived in the upper floors of that building. A second store was also on the water side of Front Street just up the block.

Ketchikan resident Jane Church was 14 when her grandmother Harriet died in 1934. She told the Ketchikan Daily News in 1989 that her grandmother was a very friendly person.

"She'd meet the boat coming in, you know we didn't have airplanes then, and she'd greet everyone who came off," Church told the Daily News. "Soon, she'd know everything about them. She was very outgoing."

Church also said that her grandmother's love of reading left an impression on her.

"She read a lot and was self educated," Church told the Daily News in 1989. In fact her housekeeping suffered. "If she was reading she just forgot about the house!"




Ketchikan from Inman Hill, 1897
When Forest Hunt first saw Ketchikan, on his way to Wrangell in early 1898, it was probably about like this. Two years later, when he arrived to set up his meat market, there had already been major changes.
Photographer unknown
Donor: Forest J. Hunt, THS
Photograph courtesy Ketchikan Museums

Ketchikan from Inman Hill, winter, 1902
Detail from a Hunt photo
Donor: Forest J. Hunt, THS
Photograph courtesy Ketchikan Museums

Ketchikan from Inman Hill, winter of 1906-1907
Detail from a Harriet Hunt photo
Donor: Forest J. Hunt, THS
Photograph courtesy Ketchikan Museums

The Hunt photos represent some of the most familiar images of Ketchikan's early days. The narrow wooden streets and false front buildings, the fancy facade of the Stedman hotel. Numerous parades and other social gatherings. A series of photographs of Thomas Basin taken from Inman Hill show the collection of small houses turning into small city between 1900 and 1910.

Although Hunt's photos show the young community working to civilizing itself, Bertha Hunt Wells told a story to local historian Mary Balcom that was reported in the Ketchikan Daily News in 1965 that showed Ketchikan was still a "frontier" town.

Wells said that shortly before incorporation election in August 1900, Mrs. Hunt's sister Anna Morgan asked a hired man named Dan Robinson to take a letter to Mrs. Hunt.

The letter included instructions for Mrs. Hunt to purchase shoes for the Morgan children - Frances, Clyde and Virgil - and have Robinson bring them out to Ward Cove where the Morgans lived at the time.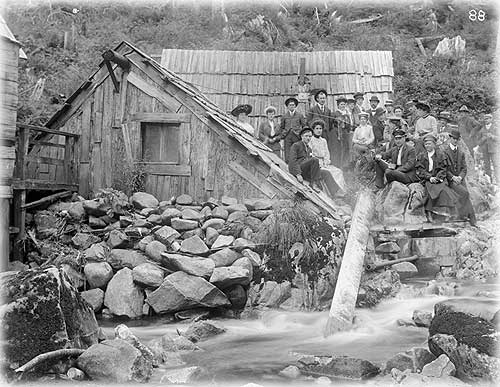 An outing at Bell Island hot springs, 1906
Hunt photo
Donor: Forest J. Hunt, THS
Photograph courtesy Ketchikan Museums

Unfortunately, after Mrs. Hunt purchased the shoes, Robinson took then and started visiting some of the local drinking establishments. Then he spent some time "across the creek" on Stedman Street. He got into a brawl. When Marshal Heney tried to break up the fight, Robinson hit him with an oar and broke his arm.

Heney went to the doctor to get the arm set and returned to his office, located near the current site of the Wells Fargo building. Meanwhile, word reached him that Robinson had a gun and was "shooting up" one of the saloons and threatening to kill to the marshal.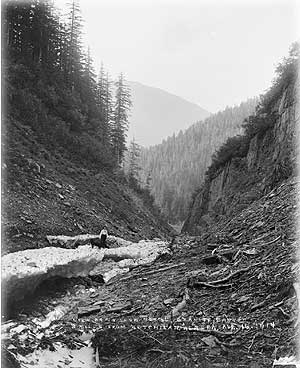 Granite Canyon, 1914
Granite Canyon is about three miles east of Ketchikan.
Harriet Hunt photo
Donor: Forest J. Hunt, THS
Photograph courtesy Ketchikan Museums

As Heney stepped outside his office, he saw Robinson standing in front of the Heckman Building on Dock Street. When Robinson raised his gun, Heney fired and killed him.

Bertha Hunt told Balcom that her mother then had to spend some time retracing Robinson's footsteps in order to find the shoes and then get someone else to deliver them to her sister.

In 1928, Harriet received a totally unexpected honor. James Wickersham and Anthony Dimond - the Alaska territorial delegates in Washington, D.C. - convinced the Republican party to make her the first female Republican National Committeewoman from Alaska.

In a 1928, letter to Mrs. Hunt, Wickersham wrote that he had "no doubt or hesitancy" about promoting her for the position. She would serve on the GOP National Committee for the next six years.

Harriet Hunt died in Ketchikan on June 12, 1934, at the age of 69, of a stroke, according to the Chronicle

An editorial in the Ketchikan Chronicle lauded her "forceful character, genuineness of purpose, tactful presentation, fidelity of ideals and thorough honesty."

After she died, her husband donated her photos to the city of Ketchikan. In her honor, a lake on Revillagigedo Island would also be named for her.

Her husband Forest would live on in the First City until 1947, dying on July 6 at the age of 89, after a long illness.


Editor's Note:
The exhibit of Hunt family photos will remain on display at the Tongass Historical Museum until April 13.
Note on the Exhibit Photos:
With a few exceptions, all of the photographs in this exhibit are believed to have been taken by Harriet or Forest Hunt, or by their eldest daughter, Bertha Hunt Wells. They are all digital prints. Most were scanned from original, 6 1/2" x 8 1/2 " glass plate negatives; others are scans of surviving contact prints made from glass plate negatives that have disappeared. A few are scans of old photographs.


On the Web:
Historical Ketchikan... Historical Alaska - More Feature Stories by Dave Kiffer


Dave Kiffer is a freelance writer living in Ketchikan, Alaska.
To republish this article, the author requires a publication fee.
Contact Dave at dave@sitnews.us
Dave Kiffer ©2008

Post a Comment View Comments
Submit an Opinion - Letter

Sitnews
Stories In The News
Ketchikan, Alaska