Bell Island Hot Springs was 'good for what ails you'
Local resort has been private club for the last three decades
By DAVE KIFFER
June 09, 2010
Wednesday

Ketchikan, Alaska - Oral tradition indicates that the hot springs on what is now called Bell Island, 40 miles north of Ketchikan on Behm Canal, have been used for centuries by the local Native tribes, who recognized the medicinal qualities of the springs and the mineral water.
The water temperatures at the hot springs range from 125 degrees to 175 degrees and for generations locals have sworn that it is "good for what ails you."
When Captain George Vancouver transited Behm Canal in August of 1793, he passed by Bell Island but took no notice of the hot springs. He later anchored in Port Stewart and then sent his ship's launch and small cutter out to further explore some of the bays and passages his bigger ship, the Discovery, was too large to enter.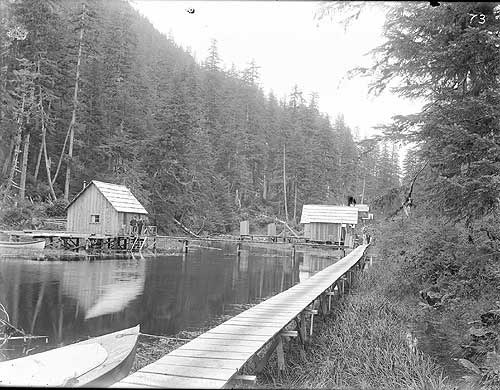 Bell Island buildings and walkway, 1904
Harriet Hunt photo; Donor: Forest J. Hunt
Photograph courtesy Tongass Historical Society

That was when Bell Island was officially named, after Edward Bell, a clerk on the voyage.
There is no evidence that any of Vancouver's men discovered or used the hot springs.
Ketchikan residents reportedly began visiting the hot springs, probably on the advice of local Natives, in the early 1890s.
There was a small bath house with a tub on site in 1899, according to regional Historian Pat Roppel in her 1995 work "Historical Guide to Revillagigedo and Gravina Island, Alaska."
In 1902, the Ketchikan Chapter of the Redmen's Lodge, Thlinket Tribe No. 4, decided to build a facility for its members at the hot springs. The August 18, 1902 edition of the Ketchikan Mining Journal noted that the project was "worthy and ought to succeed."

The paper didn't mention Bell Island specifically but reported the "bath house" was at the hot springs on Behm Canal, about 40 miles from Ketchikan.

"Members of that organization may go for recuperation and pleasure, having access to the baths without cost," the newspaper added.

Information in the Tongass Historical Museum files indicates that in addition to the bathhouse, the lodge also built and outdoor cement basin and a 3 foot wide, 1,200 foot long board walk from tidewater to the hot springs. Local physician J.L. Myers began recommending patients go to the hot springs.

Roe was first to see commercial use

But the first person to try to exploit the wonders of the hot springs was George Roe. Roe was a resident of Wrangell who had serious medical problems. According to information in the Ketchikan Museum files, a local carpenter named M.L. Bell took Roe to the hot springs. Doctors had told Roe that his unspecified ailments were incurable and Bell reported that Roe was unable to walk at the time he took him to Bell Island, which was on March 27, 1902.

Bell took Roe to the hot springs with a month's worth of provisions, according to a story in the July 1965 issue of the New Alaskan. Several weeks later, another boat came out with more supplies and the crew was surprised to find Roe still alive. Roe returned to Ketchikan and in 1904 filed for a homestead for the hot springs.

That set off a legal battle that lasted until 1918, when the courts ruled that government attempts to take over the site "for the public good" did not preclude Roe's prior claim on the site and Roe's heirs were awarded title to more than 100 acres of land around the hot springs.

In the meantime, Roe continued to work at the hot springs, erecting a second bathhouse, several cabins and a new boardwalk.

Federal fisheries agent John Cobb visited the site in 1905 and reported that two bath houses and 10 cabins.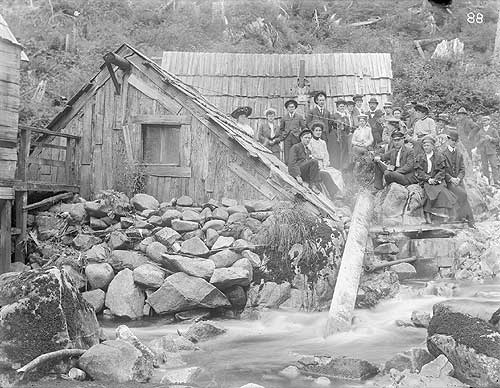 An outing at Bell Island hot springs, 1906
Harriet Hunt photo; Donor: Forest J. Hunt,
Photograph courtesy Tongass Historical Society

"One is compelled to dip the water from the filled receptacles in the bath house as the spring water is too hot when used directly," Cobb wrote in his journal, a copy of which is in the Tongass Historical Museum. "It is necessary to refill the cooling tanks so that the next bather will have water with which to cool his bath."

Cobb also reported that Roe had told him that occasionally spawning pink salmon would jump into the springs and quickly die. If they remained in the springs for 15 minutes they would be cooked.

Cobb's party also engaged in some fishing during his June 1905 visit, catching two nine pound steelhead trout.

A 1909 property survey listed a 14 by 32 foot, two story residence and store building with three rooms, three bath houses, a large foundation for a bath house, a 4 foot wide, 1,600 foot long walk way and a 618 foot long branch walk way. There were also 11 "other houses" on the property. Museum records indicate that the other houses were privately owned at Bell Island but only list E.W. Burney and N. Casperson as property owners. The records also note that Roe purchased a separate property from Mike Larson in 1909.

At least 14 acre of land was "cultivated" for vegetables in 1909 and there were 30 chickens. Records from the legal proceedings regarding the land title indicate that Roe rented cabins to "transients who visited for health reasons" for $10 per cabin per month.
When Roe died in 1914, he left 13 heirs who could not agree on what to do with the property.

At least one relative tried to sell the property. There was a for sale notice for "Bell Island Hot Springs" in the May 19, 1915 edition of the Ketchikan Progressive Miner.

"Composed of 22 cabins, store with $1,000 stock, dock and walk from dock to Springs," read the ad placed by W. L. Roe of Ketchikan. "Numerous number of springs. Five of the largest cemented, walled and fenced in and the water is seven feet deep. Creek flows by springs with good water power being fed by four large lakes. Springs are in the hands of the heirs of George Roe and their desire is to sell if reasonable price is offered in the near future."

Herrington owned property for 25 years

Apparently it wasn't and a court administrator watched over the site until 1923, when Anna Herrington and H.J. Raymond of Juneau purchased it for $8,000.

Things were quiet for a year and Herrington operated a small store there for several months but then her partnership with Raymond ended in a spectacular manner. First the partners argued over dissolving the partnership and the courts appointed a receiver for the property.

"At one point Herrington sent out Marie Roth to tend the store but she found a friend of Raymond's in the store selling things cheap," Roppel wrote in 1995. "Roth locked up the store and Raymond tore the door down. When Roth entered, he (Raymond) reportedly grabbed her by the throat and ejected her."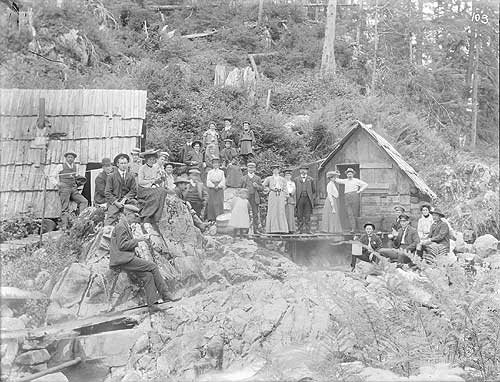 Bell Island Party, 1906
Harriet Hunt photo; Donor: Forest J. Hunt,
Photograph courtesy Tongass Historical Society

Both partners went back to court, with Herrington claiming that Raymond only wanted the property to facilitate his illegal (it was Prohibition) liquor trade.

Raymond wasn't the only one interested in capitalizing off the remote location of the resort. By early 1923, A.C. Mercer had filed for a small homestead along the resort boardwalk. He had a small cabin that included a card room and "soft drink" bar, according to Roppel.
A group of Ketchikan officials, including the Captain of a local Coast Guard cutter paid Mercer a visit. They stayed with him for three days while they collected enough "evidence" of beer, wine and other liquor.
A second group of officials visited on July 29th, 1923, collected more "evidence" and arrested Mercer. His case was remanded to a grand jury and he returned to Bell Island.
Officials came back again, for the third time, sampled his wares again and re-arrested him on September 15th. This time local federal officials hit him with an "abatement" order which meant he was not allowed to occupy his dwelling at Bell Island for a year. The court cases against him were dismissed the following year.
"Since officials did not raid Mercer's place again, he either left Bell Island, paid off the officials, or found a more discrete means of making and distributing booze," Roppel wrote.
The courts had a little more trouble sorting out the resort ownership situation involving Herrington and Raymond. Finally, the resort was sold at auction the day before Christmas, 1924. Anna Herrington purchased it for $24,000. She would own the property for the next 24 years.
Herrington and her partner, Marie Roth, remodeled the cottages and renovated the baths, using hot water to heat several buildings. New separate bath houses were built for men and women. Roppel noted each had four tubs, four cooling rooms and two dressing rooms.
Thirteen of the cabins had accommodations for long term guests including cook stoves, lanterns, bed linens and dishes. There were also rooms available in the main lodge building that offered limited room service.
"Who used the hot springs?" Roppel wrote. "Fishermen came after the season closed. Prospectors, stove up with 'shovelitis,' soaked their aching backs. Businessmen and their wives arrived on the weekly mailboat from Ketchikan to set up housekeeping. Legend tells of two 'little old ladies' who came each year to soak and drink the water for a month. They returned home so rejuvenated that they would dance a mean polka till the wee hours."
Locals began vacationing at resort in 1930s
Also, beginning in the late 1930s, Ketchikan residents began taking their own boats out to the hot springs, often as part of 'round of the island' trips lasting several weeks. Those trips generally stopped during World War II, but then picked up in earnest after the war and by the 1950s many Ketchikan residents considered a boating trip Bell Island a regular yearly 'vacation.'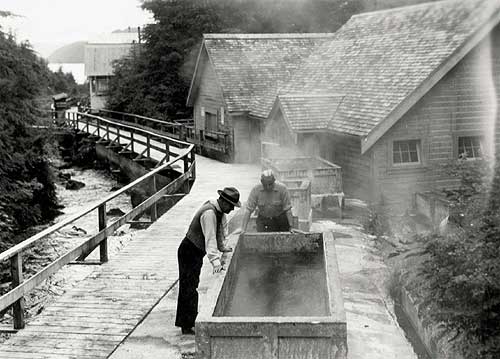 Bell Island Hot Springs, circa 1938
Donor: Jane Church,
Photograph courtesy Ketchikan Museums

Although Herrington and Roth put a lot of effort into improving the resort, they found that the upkeep of the facilities was very difficult. One of the biggest challenges was the quarter mile long boardwalk from the docks to the resort. The board walk often rotted quickly in the inclement weather. At one point, the Forest Service - which was developing a recreation trail beyond the resort - helped repair the boardwalk but for the most part it has remained a challenge for all the different resort owners.
During World War II, the Coast Guard maintained patrol boat and crew at the resort and also operated a radio station there, according to Roppel.
Although, there had been occasional mentions of the resort in the Ketchikan media off and on from its inception in the early 1900s, it was after World War II, that more concerted efforts were made by the owners to drum up publicity and encourage visitors to come to Bell Island.
An example was long news item in the Ketchikan Chronicle's "Today and Tomorrow" column on June 24, 1946 which noted that John Burkheimer (and his wife) and Mr. A.W. Murray (and his wife) had recently enjoyed a "big game hunt" at Bell Island with guide Willis (Handlogger) Jackson. In addition to bagging brown bear (on the nearby mainland) and 35 pound king salmon near the resort the report noted that Murray called the scenery at Bell Island "beyond description."
"Although I have hunted big game for 36 years.I can truthfully say I have never enjoyed a big game hunt quite as much as this one," Murray told the Chronicle. "As a result of our visit and knowledge of the attractions to be had at Bell Island, many of my friends (from Seattle) will avail themselves of the same."
The Chronicle noted that Murray and Burkheimer were prominent Seattle businessmen who had been encouraged to come to Bell Island by Ketchikan attorney A.H. Ziegler instead of making their usual annual trip to Canada.
By 1946, even though she had owned the facility for 22 years, Anna Herrington was still looking to make improvements. In another article in the Chronicle that year, she noted that she was planning to make a major renovation involving a new swimming pool, a new main lodge and a number of new cabins. She was also considering building a "hotel" at the resort.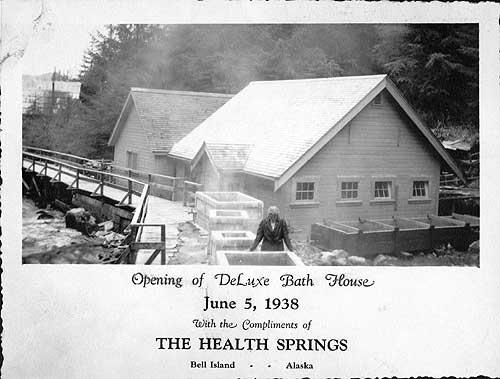 Opening of Deluxe Bath House, June 5, 1938,
With The Compliments of The Health Springs, Bell Island, Alaska
Donor: Jane Church
Photograph courtesy Ketchikan Museums

Blanton purchased site in 1948
But that work never commenced. Instead, in 1948, Herrington sold the resort to Walter Blanton and Jack Gucker.
According to the September 16, 1948 edition of the Ketchikan Daily News:
"Miss Herrington said she had been working too hard, had been unable to find trained help and felt that Blanton would be better able to develop the resort to fill the needs of the expanding Ketchikan district. Blanton who has spent 46 years in Alaska, 17 of them in Ketchikan, said he plans for development of the resort this winter. He will install and light and power plant, change the recreation hall and offer 24 hour catering serviceMiss Harrington took over the springs and built up the resort during the past 25 years to a point it is one of the best known in Alaska. It attracts clientele from most of the west coast as well as all over the territory."
Roppel, in her book, also noted that Ellis Airlines began offering special weekend rates of $6 each way to fly visitors and residents out to Bell Island in the early 1950s.
Although Blanton, who owned Ketchikan's Blue Fox restaurant, made some initial improvements to the resort, bigger news was announced in the December 1, 1950 Ketchikan Daily News. Ketchikan developer and hotelier Steve Ferris announced plans for a $2 million hotel at Bell Island that would turn the hot springs into a "health resort."
Ferris was the owner of the Stedman Hotel and was in the process of completing Ferris Court, Ketchikan's first real high rise building that would later be renamed the Mary Frances Apartments. As part of the deal, Ferris took out an option to purchase the entire 11 acre property from Blanton.
"It is Steve's idea to provide the tops in living comfort and fine food right out in the heart of the last of the 'wild country' in America, comforts comparable to the best that can be had in such places as Virginia Hot Springs, Sun Valley, Palm Springs and the best eastern health resorts," the Daily News reported, noting that doctors and nurses would be hired to manage the health facilities. "Fishing is offered the year a-round. Goat, bear, deer, geese, duck and small game hunting is offered in season. There will be facilities developed for skiing, yachting and pleasure craft in the many bays and inlets with unsurpassed scenery."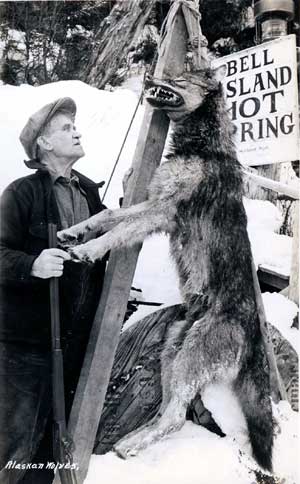 Trapper and wolf at Bell Island
Otto C. Schallerer photo; Donor: Mary Henrikson,
Photograph courtesy Ketchikan Museums
But Ferris's plans never came to fruition and management of the resort returned to Blanton a year later until he died in the mid 1950s. In 1958, Blanton's widow sold the resort to North Star Investments. Although the lodge continued to draw many outside investors, it remained very popular with the locals.
The January 3, 1959 edition of the Ketchikan Daily News featured a "report" from Clara Brack, the "Daily News correspondent at Bell Island" on the numerous local "holiday visitors" such as Ernie Eggers, Eldon Coon and family, Ed Magden and family and others. Brack reported that, although some of the two dozen visitors came out on boats like the Manana II, most flew out and back on Ellis Airlines.
Schaub took over ownership in 1960
By 1960, local businessman Herb Schaub had purchased the resort. Schaub would own the property off and on until 1973.
In a 1989 interview with the Tongass Historic Society, Schaub gave Blanton credit for building most of the "modern" buildings at Bell Island after a fire destroyed much of the resort in the early 1950s. Then Blanton died in a boating accident.
"He started to town in a boat, a little bit of a fishing boat," Schaub said in 1989. "It had a pilot house and an exhaust pipe going up from the engine to the pilot house he had a leak in the exhaust system, and when got out to Neets Bay, and the carbon monoxide got him and he fell against the wheel. It turned the wheel around and the boat was just setting around in the water. So when he didn't show up in town, they went out and found him and the boat was still afloat. That was the end of that."
In addition to renovated many of the buildings, Schaub also put in a very large swimming pool. He noted it was a difficult job, but it helped that he owned and operated a cement company in Ketchikan.
The 35 foot wide, 76 foot long pool cost more than $100,000, according to Schaub. It used only mineral water, Schaub said, because if fresh water was mixed in, algae would immediately start growing. That meant that bathers would have to wait until the water cooled after additional mineral water was initially pumped in.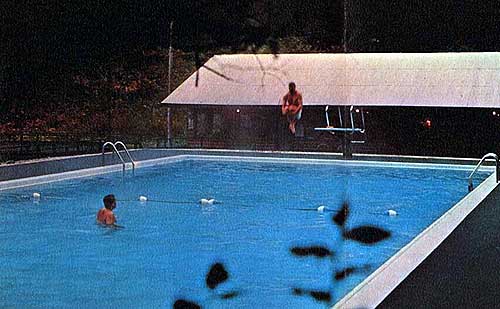 Bell Island Hot Springs Pool as published in a Pamphlet
Graphic courtesy Ketchikan Museums

"You had to wait 24 hours, a night and a day, before you got back in the pool," Schaub said. "Then it was warm, you just eased yourself in."
During the 1960s, Schaub noted that food service at the resort was rudimentary as many of the guests brought their own provisions and cooked in their cabins. He said that travel agents like Len Laurance and companies like Alaska Airlines "put Bell Island on the map" by advertising in Lower 48 and "all over the world."
"They flew in travel agents from all the lines," he said. "Quantas, Pan American Airlines, Japan Airlines and they just went overboard with the thing. We had them all in there. Hell, I had Bing Crosby up there and I had old Bob Hope up there and that violin man, had his hands insured for a million dollars, he was here too!"
Schaub also talked about the health "routine."
"They (the guests) would walk the walkway," he said. "They would walk the walkway (1,500 feet) twice a day and they would drink a gallon of mineral water. The mineral water had a lot of healing effects. If you were up there a week or 10 days and you washed your hands, the old skin would start to come off and, hair, it was good for women's hair."
By 1967, Alaska Airlines had taken out a lease on the property and managed it until 1970, when some corporate "infighting" led the company to return it to Schaub, he said.
During Schaub's time at the resort, the Ketchikan Daily News reported that cabins could be rented for $18 a day or $108 a week (for two persons) and that package trips were available ranging from $175 a week to $425 a week. For $425 (for two persons) , the package included airfare to and from Ketchikan, a heated, furnished cabin with bath and twin beds, meals at the lodge and a boat and outboard motor.
A monster steelhead
In 1970, Bell Island's renowned streelhead run was immortalized when eight year old David White caught a 42 pound, 2 ounce steelhead that was first mistaken for a king salmon because it was nearly 30 percent larger than any other steelhead ever caught. White's steelhead - an ocean going rainbow trout - remained the world record steelhead for more than 35 years before for it was finally topped by two steelhead caught in Canadian lakes in the late 2000s.
In 1973, Schaub sold the property to Jim Dykes of Port Orchard, Washington.
During Dykes ownership a prominent local man nearly died at the resort. Robin Taylor - before he became a state legislator and a Superior Court judge - was seriously injured when his boat exploded at the dock. Taylor was blown into the water by the blast which also damaged gas pumps, rental skiffs and the float and the gangway.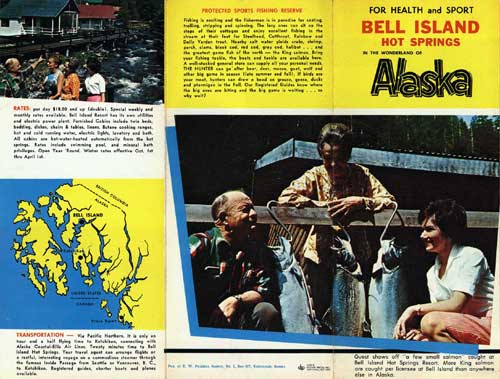 Bell Island Hot Springs Pamphlet Front: Click on the graphic for a readable pamphlet
Graphic courtesy Ketchikan Museums

Dykes owned Bell Island until 1978 when Don Peterson, an architect from Edmonds, Washington purchased it. Peterson brought in a small mill to reconstruct the boardwalk and make repairs on the wooden buildings according to Roppel.
Peterson also ramped up the Bell Island "publicity" machine, printing numerous brochures and other promotional items and by the early 1980s, Bell Island was bringing in plenty of outside visitors again.
In 1980, the Seattle Times listed Bell Island as one Alaska's top 10 attractions and a writer named Paul Luongo featured it in his 1982 book "America's Best" as the America's "best" salmon fishing location. Luongo noted that "more salmon are caught per license in Bell Island than anywhere else in Alaska."
Peterson's brochures noted that three night stays at the resort cost $795 - which of course included guided fishing - in 1984. Transportation from Ketchikan via floatplane was an additional $120.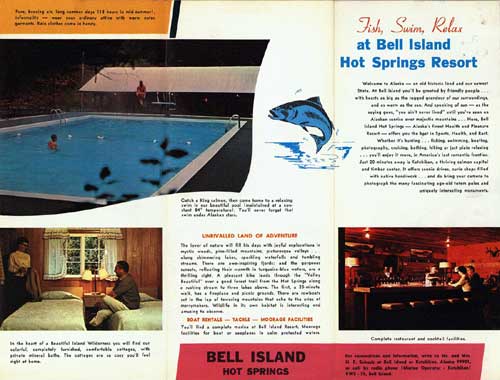 Bell Island Hot Springs Pamphlet Inside: Click on the graphic for a readable pamphlet
Graphic courtesy Ketchikan Museums

Texas Group Purchased Resort in 1984
In 1984, Peterson sold Bell Island to Northwest Discovery Joint Venture of Dallas, Texas which consisted of William Shoemaker, Starkey Wilson and Richard Bass. Initially, the resort continued to operate as a public facility but eventually became a private club that was no longer open to the public.
In 1990, the owners announced a proposal to create a "salmon ranch" at the property, which had been renamed Rediscovery Lodge. The idea was that a hatchery would be developed that would rear coho, king and steelhead eggs that were purchased from other facilities, including the Deer Mountain Hatchery, as well as some natural locations such as Bell Island creek.
But nothing came of that plan and by 1993 the resort was back in the courts as previous owner Donald Peterson was suing the Texas owners, claiming they hadn't made payments on the property since 1991.
When the legal machinations were complete, Starkey Wilson of Dallas, Texas was the sole owner of the property and continues to be to this day.
Recently, Wilson - who has an extensive history as a miner and geologist in Texas and Alaska - announced plans to develop a geothermal energy plant in the Bell Island area. He has applied for federal grant funding to study the potential of the power source.


On the Web:
Historical Ketchikan... Historical Alaska - More Feature Stories by Dave Kiffer


Dave Kiffer is a freelance writer living in Ketchikan, Alaska.
Contact Dave at dave@sitnews.us
Dave Kiffer ©2006

Post a Comment View Comments
Submit an Opinion - Letter

Sitnews
Stories In The News
Ketchikan, Alaska