Column
In search of steelhead
By JEFF LUND
December 21, 2013
Saturday PM

(SitNews) Klawock, Alaska - I didn't do much steelhead fishing growing up. The idea of standing in a cold river with a reduced chance of success because there were fewer fish did not appeal to me. Fishing season ended when the silvers turned red.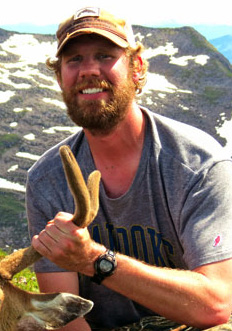 Jeff Lund
It was only after fishing became more than catching that I was able to appreciate the pursuit for what it is and adjusted my idea of a "fishing season" accordingly.
I thought about my seasoned attitude as I poked through the woods to the river's edge. A week of rain turned thin water into hearty riffles and deep edges, all reachable with a firm roll cast and all fishable with a mend or two but the swollen current was hiding stumps and rocks that were no big deal in July.
I gently slipped into the water and took extra time getting to a good casting lane. I've never been defined by my patience and though my impulsiveness has contributed to some pretty intense failures I haven't really learned, however, the 32 degree morning and high water forced caution.
I negotiated a log with a tangle of submerged branches, looked around, shook my head at the fact that I was actually there, and began casting a weighted nymph under an indicator.
I had no landing plan should I hook a steelhead and of course that's when fish like to strike - when you're unprepared. Somewhere on the drive up from California I lost my net. After catching a few rainbows on the Umpqua River in Oregon, I stuffed it between the tarp keeping my possessions dry and the cargo net keeping my tarps calm.
The last time I remember seeing it was in the parking lot of Cabela's in Lacey, WA, when I returned to my overloaded truck with a new pair of boots.
Though a steelhead wouldn't have fit in the net, it sure comes in handy when landing fish that do fit. From what I could tell, if it was a steelhead it was small, and given my unsure footing, rather than bring the fish to me I moved it from the fast water and directly into a nice snaggy log around which it could wrap itself. I like doing this so I never get to see what I eventually lose.
Fortunately, the trout dashed when it should have darted and untangled itself without my help. I was back in control, or as in control as I can be in cold, thigh-high water, tapping my boots against the river braille of rocks, stumps and branches to make it back to shore.
The embankment was steep but there was a partially submerged mossy log which would, if nothing else, provide stability should something go awry during the landing process. I hadn't seen the fish yet but by this point I knew it was a really nice rainbow rather than a steelie. I had it on the reel, so I gave a few more cranks and lifted the rod. Just as it was about to break the surface, it turned its head and dove. I saw enough of it to know it had the vibrant red streak of a rainbow and that it was somewhere in the 14-18 inch range. That means it could have been 13 or 20 because it was cold and I was excited and the ability to accurately gauge length is the first thing to go when that happens.
I absorbed the run, stripped a little more line, and lifted the rod gently again. The fish thrashed, found a nub on the log that didn't previously exist and freed itself.
There was a time in my fishing life I would have been angry, but as I mentioned, I've reached the point where I'd like to catch fish, but that's not the only reason I'm out there. It would have been nice to bring that first December rainbow to hand, but I knew there'd be others.
I returned to my angle on the edge and resumed roll-casting. It was the same temperature, but I was warmer for the rest of the steelhead-less day.
(I did put my gloved hands on a few trout though).
Jeff Lund ©2013
Jeff Lund is a Teacher and Freelance Writer living in Klawock, Alaska
Contact Jeff at Email – aklund21@gmail.com
E-mail your news & photos to editor@sitnews.us


Publish A Letter in SitNews
Contact the Editor
SitNews ©2013
Stories In The News
Ketchikan, Alaska

Articles & photographs that appear in SitNews may be protected by copyright and may not be reprinted without written permission from and payment of any required fees to the proper sources.