Column
Time: Faster than a speeding bullet
By JEFF LUND
December 06, 2013
Friday PM

(SitNews) Klawock, Alaska - When it finally happened, it happened quickly.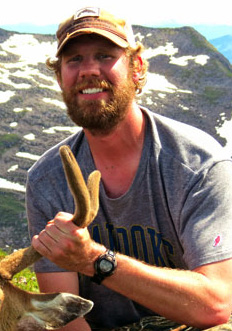 Jeff Lund
We hiked up a steep stretch which separated spongy muskeg from the last line of timber before the mountain top. I had shot a buck in that general vicinity but that was a good chunk of time a foot of snow and 40-degrees ago.
As Don and I stood in the white world of the alpine winter I lost my focus on glassing for life and instead breathed in the surprisingly calm moment. Just as the wind picked up we decided to head down and spend our time in the muskeg between us and the logging road where we parked. We made our way back to the truck without so much as a sighting.
Plan A had failed. There wasn't really a plan B, but it was better than sitting at home. We drove off the mountain and started road hunting until Don saw a spur that evoked the memory of a 3x3 his son shot. It had been years since he'd been up it, but it was worth a try.
That's when things sped up. Anyone who has spied a buck through a scope after hours of quiet searching (and a second thermos of coffee) knows how fractions of seconds lengthen in those moments.
"There's a buck" Don whisper-yelled.
I turned. It emerged from behind leafless brush taking measured, curious steps. My subconscious told my knees to bend me to a kneel for steadied aim. The buck stopped and stared. Then it was over. Quickly.
When fishing, you see the take or feel the grab then set the hook or reel, reel, reel. You hang on while the fish contorts itself in a desperate attempt to get free. In short, there's a battle. The rising action is different in a hunt. The story can go from exposition to climax in a matter of seconds as it did for me, so there wasn't time to get nervous. There wasn't much of a fight either which is how things should be because there is no sport in a long kill when it comes to land animals.
The buck laid on its side motionless as life left it. A guide would probably score it a 3x3, a judge would likely label it a 2x3, while a friend with a sense of humor would declare it a really nice pointy fork in horn. I settled on the technical scoring since one point was too short to really count, but the other was well over an inch. Points aside, I felt little remorse for taking its life because I knew I'd use it - burgers, ribs, roasts or backstrap medallions with onions. Had there been a significant amount of guilt, it surely would have gone away while pricing beef at the grocery store. I don't know why after two months I'm still surprised at the price of food up here.
Anyway, with that buck, my season ended. I could get more tags, but I'd also have to get more freezer space so I'll go out again, but armed with my camera instead.
The island has been flooded with people from other areas of Southeast plus the Lower 48 and though there were reports of groups of hunters taking dozens of bucks over weekends it hasn't been easy for everyone, so I am content with my buck.
There are roads leading all over Prince of Wales now and people have said things have changed. People say there are more hunters punishing deer populations from better roads which made the end of the rut tough as skittish deer went nocturnal (which doesn't stop some people from shooting them anyway).
People say that in addition to the population, wolves and deep snow winters are getting to the deer too. I don't know about that. Like I said, I am certainly no expert either by title or experience. All I know is that everything happens so fast, and sometimes all we are left with is a memory of a time that came and went.
Jeff Lund ©2013
Jeff Lund is a Teacher and Freelance Writer living in Klawock, Alaska
Contact Jeff at Email – aklund21@gmail.com
E-mail your news & photos to editor@sitnews.us


Publish A Letter in SitNews
Contact the Editor
SitNews ©2013
Stories In The News
Ketchikan, Alaska

Articles & photographs that appear in SitNews may be protected by copyright and may not be reprinted without written permission from and payment of any required fees to the proper sources.