Column
Alaska wonderland no doubt
By JEFF LUND
March 10, 2014
Monday PM

(SitNews) Klawock, Alaska - Don't mistake the intention of the following column.
In no way am I attempting to brag about my lifestyle as a substitute teacher and afternoon angler because my life currently resembles a fresh out of college 20-something rather than someone who had a career for a decade and there's a good part of me that's craving stability.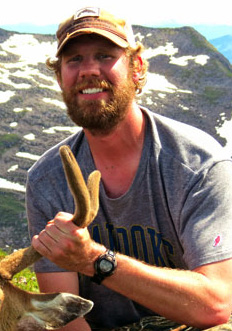 Jeff Lund
But even if I were to again become part of the 40-plus hours a week crowd, I still could have fished 25 of the 28 days in February, on one tank of gas.
That's unbelievable to me. Of course in the interest of full disclosure I will admit that one of those days I rode my bike because my truck broke down, and another day I drove my mom's rig. Still, 23 of 28 days on one tank of gas and 16 of those days were after work.
Where am I living?
And it's not like I'm walking down to a desolate creek, casting twice at mutant sucker-fish then going home and declaring I fished. I'm not ambling down to the muddy ditch to noodle for catfish or sitting on a bucket staring at a bobber. I'm doing what people pay thousands of dollars to do - fish alone for steelhead, and actually catching them.
Five days and six nights at a lodge on the Skeena River in British Columbia is $4500.
Dudes travel great distances and pay $400 (per boat) for a day-long guided float on the Trinity River in California. Of course you also have to factor in gas to get you there, a hotel in which to sleep, the t-bone steak, twice-baked potato, apple crisp dessert skillet dinner and other expenditures while in town. I've done floats on the Lower Sacramento River in Redding for two-foot rainbows and they are well worth the cost, but there were logistical issues I had to contend with when I was living in California. But not here.
Proximity to adventurous stereotypes is why idealistic people flock to towns featured in outdoor magazines as the best places to live, and why not? Being within an hour of potential is what a full life is all about.
On Prince of Wales I can be mediocre at a ton of things I enjoy. The other day I walked up an old logging road and snowboarded down some of the longer runs before being stopped by water bars. I was within a country song of home and there was no need to worry about a cell phone recorded clip of me face planting my way down a mountain falling into the hands of Daniel Tosh. How do you beat that?
While technically winter will be ending shortly, and I will theoretically have to put up my snowshoes and snowboard, I am not naive enough to believe that Alaska cares about calendars. Just mentioning it here is probably going to jinx the nice weather we were supposed to have so there's hope I can continue to improve my snowboarding skills at my modest pace. If not, March means we are closer to the spring steelhead bonanza and the days will be longer to boot.
In other words, it's only going to get better. I can't get over that, which is why every couple weeks I regurgitate the same 'this place is awesome' angle.
But again, don't mistake these words for boasting and the point of this column is not to get everyone off the couch. Stay on your couches. Watch re-runs and sort through your saved programming so I can catch steelhead with my fly rod and edges with my snowboard in peace.
And if you're reading from out of state, whatever you do, don't move here.
Jeff Lund ©2014
Jeff Lund is a Teacher, Freelance Writer, & River fishing guide (Tranquil Charters) living in Klawock, Alaska
Contact Jeff at Email – aklund21@gmail.com
E-mail your news & photos to editor@sitnews.us


Publish A Letter in SitNews
Contact the Editor
SitNews ©2014
Stories In The News
Ketchikan, Alaska

Articles & photographs that appear in SitNews may be protected by copyright and may not be reprinted without written permission from and payment of any required fees to the proper sources.