Column
My own worst enemy
By JEFF LUND
February 15, 2014
Saturday PM

(SitNews) Klawock, Alaska - Buried deep in the grey matter between my ears was a signal to not do what I was about to. But the warning went unheeded. The level of severity varies when it comes to the subsequent catastrophe and though I've promised myself I'd learn, rarely am I able to effectively fend off the temptation.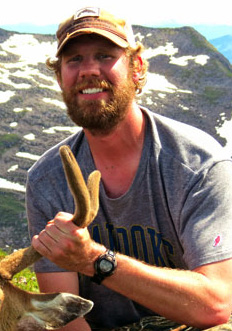 Jeff Lund
Such is life I guess.
The problem is that practical solutions to these ubiquitous quandaries are only practical to an outsider, or with the benefit of hindsight.
It's like the little lie that becomes a huge debacle. Had you just told mom you left the door open and the dog ran outside, you'd get to the consequence a lot quicker than explaining the telemarketer who called during the extremely localized earthquake which opened the locked sliding door were at fault and that you didn't go outside, your shoes are just on and wet because you took a sauna. Because you've got to remember that lie and get it right for dad.
Like the lie, the greedy decision is made in a split-second. You want three more feet on your cast, so you go for one more backcast and weave the tippet and your caddis fly around a branch three feet above your reach.
The stubborn decision is even more ridiculous because the idiocy is repeated and can be literally painful. You know you should rest your foot because it hurts. You don't go to the doctor because you know he's going to say rest it, ice it and ingest 400 mg of ibuprofen a few times a day. Why waste a visit on that? A month later, still limping, you start thinking...hmmm...
Sometimes you stay up too late watching a movie you've already seen. Sometimes you have the last two pieces of pizza on a full stomach. Sometimes you try to test the limits of your gas tank. Sometimes you think, "we can make it."
And once, in Vegas, you doubled your money at the roulette table, and rather than keep what you won, you let ride and three seconds later, walked away with nothing. (I only made that mistake once).
Sometimes you don't think at all. You act out of habit, forgetting context and your world crumbles into temporary despair.
When I felt my pocket vibrate while standing on some rocks on a cold clear morning that froze part of the river, I passed my fly rod from my right hand to my left, then dug into my pocket. A steelhead had been waiting for the call, and attacked while I was distracted. I didn't have a free hand to strip in slack since my line hadn't started a swing, so I leaned backward and tried to set across my body.
The fish thrashed once and was gone. The call - missed. Anyone who would be calling me would call me an idiot for answering, so why then would I feel compelled to answer?
"Get away from technology" I say, "unplug our kids" I argue.
For a moment I was what I despise - a cell-phone answering while fishing, self-important hypocrite.
I fished until my finger tips were numb then started back to the truck. There were otters on the far ice shelf devouring what was left of a steelhead. I stopped to watch, and was there long enough to realize at some point I had sat down. I snapped a few pictures and wondered about those four otters wreaking havoc on the steelhead.
I started to want them to go away. Just then an eagle descended talons first and dispersed the well-fed critters. My phone vibrated again. I kept my eyes on the national symbol and ignored it.
Maybe I'm learning.
Jeff Lund ©2014
Jeff Lund is a Teacher and Freelance Writer living in Klawock, Alaska
Contact Jeff at Email – aklund21@gmail.com
E-mail your news & photos to editor@sitnews.us


Publish A Letter in SitNews
Contact the Editor
SitNews ©2014
Stories In The News
Ketchikan, Alaska

Articles & photographs that appear in SitNews may be protected by copyright and may not be reprinted without written permission from and payment of any required fees to the proper sources.