Column
California dreamin'....kinda
By JEFF LUND
February 01, 2014
Saturday PM

(SitNews) Klawock, Alaska - My internet home page is the Wall Street Journal, which might be a little ironic since I don't play the market. The writing and insight are excellent and I'm at the point in my life when I know it is frustrating, but I'd at least like to know what's going on even if I can't do much about it.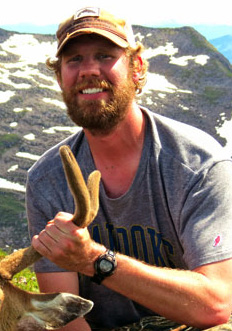 Jeff Lund
For no reason I can understand, when the page loaded Tuesday, it was different. I remembered what the paper itself felt like. Every morning before school in California I'd retrieve it from infront of my landlord's house because the guesthouse I rented was tucked back behind a little strip of grass on the edge of the property and further hidden by a massive weeping willow.
I didn't start get all mushy and nostalgic, but did have a sudden urge to go to Chipotle for a trio of soft tacos, then to Bass Pro Shops and Chilis as I discussed last week.
I don't think too much about these things. That might be thanks to the conditions of my departure from Alaska after high school. When I left for college in August I didn't return home until May. I didn't get homesick because I didn't have the option. You just don't go from Tucson, Arizona, to Klawock, Alaska, for the weekend. I chose to visit my brother who was playing basketball at George Washington University for Christmas, so I didn't even see my parents. But again, since I wasn't close enough, I couldn't get homesick.
Same goes for my previous life in California. I didn't get messy about it when I decided to go down that memory road because you have to live where you are.
I miss people. I miss brown trout. They don't sound pretty, but they are. I caught my first on the Upper Sacramento River a few springs ago, and it was over 18 inches. It kind of ruined me because I've caught a bunch since then which haven't measure up to that first on a No. 8 rubber legs.
I also miss the Alaska lies I used to tell to naive California kids. I don't know how many I told, but one of the worst was that I once killed a bear with a stapler. It, along with most of the others, were so incredibly absurd that no reasonable human would believe they actually happened, but for some reason my students asked me if the bear one did. I guess I was so caught up in the fact they wouldn't have put it past me that I didn't tell them anything different. But they have to know I didn't, right? How would that even happen?
Anyway, I decided I miss coaching too. Clipboards don't miss me coaching, but I miss scribbling adjustments in timeouts, going to a 1-3-1 half court trap when the opposing coach calls timeout to instruct his players how to handle when we trap the high pick and roll. In case you're wondering, I never threw a clipboard. I only knelt down gently in the shade of the circle of sweaty players, and rested it on the floor assertively.
After the journalism final each spring I took my class out onto the football field and taught them how to cast a fly rod. One year a couple of dudes decided to lay down and sun tan while the girls learned how to chuck a 7-weight. I still haven't gotten over that.
I was pretty passionate when I guest lectured in my buddy Nate's Advanced Placement English class when everyone was finished reading Into the Wild. A few of them would inevitably be taken with the poetry of going into the woods and living off the land, but I'd explain that McCandless was more dependent on society once he tried to escape it than when he was a part of it, and for people to travel to the bus so they can say they camped where a human died is sick.
Once I'm done with my rant and field questions, I wonder if they think the whole bear-stapler thing is more, or less possible.
I laughed at my last California memory as I grabbed my switch rod, reentered my current life and headed to the river to fish for steelhead, Alaskan steelhead.
I was, and am, happy.
Jeff Lund ©2014
Jeff Lund is a Teacher and Freelance Writer living in Klawock, Alaska
Contact Jeff at Email – aklund21@gmail.com
E-mail your news & photos to editor@sitnews.us


Publish A Letter in SitNews
Contact the Editor
SitNews ©2014
Stories In The News
Ketchikan, Alaska

Articles & photographs that appear in SitNews may be protected by copyright and may not be reprinted without written permission from and payment of any required fees to the proper sources.