Inspirational
THE STORY OF CHRISTMAS, AND WHAT IT MEANS
By George R. Pasley
December 22, 2008
Monday

Ketchikan, Alaska - One of my favorite experiences as a pastor is to tell children the Christmas story using a crèche, or nativity scene.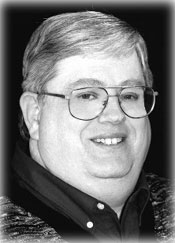 Rev. George R. Pasley
A nativity scene is a three dimensional depiction of the characters and setting of the birth of Christ. Most will have some depiction of either a stable, or at least a manger in which the baby Jesus is lying. They will also have Mary and Joseph, shepherds, at least one sheep and perhaps a cow and a donkey, and three figures representing the magi. Possibly they might have camels, and frequently some sort of angel which ideally would be somehow placed above all of the characters.
Persons of all ages love nativity scenes but they seem especially inviting to children, perhaps in part because they seem like toys. I've watched many children who were being restrained by their parents because they wanted to pick the characters up and play with them! That's why they make a great tool for telling and teaching the story about Christmas, the birth of Christ.
The various parts of the story, found in chapter to of Luke's gospel and the same chapter of Matthew's gospel, were written down for us by master story tellers. Their perfection is found in a combination of simplicity and details, but I want to talk about just two details and their importance: time and place.
Luke tells us about a journey from Nazareth to Bethlehem that Mary and Joseph took. It begins "And it came to pass in those days, that there went out a decree from Caesar Augustus, that all the world should be taxed." He goes on to say that his happened while Quirinius was governor of Syria. Those details, told simply, even somewhat poetically, tell us that it happened at a particular time in human history. It was long ago, to be sure, but it was a particular time, just as we might tell a story to our children that begins "When I was in first grade my mother took me to school."
Then Luke continues the story with "And Joseph also went up from Galilee, out of the city of Nazareth, into Judaea, unto the city of David, which is called Bethlehem." That particular detail tells us the place, Bethlehem, a city that can still be found in Palestine, or in the place we call the West Bank.
The nature of a story is such that it invites us to participate. We know the characters, we know the place, we know the time, and we know the events. If the story finds a place to take root in our hearts, we even memorize the lines (What parent has not been chastised by their child for improvising some of the lines in a favorite story?) Thus, this story invites us to enter (imaginatively) into a time and place where the Son of God was born as a human being, held by his mother, laid in an improvised cradle surrounded by farm animals, and visited by travelers from near and far.
Historically and theologically, those details are important for they tell us that God was one of us, and is still one of us in the person of Jesus, who shared the trials and joys of human existence. Story-wise, the important thing is that we are invited in. We are there, we are watching and listening, and we want to know what happens next.
So we follow, and when we do we see that this child, born in a stable in Bethlehem, was a man of great compassion. When we follow we see him demonstrate the compassion of God for those who suffer. When we follow we hear him teach with an urgency shared by the very best of teachers. We hear him chastise the arrogant, scold the rich, befriend the outcaste, and praise those who placed their trust in him.
If we are brave, we follow further, and we witness his death at the hands of jealous and cruel men. But in that dark place and time, we hear his words of forgiveness and mercy for those who killed him. We are left to mourn at his death, but we are not left long because his death is interrupted by his resurrection. The child who was born just like one of us (in circumstances a bit more rustic perhaps, but still, BORN) has defeated sin and death and because we followed him and shared his experiences we share in that victory.
And it all began "In those days."



On the Web:
More Columns by George R. Pasley
http://www.sitnews.us/GeorgePasley/list.html


First City Toastmasters
http://www.firstcitytm.org


"God is never far from those who wonder."
George R. Pasley is the pastor of the Ketchikan
Presbyterian Church located in Ketchikan, Alaska.
www.ketchikanpresbyterian.org
George R. Pasley ©2008

Publish A Letter
Read Letters/Opinions
Write the Editor
SitNews
Stories In The News
Ketchikan, Alaska