Inspirational
WHEN YOU WALK A DOG, WALK IT PROUD
By George R. Pasley
April 03, 2008
Thursday

Ketchikan, Alaska - As a pastor of a church, I stand in front of a congregation every week and preach a sermon.
When I preach I have a desire to give them my best every time, but that is not humanly possible. Sometimes I really struggle with what to say and how to say it. Sometimes I am deeply distracted by events in my life. Sometimes I simply am not in touch with my congregation. Sometimes, though, I do everything right and I think, "Oh, I wish I could do that every week."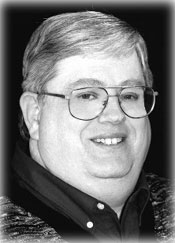 Rev. George R. Pasley
But whether I am well prepared with one of my best sermons or not, I recall two lessons from seminary. The first is a story told me by a graduate assistant in my preaching class, Michael Brothers. One week when he was preaching he gave a sermon that he felt wasn't top-notch, and he apologized in advance for his effort. In fact, during the course of the sermon he gave the written sermon less than his best oral efforts.
After church one wise and direct member of his congregation grabbed his arm and said, "Young man, when you walk a dog, walk it proud."
I had a similar experience myself the next year, introducing an oral report with a preface that made light of my poor preparation. The class laughed at my joke. However, my professor critiqued me for making apologies for the thoughts that I shared.
In the years since I have come to understand why. Several times I have gone into a meeting or a conference, prepared and excited to hear a speaker, and heard them apologize in advance for their speech. Usually, they have ended up giving a better than average speech and I longed to tell them they did not have to apologize for anything!
What I should do is invite them to join a local Toastmasters Club, an organization dedicated to the self-help of those who want to improve their communication skills.
One of the first lessons we teach in Toastmasters is confidence. When you stand up to speak you are sharing yourself- your worldview, your thoughts and perspectives and ideas. Those who sit before you are normally eager to hear what you have to say. Apologizing in life is good and necessary, but apologizing in a speech is not. In fact, it's just as rude as bragging in advance.
So when you speak, stand up confident. Walk your dog proud. Know that your view of the world is as significant as anyone else's, and give us your best oral argument even if you struggled with the preparation.
Even if we don't remember what you say, we'll remember how you said it.

George R. Pasley is the pastor of the Ketchikan
Presbyterian Church located in Ketchikan, Alaska.
www.ketchikanpresbyterian.org
George R. Pasley ©2008

Publish A Letter
Read Letters/Opinions
Write the Editor
SitNews
Stories In The News
Ketchikan, Alaska