Ketchikan Regular Election Oct. 04, 2022
Early & In-Person Absentee Voting Begins 09/19/22
Ketchikan School Board
3 Year Term (2 Seats Open)
Robb Arnold
Received: September 03, 2022
Published: September 04, 2022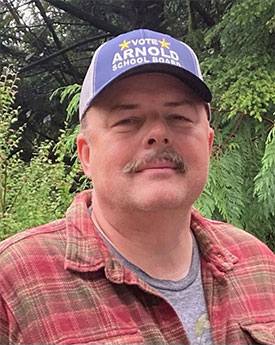 My name is Robb Arnold, I have chosen to run for school board because our kids are our future. There is an old saying, "we leave a place better than we found it." Our students have gone through an excruciating trial these last two plus years and have academically fallen behind. The amount of stress and disruption have spilled out into destructive problems worsened by a surge of politics being pumped into the school systems all over the country and here in our town of Ketchikan. Graduation rates have fallen, and everyday there is 10% of our student body who do not show up to class, the teachers are expected to catch kids up and keep the lesson plans moving forward. Meanwhile the parents have suffered, trying to work around the situation and supply a living for their family. Parents have quit the school system all together and started home schooling to keep their kids ahead and away from polarizing politics. Problems are not problems unless they have measurable solutions, I seek consensus of the board and administrators, teachers, parents, and students, willing to get back to a traditional basic education, the ABC of reading, writing and math along with a good history component particularly, American. I want a bullet proof security plan to ensure that our teachers and kids are safe. What classes can K-Hi offer that will entice our kids to develop skills to supply a living in this town? Industrial Arts, Vo tech and the Culinary Art Program.
I would like to include my background, I graduated high school after dropping out for half a semester seeing the need to go back, I finished went to Jr. College in Northern Idaho, came to Alaska and worked in a logging camp in the early 90's and followed my dream of being a actor, moving to New York to study acting for two years. I realized I could get a decent job that did not require a college education and worked in the grocery business as a manager at Harris Teeter and at a Super Walmart. I took college courses along the way but found that my work experiences and work ethic kept me employed. I moved back to Alaska in 2000 and have been here ever since, living here and Kodiak, as well as a couple of stints in Juneau.
My community involvement, currently I'm a Chief Purser for the Alaska Marine Highway System where I've worked since 2006, I volunteered with First City Players, KRBD as DJ and board member, at my job I'm a member of the Inlandboatmen's Union where I ran for E-board, was installed as Vice Chair and served on our negotiating committee. I am a committed Bible believing follower of Christ and member of Calvary Bible Church, and a part of the AWANA program for the kids in our community. Governor Bill Walker also appointed me to be on the Marine Transportation Advisory Board, which I served my full term plus. The other board I served on was the Juneau Pregnancy Resource Center. I come from a family of teachers my Uncle Jim Boatwright played pro basketball for Israel and taught history as well as a basketball coach, my brother currently lives in Japan and teaches English, my Great Aunt helped found a teaching college in Albion, Idaho. I personally have been a substitute in Ketchikan and have worked in the past as a tutor. I am someone who will academically support your kids. I am married and have a daughter who attends Schoenbar Middle School, my wife Trina grew up here and has deep roots in the community, currently she works for the school system, her last job was Regional Director of the Inlandboatmen's Union.
Overall, I feel I would be an asset to the School Board because of my commitment to the community and our students, and the varied experiences I bring as a concerned citizen. I see good ahead, together; we fix the short-term problems, with someone you can count on, please vote for me, Robb Arnold on Tuesday October 4th.
For over two decades, SitNews has provided a front page section at no cost for all candidates for the local Ketchikan Assembly, School Board, City Council, and Mayors to provide information about themselves and their campaign for the voters to consider.
All candidates are encouraged to participate. SitNews will begin accepting candidates' statements on September 05, 2022 for publication. Note: Early or Absentee-In-Person Voting will begin on September 19, 2022. In person voting at the polls will be Oct. 04, 2022.
In your statement please tell the voters:
1. Why you are running for office.
2. Experience and education.
3. Community involvement
4. Identify at least two significant issues and challenges facing our community and your ideas on addressing these issues. (Please do not just say you will be open to public input. Be specific about the issues and challenges and your specific ideas to bring to the table.)
5. Email a digital photograph.
6. Email your information in text format or as a doc file and photo to editor@sitnews.us
Additional comments are allowed. (Posted Online: August 27, 2022 - Invitations to Participate were emailed to all candidates on August 27, 2022.) Editor SitNews
Printed ballots for inspection for the October 4, 2022 election will be available September 14, 2022.
Last Day to register to vote in the local election is Sept. 04, 2022
KGB Election Information Click Here
City of Ketchikan Election Info Click Here