Ketchikan Regular Election Oct. 04, 2022
Early & In-Person Absentee Voting Begins 09/19/22
Ketchikan City Council
3 Year Term (2 Seats Open)
Mark Flora
Received: September 13, 2022
Published: September 15, 2022

Fellow city of Ketchikan residents,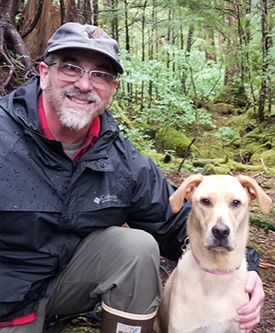 I would like to earn the opportunity to continue my public service to the community as a member of the city council. The city will have a new manager soon and I believe my experience and approach to issues will be beneficial as the new manager gets up to speed. Helping the new manager be successful is one way to achieve the best outcomes for our community. Our acting manager has done an outstanding job providing stability and keeping the essential services of the city running smoothly. The additional expertise and fresh perspectives will be welcome. Furthermore, I am running because I represent no special interests. I have never taken campaign donations. I bring an agenda free approach to serving. Equal representation of all city residents is very important to me, and I take that obligation seriously. The easiest vote to cast is the popular one. I would rather analyze the topic at hand, get input from the community and staff, then vote based upon what I think will be the best outcome for the community.
I have been in Ketchikan since September of 1984. I completed two years of college and from the age of 23 spent most of my professional life self-employed in the automotive repair industry. In addition to demonstrating competency in an extremely technical field, I have experience in running a successful business. Skills such as understanding budgets, problem solving, management, conflict resolution, contracts, working collaboratively and community relations are skills that translate well to the role of council member. I also have a wide variety of experience in many other aspects of the transportation industry.
I have served six years as a city council member and have also served on a variety of committees. The last year I have also served as the vice mayor and fulfilled the duties of mayor when called upon to do so.
Over the years my community involvement has included being on the board of the Ketchikan-Kanayama Exchange, hosting various exchange students and adults from Kanayama and Rotary, serving on the Ketchikan Ports and Harbors Advisory Board, serving on the local co-operative relations committee, serving on the new fire apparatus acquisition committee, serving on the local tourism RESOURCE committee, serving on the public facilities naming committee, serving on the lobbying executive committee, serving on the grants committee, serving on the hospital lease committee, and being a member of the local Chamber of Commerce.
Ketchikan has many challenges ahead. The formation of the community strategic plan will be the operational guideline to address infrastructure needs, staff succession planning, public safety, the port, our local harbors, the hospital, economic diversity, homelessness, and a host of other issues. This will take significant time and effort from council and staff alike. How all of this gets funded is also a huge component of advancing a successful plan.
On succession planning we have an urgent need to locally grow our workforce to be able to fill positions that are becoming vacant due to retirement or other reasons. We need to implement apprenticeship programs over all our departments. In this way we can transfer the generational knowledge of our most experienced staff to the next generation of our workforce. This in turn will reduce the need to look outside our community for staff. Giving our young people the opportunity to stay in town and have a fulfilling career helps makes us a better community.
Local infrastructure is another huge community need. Roads, water lines, sewer lines, replacement generators, possible water filtration, the port, public service vehicles and much more. We understand the needs, we must address how we fund it. There is no rate or tax structure we can implement to fund these needs. The community must leverage our grant opportunities for state and federal funds. We already lobby at the state and federal level. It is time to consider our own full time grant writer. The grant writer can bring in significant funding for the many capital projects we have. Furthermore, we should consider looking again at a strategy to find a funding source from the visitor industry most of the residents can support. I have been a strong advocate for more money from visitors, to ease the burden on locals. As the owners of the port, the community deserves greater control on how it raises and spends funds generated by this asset. The mechanism we considered recently did not have enough support to move forward. I think the premise remains sound. Juneau just reached an agreement with the cruise industry to utilize ten million dollars for their convention center. This is just one example of nontraditional use of cruise ship revenues. If we are unwilling as a community to consider sources of outside funding and find enough compromise to move forward, then we are left with only the current methods of budget cuts, taxes, rates, and fees imposed upon locals. Looking for savings to the budget at every opportunity is of course the first method to apply on an ongoing basis, but the community will not improve infrastructure, public safety, core services and the other aspects that contribute to our quality of life by subtraction alone.
For a city of our size Ketchikan has an enormous and diverse set of responsibilities. I have been fortunate to have had the opportunity to participate as one of your elected officials for the past six years. There is much work to do, and I believe I can continue to contribute is an effective, experienced, and objective manner. The council rises and falls together. I am responsible for my vote and accountable to the public for each vote cast. What we accomplish together in the end will be determined by our collective community will and the ability to rise above our disagreements while finding enough common ground to do the work needed to help Ketchikan grow and benefit the citizens of our hometown.
For over two decades, SitNews has provided a front page section at no cost for all candidates for the local Ketchikan Assembly, School Board, City Council, and Mayors to provide information about themselves and their campaign for the voters to consider.
All candidates are encouraged to participate. SitNews will begin accepting candidates' statements on September 05, 2022 for publication. Note: Early or Absentee-In-Person Voting will begin on September 19, 2022. In person voting at the polls will be Oct. 04, 2022.
In your statement please tell the voters:
1. Why you are running for office.
2. Experience and education.
3. Community involvement
4. Identify at least two significant issues and challenges facing our community and your ideas on addressing these issues. (Please do not just say you will be open to public input. Be specific about the issues and challenges and your specific ideas to bring to the table.)
5. Email a digital photograph.
6. Email your information in text format or as a doc file and photo to editor@sitnews.us
Additional comments are allowed. (Posted Online: August 27, 2022 - Invitations to Participate were emailed to all candidates on August 27, 2022.) Editor SitNews
Printed ballots for inspection for the October 4, 2022 election will be available September 14, 2022.
Last Day to register to vote in the local election is Sept. 04, 2022
KGB Election Information Click Here
City of Ketchikan Election Info Click Here