Ketchikan Regular Election Oct. 04, 2022
Early & In-Person Absentee Voting Begins 09/19/22
Ketchikan City Council
3 Year Term (2 Seats Open)
Dion Booth
Received: August 24, 2022
Published: September 02, 2022

Dear Ketchikan citizens,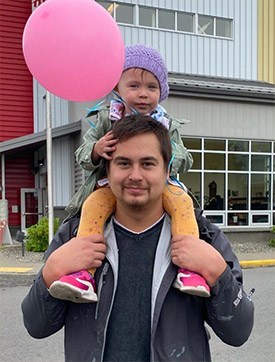 I am Dion Booth and I am running for Ketchikan City Council. I was born and raised right here in Ketchikan, and have always loved being a part of this wonderful community. After graduating from Ketchikan High School, I immediately started working and volunteering in Ketchikan. I substitute taught around the school district until I secured a full time position working in the special education department at one of our local elementary schools. In addition, I spent the next few years volunteering my time refereeing youth soccer, and serving as a board of director for Ketchikan Youth Soccer League. After leaving the school district, I went on to work in tourism, the shipyard, and finally settling into my career as a carpenter for a small construction company that's been operating in Ketchikan for over 30 years. My passion and interests are all anchored here in our beloved city. I want what's best for the locals, year round. And, I believe the locals know what's best for them.
I am running for City Council because I believe that every decision the Council makes should be for the people. In years past, many of us have come up and spoke to the council only to feel like we weren't being heard. I believe that if elected, it's not only the responsibility, but also the obligation of a Council member to really listen and act on what the people want.
If elected to the City Council, I will work hard to make Ketchikan a better place to live, work, and raise a family. I am especially invested in our great city because like many others here, I have a beautiful daughter who is going to inherit Ketchikan and face the consequences of the choices we make today. I will be a voice for the people of Ketchikan, and I will always put the best interests of our community first.
I intrinsically believe in an open, honest, and transparent government. That is vital for a government body to stay working for all of the people. The people should always be informed, and know how their hard earned money is being spent. Recently I spoke at City Council pleading them not to raise property taxes. If elected I will work hard to make sure that we never spend more than we make, with the goal of not increasing property tax, which in turn just increases overall cost to live.
From the school district to carpentry, I have had the unique opportunity to work alongside and pearsonally hear from every type of community member that is essential to to Ketchikan. I have never ran for any office, and have no special interests other than making Ketchikan a more comfortable, and safe place to live for our children. With a new, younger perspective, I think real change can be made. It's time for those who have been in office for years and years to let Ketchikan decide what we want for ourselves, and not what they think is best despite us saying otherwise.
I hope that you will consider voting for me in the upcoming City Council election. Thank you for your time and consideration.
Sincerely, Dion Booth
Phantom Booth Productions
For over two decades, SitNews has provided a front page section at no cost for all candidates for the local Ketchikan Assembly, School Board, City Council, and Mayors to provide information about themselves and their campaign for the voters to consider.
All candidates are encouraged to participate. SitNews will begin accepting candidates' statements on September 05, 2022 for publication. Note: Early or Absentee-In-Person Voting will begin on September 19, 2022. In person voting at the polls will be Oct. 04, 2022.
In your statement please tell the voters:
1. Why you are running for office.
2. Experience and education.
3. Community involvement
4. Identify at least two significant issues and challenges facing our community and your ideas on addressing these issues. (Please do not just say you will be open to public input. Be specific about the issues and challenges and your specific ideas to bring to the table.)
5. Email a digital photograph.
6. Email your information in text format or as a doc file and photo to editor@sitnews.us
Additional comments are allowed. (Posted Online: August 27, 2022 - Invitations to Participate were emailed to all candidates on August 27, 2022.) Editor SitNews
Printed ballots for inspection for the October 4, 2022 election will be available September 14, 2022.
Last Day to register to vote in the local election is Sept. 04, 2022
KGB Election Information Click Here
City of Ketchikan Election Info Click Here