Regular Election - October 05, 2021
Nicole Anderson
Candidate for Ketchikan School Board 2021
3 Year Term (3 Seats Open)
Received: September 25, 2021
Published: September 26, 2021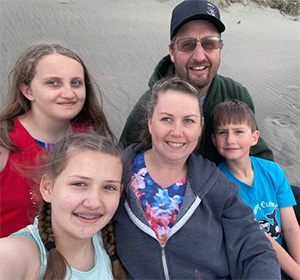 Nicole Anderson
Candidate for Ketchikan School Board 2021
Hello, my name is Nicole Anderson. Who am I? Well, I am not a "born and raised" Ketchikan kid – but I was definitely raised in this wonderful community. This island shaped who I was growing up and who I am today. I'm a proud Kayhi graduate of `98 – GO KINGS! I graduated the University of Idaho with my bachelor's degree in Elementary Education in 2002. And yet, I am not a teacher as the idea of teaching young minds seemed to be incredibly daunting by the time I finished my degree –honestly, it still does. Ketchikan teachers are amazing, and I applaud them all for the love they put into teaching our youth. You may recognize me as the agent taking care of your insurance needs at Davies Barry Insurance for the last 17 years. Or you might recognize me tossing candy at the back end of the 4th of July parades with my husband and kids for the North Tongass Fire Department each year. Speaking of kids – between the three of them - you have very likely seen me at their numerous activities such as ballet, baseball, swim lessons, Cub Scouts, or even completely drenched at a soccer game…they tend to keep me busy always! However, for the last year, you've likely seen me serving on the Ketchikan School Board having been elected last October for a 1-year term. I ran for a seat on the school board last fall because I was frustrated by the Smart Start plan in its original form and felt that my voice as a parent was not being heard. I am running again for a seat on the school board so that I may continue being a voice for the parents and stakeholders who do not always feel they are heard. This year, I have a unique perspective as my kids are now spanning the elementary, middle, and high school levels.
The school district will be dealing with several issues moving forward. There are always budget woes with education and these coming years will likely be no exception. Our district did receive Elementary and Secondary School Emergency Relief Funds (ESSER) which can be used in relation to Covid and addressing the learning gap caused by the pandemic. However, the district will need to continue to take a hard look at our budget and sources of funding and determine how best to utilize what we have available to provide our students with the best educational opportunities.
Late last spring, the school board began the process of a superintendent search which was suspended. That search will continue this fall and I would like to finish the hiring of a permanent superintendent having been part of the beginning phases.
We are still amid a pandemic and needing to navigate how best to educate our children and keep our community safe while also recognizing that Covid is not going away. I believe, while certainly not perfect, the current Strong Start plan that was adopted by the board is a good compromise until the choice of vaccination is available to all school aged children. But I also feel that once those vaccinations are available to all school aged children then it needs to be the parents' choice whether their child wears a mask. However, until that time occurs, I will continue to sew hundreds upon hundreds of masks as I have done over the past year – if they must wear a mask it should at least be a fun one.
Friends, family, and fellow community members – please exercise your duty to vote. I would gratefully appreciate your support and vote for Nicole Anderson on October 5th. Thank you!




Email letters of support for your candidate to editor@sitnews.us





Ketchikan Regular Election October 05, 2021 - Tuesday
Early & In-Person Absentee Voting Begins September 20, 2021
Ketchikan Regular Election October 05, 2021 - Tuesday
Early & In-Person Absentee Voting Begins September 20, 2021
For over two decades, SitNews has provided a section at no cost for all candidates for the local Ketchikan Assembly, School Board, City Council, and Ketchikan Mayor
All candidates are encouraged to participate and provide your future constituents with your candidate's statement to included this required information:
1. Why you are running for office.
2. Experience and education.
3. Identify at least two significant issues and challenges facing our community and your ideas on how these issues could be addressed. (Please do not just say you will be open to public input. Be specific about the issues and challenges and your specific ideas to address.)
4. Photograph.
5. Email your information in text format and photos (jpg) to editor@sitnews.us
Additional comments are allowed.

Please email your candidate's information for publication by September 18, 2021. Candidate's information will be published as received and will not be edited by the SitNews' editor. (Posted: Sept. 11, 2021 - Invitations to Participate emailed to all candidates on September 11, 2021)
Contact the Editor
editor@sitnews.us
SitNews ©2021
Stories In The News
Ketchikan, Alaska

Articles & photographs that appear in SitNews are considered protected by copyright and may not be reprinted without written permission from and payment of any required fees to the proper freelance writers and subscription services.

E-mail your news & photos to editor@sitnews.us

Photographers choosing to submit photographs for publication to SitNews are in doing so granting their permission for publication and for archiving. SitNews does not sell photographs. All requests for purchasing a photograph will be emailed to the photographer.