Regular Election - October 05, 2021
Alexandra Ginter
Candidate for Ketchikan School Board 2021
3 Year Term ( 3 Seats Open)
Received: September 13, 2021
Published: September 13, 2021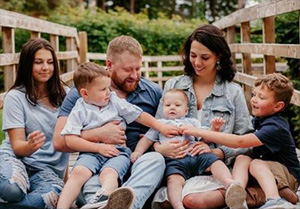 Alexandra Ginter
Candidate for Ketchikan School Board 2021
Hello, my name is Alexandra Ginter (formerly Bennett). I am Tlingit, of the Kaach.ádi Clan, of Wrangell, Alaska and I am running for a seat on the KGB School District's school board. I attended school in Ketchikan, as did my spouse Chet and now our four children. I have served and advocated for the needs of our community's children for several years: I bring to the table my experience working with Ketchikan's children, families, and educators through my work at Community Connections, the Residential Youth Center, and the State of Alaska's Office of Children's' Services. As a new member of the online business community, I have missed my work in this area and my running for the School Board will allow me to continue working and advocating for the education of all children in our community. My knowledge and experience will help me to provide leadership and build a vision all can share in as I believe the board must be responsive and listen to all constituents.
Why am I running for the school board? At first, my attention was directed towards the board because of Covid-19, when the Smart Start Plan was being introduced to the community. It was through that experience, I realized I wasn't the only parent who left those meetings feeling unheard, ignored, and helpless as the School Board went about making decisions for Ketchikan schools, seemingly without consideration of the overwhelming input from parents. After standing up and voicing my concerns and opinions, I heard from district teachers, employees and parents who had reached out, to let me know they too shared many of the same concerns, many of which also offered up many great points that were important to our kids' education. Many said they were uncomfortable standing up in support of their views and many said communication to and from the School Board and administration could be greatly improved. I too support and encourage open communication through as many avenues as possible, i.e. Facebook, email, text, news outlets (online/print), etc. I believe that a school board must be responsive and receptive to parents, staff, students and the community at large, encouraging an open dialog. The board must take input from all groups and weigh all the facts before making a decision. A Board member is a trustee of the community that elects him or her. That Trustee must be accessible and willing to collaborate with all members of the community; that includes all district staff. Anyone that comes before the board has the right to be heard, not just to speak. A school board member must build public understanding, support and participation.
Another reason I am running for a school board seat is to represent Native kids and families. As a Tlingit woman, raising Alaskan Native children, I think it is time the board actually make it a goal in their strategic plan (https://www.kgbsd.org/strategic.plan) to achieve the best educational standards, which call for educator ethnicities that reflect our student population. I appreciate that we have implemented Native culture into our local curriculum over the years, and I'm encouraged at the work that has been done with the district's local Native Parent Committee and the Tribe (Ketchikan Indian Community). However, I'm still very concerned that Ketchikan High School kids continue to score (publicscorereview.com) our high school the lowest in the State, in areas of school climate and connectedness. In fact, results from our 2018 survey, showed the greatest area for improvement as noted in the results, according to staff and teachers, was cultural connectedness, or perceptions of cultural identity, cultural responsiveness and sensitivity and instructional equity. In Ketchikan, the Native kid dropout rate is significantly higher than any other race – perhaps we should start with ways in which we can improve the school climate and student connectedness for these students? Obviously, racial diversity benefits every workforce and teaching is no exception and studies have shown teachers of color tend to provide more culturally relevant teaching and better understand the situations that students of color may face.
I'm really hoping to see the board further develop these recommendations from the climate and connectedness surveys and I also hope the board continues to strengthen relationships with the Tribes, and as a board member, I will support that continual growth. Even though I support closing the gap between Native kids and others, my efforts as a board member would center on serving all of the children in the community; one child is no more important than another. We are a diverse community and must celebrate that diversity. Our schools are here to serve the educational needs of all the children. All stakeholders; parents, all district personnel and Management, as well as students must be partners in this endeavor if we are to be successful. We need solutions.
I strongly believe that we have incredible teachers and staff working with our children but morale amongst district staff has suffered and we have to work to return harmony throughout the district. Education takes place in the classroom and the board's efforts must focus on improving and enriching what goes on there. Also, in the next few years the district is certain to be facing even more budget challenges. We need to have a plan in place for budget cuts and a plan that will still attract and retain the finest and the brightest to the Ketchikan School District. By working together, we can all share in the knowledge and satisfaction that we have provided for the educational needs of all children, and have built a district where the students, parents, teachers, and staff feel they are welcome and that they belong. I ask for your support because IT IS TIME FOR A CHANGE. Thank you for your consideration, Ketchikan! I hope you will consider voting, Ali Ginter for Ketchikan school board!




Email letters of support for your candidate to editor@sitnews.us



Ketchikan Regular Election October 05, 2021 - Tuesday
Early & In-Person Absentee Voting Begins September 20, 2021
For over two decades, SitNews has provided a section at no cost for all candidates for the local Ketchikan Assembly, School Board, City Council, and Ketchikan Mayor
All candidates are encouraged to participate and provide your future constituents with your candidate's statement to included this required information:
1. Why you are running for office.
2. Experience and education.
3. Identify at least two significant issues and challenges facing our community and your ideas on how these issues could be addressed. (Please do not just say you will be open to public input. Be specific about the issues and challenges and your specific ideas to address.)
4. Photograph.
5. Email your information in text format and photos (jpg) to editor@sitnews.us
Additional comments are allowed.

Please email your candidate's information for publication by September 18, 2021. Candidate's information will be published as received and will not be edited by the SitNews' editor. (Posted: Sept. 11, 2021 - Invitations to Participate emailed to all candidates on September 11, 2021)
Contact the Editor
editor@sitnews.us
SitNews ©2021
Stories In The News
Ketchikan, Alaska

Articles & photographs that appear in SitNews are considered protected by copyright and may not be reprinted without written permission from and payment of any required fees to the proper freelance writers and subscription services.

E-mail your news & photos to editor@sitnews.us

Photographers choosing to submit photographs for publication to SitNews are in doing so granting their permission for publication and for archiving. SitNews does not sell photographs. All requests for purchasing a photograph will be emailed to the photographer.