Regular Election - October 05, 2021
Dave Kiffer
Candidate for Ketchikan City Mayor 2021
3 Year Term ( 1 Seat Open)
Received: September 13, 2021
Published: September 13, 2021

My name is Dave Kiffer and I am running for the position of Mayor of the City of Ketchikan. I am asking for your vote.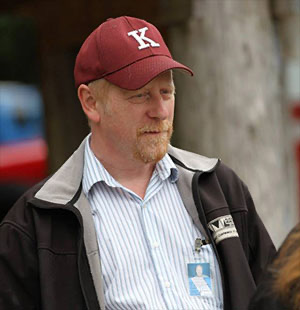 Dave Kiffer

Candidate for Ketchikan City Mayor 2021
I am running for Mayor because it is a position that I am qualified for, having previously served two terms as the Mayor of the Ketchikan Gateway Borough. Being Mayor of a community like Ketchikan is different than serving as a councilmember or an assemblymember. Quite simply, you are the representative of the city and your job is to represent the city; locally, statewide and nationally. While everyone has their political opinions and has things they would like to see accomplished, the mayor represents - and speaks for - the entire community.
As the community - and I will say community rather than city because I firmly believe that Ketchikan is too small a place to differentiate between city and borough issues in most cases - comes out of the disruptions caused by the COVID 19 pandemic, it faces several challenges and I look forward to facing them.
Near the top of the list is rebuilding our economy after the unprecedented loss of the cruise industry for the better part of two years. It will take some time for the industry to return to pre-pandemic levels and it is up to the community to do what it can to help the industry back to its feet. But it should also be noted that this "reset" gives the community a chance to decide how it sees the industry and the community's relationship to it moving forward. We are already meeting with representatives of the cruise lines to develop a more collaborative effort to make improvements to our community that will benefit both the visitors and those of us that live here year-round. It will not be easy but it needs to be done. Once again, the Mayor plays a crucial role in this process as the advocate for ALL sectors of the community, not just a narrow range of interests. As Mayor I will do whatever I can to leave behind a better community for our children and our children's children.
Another important issue is local infrastructure. Although the city has done a good job in the past 20 years in addressing many issues, such as the recent approval of the first REAL lease agreement in the history of the operation of Ketchikan General Hospital, there remain significant areas of need including water and sewer infrastructure and utility improvements. We also still face the potential for an extremely expensive water treatment facility if we cannot convince the federal and state regulatory authorities that we indeed have some of the cleanest drinking water in the world. Once again, as Mayor, it would be my job to continue to advocate that a local solution is much better than one mandated from hundreds or thousands of miles away.
An area that also needs to addressed is Ketchikan's social safety net. If a community can be judged based on how it treats its most vulnerable, Ketchikan, like many communities, can be found lacking. Areas such as homelessness and drug addiction must be addressed. There is simply no other option. One of the major roles of the Mayor is to lead the public discussion, to use the "bully pulpit," on such issues.
It is also the Mayor's job to be on the lookout for ways to improve the local economy and the quality of life in Ketchikan. When I was the borough Mayor, the borough was constantly in contact with Coast Guard headquarters in Washington DC, to not only counteract plans to shrink the local USCG presence but to also advocate for replacing aging patrol ships with the newest, larger patrol vessels. We were successful. And we also kept the ball rolling on efforts to build a new dock for the NOAA ship Fairweather. That effort ended up taking the efforts of several Mayors and dozens of other locals as well as our state leaders and national representatives, but we now see the fruits of those efforts. The Mayor is responsible for carrying the community message to Juneau, to Anchorage, to Washington DC, if need be. I can do that.
I have been an elected official for nearly 20 years, but my real role has always been as promoter of the place I was born and raised and my family has lived for more than a century. I look forward to continuing in that role.
Once again, I would appreciate your vote.
And while you're at it VOTE YES on Proposition 2. Our kids deserve it!!!!




Email letters of support for your candidate to editor@sitnews.us



Ketchikan Regular Election October 05, 2021 - Tuesday
Early & In-Person Absentee Voting Begins September 20, 2021
For over two decades, SitNews has provided a section at no cost for all candidates for the local Ketchikan Assembly, School Board, City Council, and Ketchikan Mayor
All candidates are encouraged to participate and provide your future constituents with your candidate's statement to included this required information:
1. Why you are running for office.
2. Experience and education.
3. Identify at least two significant issues and challenges facing our community and your ideas on how these issues could be addressed. (Please do not just say you will be open to public input. Be specific about the issues and challenges and your specific ideas to address.)
4. Photograph.
5. Email your information in text format and photos (jpg) to editor@sitnews.us
Additional comments are allowed.

Please email your candidate's information for publication by September 18, 2021. Candidate's information will be published as received and will not be edited by the SitNews' editor. (Posted: Sept. 11, 2021 - Invitations to Participate emailed to all candidates on September 11, 2021)
Contact the Editor
editor@sitnews.us
SitNews ©2021
Stories In The News
Ketchikan, Alaska

Articles & photographs that appear in SitNews are considered protected by copyright and may not be reprinted without written permission from and payment of any required fees to the proper freelance writers and subscription services.

E-mail your news & photos to editor@sitnews.us

Photographers choosing to submit photographs for publication to SitNews are in doing so granting their permission for publication and for archiving. SitNews does not sell photographs. All requests for purchasing a photograph will be emailed to the photographer.