Riley Gass
Candidate for Ketchikan City Council
3 Year Term (3 Seats Open)
October 06, 2020 - Tuesday
Ketchikan Regular Election
Received: September 3, 2020
Published September 03, 2020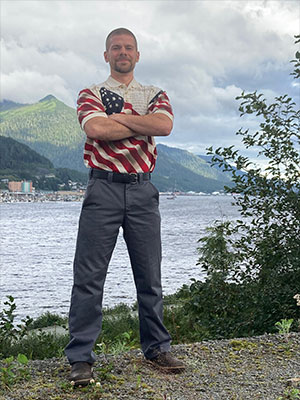 Hello Ketchikan. My name is Riley Gass and I am respectfully asking for your vote for Ketchikan city council. I'm a life long Ketchikan resident and Kayhi graduate and I love my home town. I have a good understanding of the needs of Ketchikan because I talk to the hard working, common sense citizens on a daily basis. I have no special interests or hidden agendas. I believe transparency in our local government is critical, most importantly in regards to the closed door executive session meetings with a foreign company that have been going on negotiating a deal to sell control of OUR port for the next thirty years. If I have the honor of being elected I will advocate to have these meetings be open to the public and allow our citizens to see what's going on. I'm a big supporter of keeping OUR port managed and owned locally because the risk of local tour companies and shop owners being restricted or banned from working on the port is far too high. As you know the cruise ship moorage rate in Ketchikan didn't raise one penny from 1990 through 2019, it is my goal to make sure that from now on that we charge the cruise ships a fair, competitive rate for moorage and water, and that we have small yearly increases on those fees to keep up with inflation, which was voted down by the council last year. We are told we must increase the size of our port, we cannot afford to do so (because we were charging about half the average cruise ship moorage rate for the past three decades), and we cannot propose a bond situation to the cruise ship companies to pay for it overtime. I disagree. The tour industry is essential to Ketchikan and it's important that we allow our local citizens to participate in and benefit from the industry.

It's important that our elected officials be honest, bold, and straight forward with the people. With me you know what you get, I believe in freedom and liberty for all Americans. I believe in responsible spending, especially during tough economic times such as this. Our government should operate their budget in the same way you and I operate our personal budgets, by following one simple rule. You don't spend more than you make. I respect the tax payers and I would take a hard look at every dollar of government spending and ask, is this necessary to spend tax payer money on? One issue that is often discussed in Ketchikan is the high cost of housing. Every time property taxes are increased, it increases the cost of housing. That is why I would advocate for more responsible spending in our city.

Local businesses are the back bone of Ketchikan. If you consider the jobs they provide, taxes they pay to fund our city, huge generous donations they give year after year to all our youth sports, activities, and much more, it is staggering. As a council member it would be important for me to look at ways to make Ketchikan a more business friendly environment. One recent decision by our council that hurt our local businesses was the decision to require all out of state visitors to quarantine for two weeks in Ketchikan before getting on with their trip. This is devastating to local guides, charter fisherman, shops owners ect. who are already facing an enormous economic crisis this year.

Commercial fishing has always been essential to our town. Year after year the industry continues on. As a council member I would look to help and assist that industry in whatever ways possible. We need to listen to the fishing community and see what they need, if it's improved harbors, or coming up with a solution for more affordable water rates to the fish processors or what ever the need there is. We need to value our friends and neighbors in our towns longest lasting industry.

It would be a huge honor for me to represent you at the city council table. I'm running for council because I want to bring the voice of the common sense hard working citizens to that table. I'm not a polished politician and I may not be politically correct but I know Ketchikan and I can bring some common sense to the council. Please call or email me with any comments questions, or concerns. Thank you for your consideration and God bless Ketchikan!
Sincerely,
Riley Gass
Phone:821-8991
Email:gass3395@hotmail.com