Jeremy Bynum
Candidate for Ketchikan Borough Assembly
3 Year Term (3 Seats Open)
October 06, 2020 - Tuesday
Ketchikan Regular Election
Received: September 14, 2020
Published: September 15, 2020

I am running for Borough Assembly because I believe we need to focus on solutions that will put our community first, today and in the future. I bring valuable experience that can help find answers to the challenges we face as a community. I am engaged and invested in our community and want us to thrive all year round.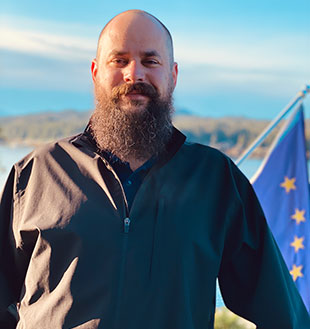 My experience and passion positions me to serve. Having grown up in a rural logging community affected by industry change, I understand firsthand the importance of developing and growing a community. I watched logging jobs disappear without suitable industry substitutes to help fill job gaps. After graduation, an employment void left many like me searching for opportunities. While considering career prospects, I looked to service and joined the United States Air Force. As a combat veteran, I learned early on the value of sound leadership and decision-making. My military experience encouraged me to further my education in engineering, graduating from Portland State University with an Electrical Engineering degree and obtaining a Professional Engineering license.
I started my career in public service and became an engineer and manager focused on problem solving while working with the U.S. Army Corps of Engineers (USACE), a worldwide leader in hydroelectric power. I bring to the table large-budget experience, managing multi-million dollar budgets for the USACE Hydroelectric Design Center. I have continued my public service career working in energy for Ketchikan Public Utilities (KPU) as the Electric System Engineering Manager and have valuable input towards energy solutions affecting the Borough. I also currently serve on the Southeast Alaska Power Agency (SEAPA) Board of Directors.
As part of my community involvement, I serve as a high school basketball official and in youth activities. I have had the unique opportunity to see our youth develop over the years; they are our future. We need to ensure they can succeed in our community. The decisions we make now will have a lasting impact for our families.
We need to focus on promoting and improving property development. This issue alone will help in at least two specific areas: business diversity in Ketchikan and affordable housing. My goal is to support Borough planning and development to promote private business development to include better use of Borough lands and access to private lands. Overall, increased development will create additional revenue for the Borough while easing the burden on current property owners. We also need to review current land use rules and ensue that they are pro-growth while protecting local landowners. Increased access and reformed planning/development rules will lead to additional property development for quality housing at an affordable cost.
Some additional programs that I would promote include business and residential tax abatement programs that will encourage growth; these programs will promote progress, and eventually add additional properties into the tax rolls.
I believe the Borough should focus on creating an environment for bringing additional business opportunities to Ketchikan. We need to update our current polices to encourage business growth and support business development in our community. There are many outside opportunities to grow our economy through telecommunications, remote working sites, resource industries, and aquaculture. In addition, we need to find new way to support our current industries to ensure they survive and flourish.
My wife and I love Ketchikan; we enjoy serving in ways that can give back to a community that has given so much to us. It is my goal to help make our community a place where we can all thrive… a place where our families can build a long-lasting prosperous future.
I would appreciate your support on Oct. 6, and look forward to the opportunity to serve and represent you.

Best Regards,

Jeremy Bynum, PE
bynumj@yahoo.com
https://www.facebook.com/bynumforborough