Amanda (AJ) Pierce
Candidate for Ketchikan Borough Assembly
3 Year Term (3 Seats Open)
October 06, 2020 - Tuesday
Ketchikan Regular Election
Received: September 08, 2020
Published: September 08, 2020
1. Why you are running for office.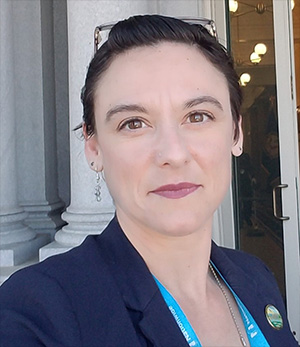 I seek reelection as a member of the Ketchikan Gateway Borough Assembly for three reasons: First, I believe I have served well, and provided a balanced, citizen-centered, and fact-based approach to the challenges the Borough has faced. I came to public service with no agenda, an abiding interest in serving my fellow citizens, and a personal commitment to make our community, one I love, a better place. Second, I stand on a record of having accomplished some important work in my first term, and with the knowledge gained in that first term, I stand ready to continue to serve and to work in pursuit of the initiatives and programs that will best provide for a community that is economically vibrant and culturally inclusive. Third, in recent times, we have faced the unique challenges presented to us by COVID and I am highly motivated, along with our Assembly and Mayor, to provide the steady governance that will be required to help our little island community restore its economic strength. The future is bright, and I am humbly committed to continue my work in the best interests of the Borough.
2. Experience and education.
Sponsored Agenda Items:
Streamlined Borough government through elimination of separate Tree Board, and assigning all pertinent duties to existing Public Works Department staff.
Enrollment of the Borough in the NACo "Live Healthy" Discount Medical, Dental, and Prescription Program providing an avenue to citizen access to low-cost prescription refills and health care services.
Zoning change designed to remove existing restrictions that served only to stifle entrepreneurial business development.
Resolution urging legislative action to codify prevailing Supreme Court rulings on antidiscrimination.
Boards/Committees:
Code and Planning Sub-committee
Investment Advisory Committee
UAS Southeast, Ketchikan Campus Advisory Board
Local Emergency Planning Committee
Organizing Member, Non-profit Community Assistance Grant Committee
Joint Borough-City Cooperative Relations Committee
Tree Board
Development/Training/Advocacy:
National Association of Counties (NACo) Leadership Academy
Enterprise Cybersecurity Leadership training.
White House Conference with Alaskan Leaders and the White House Office of Intergovernmental Affairs in Washington DC
AML/NEO Conference in Anchorage
SE Conference seminars, multi-year attendance.
NACo Annual Conference seminars, multi-year attendance.
NACo Legislative Conference/Federal Borough Advocacy Meetings in Washington DC (2019 and 2020)
Served as Vice Mayor: 2019-2020
3. Identify at least two significant issues and challenges facing our community and your approach in addressing and solving these challenges.
1. The most obvious and most pressing, of course, is COVID. As a "tourist town", our businesses are especially hard hit by the COVID shutdown. These businesses, and the families they support, have now lost an entire season – an event that was unimaginable just seven short months ago. I believe the Borough will play a critical role in helping these businesses weather the long, dark winter ahead and help those same businesses gear up and be ready for the strongest 2021 tour season possible. The development of cruise ship facilities in Ward Cove will only increase the importance of Borough/industry cooperation and collaboration.
2. Diversification of our economy. As much as we recognize the vital importance of the cruise industry in our town, we must force ourselves to continue to fight and advocate for development of a more broad-based economy. We must support responsible, balanced plans for timber harvesting and mineral extraction/processing. We must also support scientifically-sound fisheries analysis and management that allows the fishing industry to pursue its livelihood while securing stocks for fishermen of tomorrow. We must advertise the strength of our excellent internet and cellular services so that remote workers bring their families and their incomes to our community. These are all things we must do and that we must do simultaneously. I have a tremendous interest in spurring entrepreneurial pursuits inside the Borough, and in securing a robust financial future for our children.
3. We have been talking for years about a persistent problem that plagues Ketchikan – it's the housing crisis. We have a demonstrable shortage of adequate, safe, affordable housing. The Assembly funded a housing study to get a deeper understanding of the problem. I have studied the issue and sought a wide range of input from housing advocates, advocates of the children, and of the poor, building industry representatives, builders, and contractors. I look forward to continuing working on solutions to this problem. Shortly before COVID struck, we combined forces with local realtors to present a "tiny home forum" that brought over (50) stakeholders to the table to discuss system-wide obstacles that inhibit tiny home growth, what role the Borough can play in removing obstacles, lowering development costs, etc. This will continue to be an area of focus for me should I be reelected. It's important to me to work on behalf of all of the Borough's residents, from business owners, industry leaders, to those for whom securing safe, adequate housing is a struggle. All residents.
Kindest Regards,
Amanda (AJ) Pierce, MBA
Cell: (910) 228-1097
Founder, www.BizzM3ch.com
Founder, www.BitOfAlaska.com
Representations of fact and opinions in comments posted are solely those of the individual posters and do not represent the opinions of Sitnews.
Send your letters of support for the candidates of your choice to editor@sitnews.us
SitNews ©2020
Stories In The News
Ketchikan, Alaska
Articles & photographs that appear in SitNews are considered protected by copyright and may not be reprinted without written permission from and payment of any required fees to the proper freelance writers and subscription services.

E-mail your news & photos to editor@sitnews.us

Photographers choosing to submit photographs for publication to SitNews are in doing so granting their permission for publication and for archiving. SitNews does not sell photographs. All requests for purchasing a photograph will be emailed to the photographer.