S. Maggie Sarber

Candidate for the Ketchikan Gateway Borough Assembly - Three Year Term

Published: Monday
September 19, 2005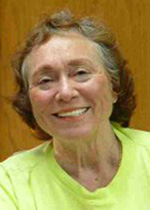 Maggie Sarber
Background:
Retired pharmacist, a resident of Sunset Drive north of town; school board member for two terms, six years; member of the Borough Assembly for two terms, six years, 1998-2004.
Statement:
I'm running for borough assembly and running on a platform of "Let's get economic development moving forward in the borough!" I want to see the pulp mill properties back on the tax rolls again, as soon as possible. I want to see it providing jobs, be it on land- or marine-based ventures. I want to see Gravina developed via a simple road system past Rosa Reef and on to Vallenar Point to open up private development potential, possibly a small boat harbor. And of course I want to see the adequate funding of education without an increase in property taxes.
I am not advocating any specific project but I want my elected role on the Assembly to be "Keep It Moving Forward!"
SitNews
Stories In The News
Ketchikan, Alaska