David Landis

Candidate for the Ketchikan Gateway Borough Assembly - Three Year Term

Published: Tuesday
September 27, 2005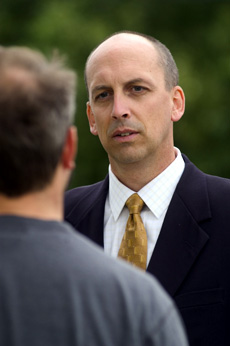 David Landis
Contact:
Box 1719, Ward Cove, AK
10451 Kingfisher Road Ketchikan, Alaska 99901
(907) 247-1719 dlandis@kpunet.net
Background:
Recent Accomplishments:
Elected to the Assembly of the Ketchikan Gateway Borough by Ketchikan-area voters. Received 1,613 votes in an 8-way race with 3,368 voters. 2002.

Oversight of project to transfer ownership of former Coast Guard land and build a 35,000 square-foot Indian Health Clinic. 1998-2000.

Administrator of one of Alaska's largest tribal governments and service providers -- supervision of 150 employees; negotiating contracts with federal agencies and others; oversight of $14 million budget. Ketchikan Indian Community, 1998-present.

Experience in Large Capital Projects as an Owner's Representative, a Governing Board Member, a Grant Writer, Foreman, and Contractor: 1990 - 2000.
Profile:
Resource-Based Education: Bachelor of Science degree, Department of Geosciences, Oregon State University. 1989.

Raised in Alaska: Both sides of close-knit extended family live in Alaska, parents and three siblings reside in Ketchikan, one resides in Palmer.

Builder: Including my family's homes, medical clinics, commercial buildings, residential subdivisions in Corvallis, Oregon and Ketchikan.

Family of Educators: Both parents retired from the KGB School District, brother teaches at UAS-SE Ketchikan Campus.

Fisherman: Gillnetter, troller, charter boat captain. 1981- 1993.
Affiliations:
Greater Ketchikan Chamber of Commerce, Business Member
Rotary 2000 Ketchikan, Former Member
Southern Southeast Aquaculture Association, Director
Moose Lodge #224, Ketchikan, Former Member
University of Alaska Southeast Ketchikan Campus Advisory Council, Member 2000-2003
Ketchikan Gateway Borough Planning Commission, Member, Vice-Chair 1999-2002
Ketchikan Gateway Borough Assembly, elected 2002
Clover Pass Community Church, Charter Member (31 years) 1972-2003
Ketchikan Volunteer Rescue Squad, Volunteer, Grant Writer
Postition Statement:
To the Citizens of the Ketchikan Gateway Borough:
I've been serving on the Borough Assembly for the last three years - and before running again, I asked myself whether on not the voters should elect me again. Here's what I concluded:
I believe that I have done a good job, and I believe that indeed, I should be re-elected based on what I've done and what I believe in
Unwavering support for full school funding.
I'm open and accessible to anyone who wants to discuss Borough business.
I hear all sides of the issue and fairly decide the issue.
Open government - I consistently challenge calling executive sessions.
Good development grows and sustains our economy - I support it!
One of two who voted for a local preference law for Schoenbar contractor.
Leader in the Ward Cove auction committee meetings.
I will support the Community's wishes on consolidation.
Gravina Bridge - local hire and purchasing laws must be written.
The School Board decides educational issues, not the Assembly.
I believe that the Assembly should live up to its burden of responsibility, and not find itself wielding power instead. "Public service" should be just that - not an opportunity to feed egos or take advantage of situations.
I thank you from the bottom of my heart for your votes three years ago, and I look forward to your continued support!
Vote for David Landis for Assembly!


SitNews
Stories In The News
Ketchikan, Alaska