How The World Wags
"Totem Land Tinsel Town"
By Dave Kiffer


October 03, 2005
Monday

Ketchikan, Alaska - A few weeks ago, there was an interesting item on EBAY. It was a 16 mm movie reel, the type of movie reel you only used to see in movie theaters and high school science classes.
The movie was Moby Dick and it was narrated by George C. Scott, but the interesting thing was that it was modern day retelling and was filmed along the Inside Passage. According to the item description several scenes were filmed at the docks in Ketchikan in the mid 1960s.
I thought about bidding on the item, but someone else - probably with access to a 16 mm projector - bid high and I really didn't want it that badly!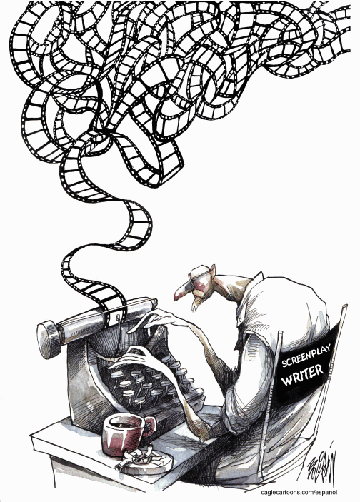 Screenplay Writer
Artist: Angel Boligan - Cagle Cartoons, El Universal, Mexico City

Then a couple of weeks later, quite coincidentally, I got an email from former Ketchikan resident Doug Barry offering a fun bit of Ketchikan movie trivia.
"Some might remember that in 1963 during the first season of the TV series "The Fugitive", starring David Jansen as Dr. Richard Kimball, there was an episode where Kimball gets on a boat in Seattle to escape pursuit (a pursuit that lasted 4 successful seasons)," Doug wrote. "Most of the episode takes place on the boat ­ maybe even a fishing boat. It ends with the fugitive getting off in Ketchikan. Except, of course, they didn't put out the expense of actually shooting in townit was sufficient enough to end the episode by just having Dr. Kimball walk along the dock with his duffle bag and the words Port of Ketchikan painted on a nearby dockside warehouse. Back then, however, there was no official "port of Ketchikan" moniker painted anywhere nor was their even a port authority. It was all faked. I remember KTKN talk show (Problem Corner) host Keith Kermit talking about it the day after it aired and making fun of the way they depicted our hometown. Anyway."
Doug's email got me thinking about the cinematic portrayals of the First City. There have been a few instances of "Totem Land Tinsel Town" or "Salmon City Celluloid (as opposed to Salmon City Cellulite, but that's another column!)" that have been foisted upon the Outside world over the years.
On the theme of TV shows, there have been at least two notable examples in which the casts actually filmed here. The "Love Boat" crew - Julie, Gopher, Doc - visited in the mid 1980s for an episode on the Inside Passage. They filmed at Saxman and Creek Street. Most notably, the episode included a climatic dog sled "race." So much for veracity.
In the mid 1990s, the Baywatch crew (Mitch, Neely, Cody) came to Ketchikan for a special Inside Passage wedding cruise episode. They filmed in Saxman and Creek Street, but did not engage in a "climactic" sled dog race as far as I know. But they did engage in climatic salmon fishing adventure which was followed by an even more climatic adventure involving a grizzly bear attack!
And of course, there have been a few features filmed here as well.
In the late 1920s, Rex Beach's "The Silver Horde" was shot in Ketchikan and Loring.
The movie - one of the first all-talkies- was described as "Fighting against great local opposition by going after THE SILVER HORDE - the magnificent schools of salmon which swarm past Alaskan shores - a decent young man finds himself caught between a bigoted society girl & a notorious prostitute."
The Silver Horde- released in 1930 - wasn't a big budget picture but it did feature a young Joel McCrea in one of his first starring roles.
In the late 1930s, the movie "Spawn of the North" brought an all-star cast to our fair Salmon City. Featuring George Raft, Dorothy Lamour, John Barrymore and Henry Fonda is was based on a Barrett Willoughby story about "two men, friends since childhood, who find themselves on opposite sides of a salmon fishing dispute."
It also contains one of the great fishing quotes ever, when one of the characters says "Yeah, here's to the salmon. She lays two million eggs and no one ever calls her mother!"
My favorite all-time Ketchikan movie is a mid 1954 pot boiler (you can't really call it film noir because it was mostly filmed in the daylight) called "Cry Vengeance." It had a b-list cast (Martha Hyer and George Stevens) but the externals were entirely shot in Ketchikan and it gives an invaluable snap shot of how Ketchikan looked just shortly after all the pulp mill related construction happened.
It opens with a long scene filmed from a plane (probably a Goose) flying over Ketchikan from the West End all the way to Stedman Street. You then see an actual goose come in for a landing on a the waterfront. Later there are great scenes of Thomas Basin, the old swinging door Frontier Saloon, the Federal Building and dozens of other local buildings.
The plot is thus: A couple of bad guys murder a San Francisco policeman's family and frame him for a crime. He goes to jail and they go on the lam - to Ketchikan, Alaska. While he's in jail, they somewhat turn over a new leaf in "wilderness" Alaska. He gets out of jail and comes gunning for them with predictable results.
The movie has some continuity issues. For example, one of the characters leaves a house (the blue one that burned last year) on Front Street, goes down the stairs and comes out on a beach apparently near Ward Cove. In another scene a character leaves goes up the ramp from Thomas Basin and comes out at a home on upper Edmonds Street. But those are just quibbles. For the most part, the Ketchikan portrayal is gritty (it is black and white) and accurate.
It has the all-time local snicker line in it.
When the former police officer heads north to find the bad guys, one of their fellow miscreants sends them a warning telegram.
"I want a send a wire," he tells the Western Union operator. "To Ketchikan. Ketchikan, Alaska."
There is a long pause.
"No, I don't know how to spell it!," he shouts back at the operator.
"Cry Vengeance" is available on video or you can check out the copy at the Ketchikan Public Library.
When I was in Junior High, a small budget film called the Timber Tramps was filmed in Wrangell and some of the nearby logging camps. It had an interesting cast - Claude Akins, Joseph Cotton, Rosie Greer and Cesar Romero. It wasn't much of a film, but one day the cast members visited Schoenbar, so that was cool.
In the mid 1990s, a local filmmaker Matt Shields filmed "Misty Isle Out" with a local cast. It had a showing down south, but I don't know that it was ever shown publicly here. I've heard rumors that there are videos of it floating around, but I'm never seen the "final" cut.
Also in the 1990s, Ketchikan nearly hosted the outside filming for "Snow Falling On Cedars." Initially, the producers were captivated with the Thomas Basin scenery and wanted to film there. But then they decided they wanted the move all the modern boats out of the area for an extended period of time and also wanted to repaint the buildings. Then the property owners started talking about potentially larger use fees and the whole thing fell apart. They ended up filming the movie on the BC Coast (the Canadian dollar was worth about two thirds of the US dollar at the point) and the movie wasn't nearly as good as the book anyway.
In conclusion there was also a report out of Seattle earlier this month that a former Ketchikan filmmaker may have hit the big time. Ward Serrill had a variety of jobs in Ketchikan in the 1990s, most notably filming the Esther Shea biography "The Bear Stands Up."
He's been living in Seattle for several years and recently finished a seven-year-long documentary of the Roosevelt High School Girls high school basketball team called "The Heart of the Game." He opened the film at the Toronto International Film Festival this month and it was picked up for US distribution by Miramax, the Disney owned film company that has won numerous Academy Awards in the last decade.
I'm sure I'm forgetting some other notable films and TV shows that graced our fair Salmon City. But the credits on this column are already rolling. Drop me a line and maybe we'll do a sequel.


Dave Kiffer is a freelance writer living in Ketchikan, Alaska.
Contact Dave at dave@sitnews.us

Dave Kiffer ©2005

Post a Comment View Comments
Submit an Opinion - Letter

Sitnews
Stories In The News
Ketchikan, Alaska