Characters Wanted
By Dave Kiffer
September 22, 2008
Monday

Ketchikan, Alaska - I was surprised to read Tom Wetzel's obituary in the Ketchikan Daily News recently.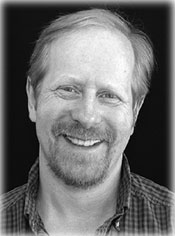 Dave Kiffer
Ever since Wetzel went south with a serious illness more than a decade ago, there have been numerous rumors about him passing away. I just assumed that at least one of them was true.
I don't want to pretend that I knew Tom particularly well, because I didn't. But like many residents I was used to seeing him out and about.
You couldn't miss his 6'8" inch stature and his slow shuffling walk. He always had a big hat and he was usually smoking. Rain or shine, you would seem him walking everyday, seemingly from one of the town to the other and then back again.
You would also see him in the many of the local "establishments." Even in the darkened recesses of places like the Shamrock and the Marine, it was hard to miss his tall frame nodding along to the music or hunched over paper, sketching.
He had a distinctive artistic style. Some thought he was Ketchikan's Van Gogh, some thought he was Ketchikan's Grandma Moses. And, yes, some were absolutely horrified when a art critic from Sunset Magazine tabbed his "primitive" rendition of Fort Tongass and Deer Mountain as best in show of the local Arts Guild competition.
But above all Tom was a character. One of those people you see around that make a town an interesting place.
In fact, he was such a common, quintessentially Ketchikan, sight that other artists and photographers often featured him in their work. Amid the dreariness of Ketchikan off-season, he was always a colorful - purely local - addition to any scene.
And if you saw Tom walking slowly through town, water pouring off the wide rim of the his hat, you somehow knew that everything was "right" or at least normal in Ketchikan.
It was like when "Hardrock" Johnson would be in the Fourth of July parade with his hard hat and his dog every year or when you'd just see him trudging back and forth on Stedman Street. I was never sure exactly where he was going, but he certainly was always going somewhere.
When I was growing up, it just wasn't a trip Downtown if I didn't see "Rocky" on his rounds.
I also remember others pounding the pavement, like a local teacher, Mrs. Keyes, walking from Ward Cove into Ketchikan and back every day. In the rain, of course.
Or an old man who my father knew named "Kangus" that we always used to see walking along North Tongass with his big hat and canvas coat at all hours of the day or night.
I'm sure there were other "characters" out and about, but those are the ones I remember.
It's interesting that I've noticed these people all because they were "walkers."
As I've noted before, Ketchikan is an automobile culture. We are just as tied to our cars and BDTs (big dumb trucks) as any Southern Californian commuter city. The difference is that we don't quite live in them 24 hours a day.
But we have been known to hop in the car and drive somewhere a block away in a desperate attempt to avoid the raindrops. Ketchikan: The Land of 3,000 pound, 200 horsepower umbrellas.
So one of the reason these "characters" stand out is because of their walking. We notice people biped-ing their way around town because it is unusual - even in this day of high gas prices.
These characters are notable because they truly "don't mind the rain" as they go to and fro.
Of course, we also remember them because they are "characters."
They are different and that adds something to our existence. Even if it is simply the opportunity to wonder aloud about "that durn fool out walking in the rain" again.
Of course, things change in here in Our Fair Salmon City.
With the ebb of both the timber and fishing industries, we seem to have fewer characters.
About the only "character" that has come out of the tourism industry was a fellow who used to dress up as George Washington a few years back to protest the city's attempts to collect the taxes he owed. He ended up taking his powdered wig and satin breeches to Haines, I hear.
These days about the only consistent "character" I see out walking is Judge Keene on his rounds from the West End to Downtown and back, which he has been doing for something like 40 years now.
He's probably not a "character" in the Tom Wetzel or "Rocky" sense, but just seeing him trudging back and forth every day in the rain is always a pleasant reminder to me that some things in Ketchikan don't change.
Like the rain.

Dave Kiffer is a freelance writer living in Ketchikan, Alaska.
Contact Dave at dave@sitnews.us
Dave Kiffer ©2008


Publish A Letter Read Letters/Opinions
Write the Editor
SitNews
Stories In The News
Ketchikan, Alaska