How The World Wags
One of the "Big Three"
By Dave Kiffer


August 08, 2005
Monday

Ketchikan, Alaska - Like many Alaskans I have a Jay Hammond story to tell.
Hammond - who died last week at 82 - was one of the "big three" Alaskan governors. I don't necessarily mean that he, Bill Egan and Wally Hickel were the best Alaskan governors, just that they dominated Alaskan politics even when they weren't in sitting in the governor's office. They cast bigger shadows. And Hammond - with his rugged Alaskan Central Casting outdoorsman image - clearly cast the biggest.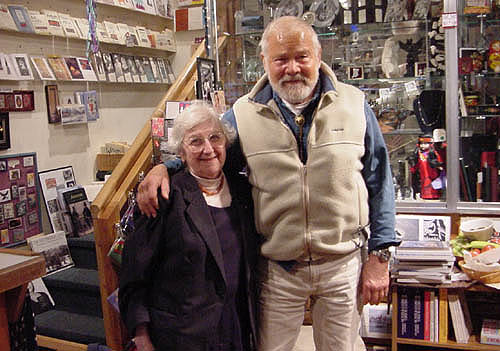 Lillian Ference and former Governor of Alaska Jay Hammond
during a book signing at the Parnassus bookstore in Ketchikan in October of 2002.
Photograph by Dick Kauffman ©2002

Part of that image, "The Man of the People," led to him being remarkably approachable for a politician. I first met Jay Hammond in 1980 by walking up to his office in the state Capitol building and asking to speak to him. Try doing that California's Governor Arnold or Jeb Bush of Florida. To quote Jeb's brother "It aint gonna happen."
I was scrounging around trying to find a "career" after washing out of music school and I had talked myself into a "job" volunteering in the news department at KRBD FM. My duties mainly involved occasionally reading the news for the evening newscast, writing up some sports stories and hanging about filing things and making sure the tape deck batteries were charged. In the spring, I decided to go to Juneau for a few days to visit an ex-girlfriend (hope springs eternal!).
When I told KRBD news director Will Selzer that I'd be in Juneau for a few days, he thought for a minute.
"Take a tape deck and interview the Governor," he said.
"Sure," I replied, not thinking this was anything out of the ordinary.
Now, 25 years later in a career of journalism and writing, it occurs to me that you don't just walk up to a state governor and say "talk to me." But back then, I didn't know any better. After all, as a seven year old, I once told an older man talking to my father on a street corner that his shoe-lace was untied. After the man tied his shoe and left, my father pointed out that he was Governor Egan, on a visit to Ketchikan. But, as usual, I digress.
To make things easier, Will gave me a list of important questions to ask Governor Hammond. They focused primarily about what projects or state money Ketchikan could be looking forward to in the future. There were also some questions about the newly hatched Permanent Fund and other regional issues such as fishing and timber.
Tape recorder in hand, I walked up to the governor's office on the third floor of the capitol building and asked to speak to the governor. I think I even said please.
His secretary looked an appointment book on his desk.
"If you come back tomorrow at 1 pm, you can talk to him for 20 minutes."
"How about a half an hour?" I asked brazenly. Selzer had given me a long list of questions!
She smiled.
"Twenty minutes is a half an hour for Governor Hammond," she said.
As I was walking out the door, I realized that she hadn't even asked me what I wanted to talk to the governor about.
The next day I was there punctually at 12:55 pm. By 1:01 I was in his office, sitting before his massive desk which was piled high with paper.
"What can I do for you?" he asked.
I explained who I was and why I was there. He graciously swept aside some of the papers on his desk and allowed me to put the tape recorder right in from of him
I reached into my pocket for the questions. The paper was gone. I froze. There were several seconds of silence.
He looked at me and smiled.
"I lost my list of questions," I mumbled.
He laughed. A big, bear hug of a laugh.
"Son," he said. "You don't get to be governor without knowing the answers to the questions even before they're asked."
He paused for a minute and then began talking about Ketchikan projects in the capital budget. Without a break, he segued into some initiatives he had in mind for the timber and fishing industries. Then he talked about the Permanent Fund and the Dividend that was being debated. He did this all without notes or even referring to any of that paper piled on his desk. I don't think I said more than about 10 words the whole time. I didn't need to.
Occasionally, his secretary would come in and hand him a note. He would nod or shake his head and she would go back to the outer office.
At one point, I stopped the tape to turn the cassette over. He paused - almost in mid syllable. I was well beyond my 30 minute limit.
Finally, about five minutes later, he stopped.
"That's plenty for your radio station," he said. "Now I have asome questions for you."
He asked what my family did, how long we'd been in Alaska. We talked about fishing, we talked about hunting. We talked about all sorts of stuff. He was very interested in what I was planning to do with my life once I stopped "volunteering" for the radio station.
I noticed the clock behind him on the wall read 2:10.
"I guess, I shouldn't be keeping you," I said, somewhat horrified that I had taken up so much of his time.
"One last thing," he said. "There's a paid internship program this summer. We'll be taking 10 young people to work in some of our state departments."
He handed me a piece of paper with a name and number on it.
"Give this woman a call," he said. "She's coordinating the program."
I did and several months later I got one of the internships. I figured since I now "knew" the governor, I'd get the cushy internship in his office.
Didn't happen. I was assigned to work on public relations in the State Department of Labor. That was okay, the people were great to work with and the internship paid better than "volunteering."
One day, I was sitting at my cubicle working on a press release about a new job training program and my boss poked her head in.
"I just had a meeting with the Commissioner (of Labor)," she said. "He had a cabinet meeting this morning."
She paused and a slight smile crossed her lips.
"Governor Hammond asked the Commissioner to tell you 'hi.'
Dave Kiffer is a freelance writer living in Ketchikan, Alaska.
Contact Dave at dave@sitnews.us

Dave Kiffer ©2005

Post a Comment View Comments
Submit an Opinion - Letter

Sitnews
Stories In The News
Ketchikan, Alaska