Slumming With The Locals
By Dave Kiffer
July 23, 2006
Sunday

Ketchikan, Alaska - Garrison Keillor was in town this week and that qualifies as a celebrity sighting.
Although it's fair to say that Meg Ryan who was in seen buying popcorn downtown recently is a bigger one. The difference was that Keillor floated into town with much publicity, while Ryan was hiding under a baseball cap and relatively incognito (except that she was accompanied by her "people."). Either way neither one is nearly as famous - or as important to life as we know it - as "Brangelina."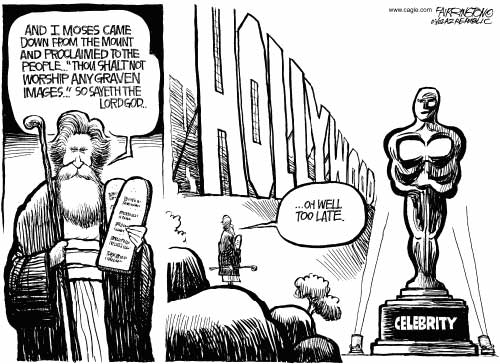 Celebrity Worship
By Brian Farrington, Cagle Cartoons, Inc.
Distributed to subscribers for publication by Cagle Cartoons, Inc.

It's summer in Ketchikan and that means that celebrity sightings are the talk of the town.
It's not that we get hundreds of the beautiful and famous. We are not Cannes or St. Tropez or even Waterfall Resort for that matter. If we did get lots of celebrities we probably wouldn't even bat an eye at a "B lister "or a minor government official. But since we don't get that many, we make a big deal out the ones that show up.
Keillor - for example - was in the newspaper and on the radio. Too bad he didn't bring the other cast members from the recent "A Prairie Home Companion" movie. Meryl Streep, Lily Tomlin, Woody Harrelson, Tommy Lee Jones, Kevin Kline and Lindsay Lohan would have been more worthy of stopping traffic than the self-described "world's tallest radio humorist."
But we take our "brushes with greatness" where we find them. A few years back, I was thrilled to see Dick Van Dyke sitting on a bench outside the radio station.
Over the years, Ketchikan's visitor industry has brought us a great variety of interesting visitors. We've had one sitting, one prospective, and three former presidents pop in (Harding, Kennedy, Ford, Carter, Reagan). We have had more Hollywood stars than you can shake a staff of Moses at (yes, Charlton Heston came through these parts in the mid 1980s). We've never had a Pope, but Billy Graham came through in the mid 1960s.
Some of the famous visitors were regular guests.
From the late 1960s to the early 1970s, it was normal to have "Wild Goose" sightings reported in the media. John Wayne came up just about every year in those days to visit and do something fishing. Bing Crosby and Phil Harris were other repeat visitors to the area. As were the president of Boeing Aircraft and various members of the Firestone tire family.
Even from the beginning of Ketchikan's history there have been celebrity sightings. Wyatt Earp, who ended up in Nome 20 years after Tombstone, stopped in Ketchikan on his way south to California in the early 1900s. He reportedly had at least one drink in every saloon in town and even in those days Ketchikan had a lot of saloons.
Jimmy Doolittle also passed through Ketchikan on his way from Nome to California in the early 1910s. No one noticed Doolittle because his was still in his teens. He was some 30 years away from his dramatic bombing raid of Japan that would help change the course of World War II and win him the Congressional Medal of Honor.
In the 1930s, quite a few famous people passed through and their exploits occasionally landed in the local papers. In the mid 1930s, the Ketchikan Chronicle breathlessly chronicled a visit by the Barrymore acting clan including John, Ethel, Lionel and several other family members aboard the Barrymore yacht, the 120 foot, $250,000 fantail "Infanta."
Interestingly enough, John's granddaughter, Drew, reportedly came to Ketchikan on a cruise ship in the late 1980s. The young star - who'd had a career dive after E.T. - was on board as one of the "celebrities" for the regular passengers to rub elbows with. In the early 1990s, there were lots of famous visitors who were "slumming" some extra rent money that way. Sports folk like Larry Czonka and Elvis Stoyko also fell into that category.
Of course, the biggest splash of celebrity sightings happened one slow Sunday morning in October 1998, when the cruise ship Crystal Harmony tied up at the dock. It was being chartered by the world's third richest man, Paul Allen, who is in the habit of inviting several hundred close personal friends along on his adventures.
Among the guests was the richest man in the world, Bill Gates, - whose birthday was the reason behind the trip - and dozens of Hollywood and music world A, B, and C.listers. Wandering Ketchikan streets were the likes of Robin Williams, Candice Bergen, Rob Reiner, Dennis Hopper, Tom Hanks, Penny Marshall, Alan Rickman, Lou Reed, Debbie Reynolds, Rita Wilson, Jeff Goldblum, Jerry Hall, Carrie Fisher, Billy Crystal, "Titanic" director James Cameron, Dan Ackroyd, Henry Kissinger and Houston Rockets star Clyde Drexler.
Local residents arrived in droves and stood outside the ship watching people embark and disembark. One extremely handsome man in a trenchcoat got wild applause.
"He's a steward, you idiots," grumbled one of the crewman manning the ramp.
Even then, with all that celebrity in our midst, Ketchikan residents had to try to ramp up the star wattage. Rumors abounded that the Rolling Stones were on board to serenade the birthday boy. Several Rolling Stone sightings circulated but alas the rumors were false and Ketchikan did not have the pleasure of seeing Keith and Mick jamming shore side with the Potlatch Band.
Over the years, the celebrity sighting have inspired interesting responses among the locals. Some visitors just elicited a nod of acknowledgement or a shrug.
"Geez, that looked a lot like Ed Asner."
"It was."
"I had Lloyd Bridges on my tour today."
"Who?"
But sometimes the local reaction has been more colorful.
The Ketchikan Chronicle appeared to take great joy in reporting that local women literally besieged film star Tyrone Power during a visit in late 1940. Apparently, Power - then starring in the "Mark of Zorro" - had to move his lodgings twice because large numbers of women were camping out in the hotel hallways to catch a glimpse of the hearthrob.
Power also had to cut short some local sightseeing because the "gossip grapevine" lead to dozens of women showing up to see him. The Chronicle reported that Power finally managed to avoid the lascivious lasses by chartering a fishing boat and hightailing it to Prince Rupert.
Oddly enough, a few weeks later, the Chronicle reported that hearthrob Errol Flynn visited the First City on his yacht, but there were no reports of "overwhelmed" local ladies.
Even in the early 1980s, there were interesting reactions to even the possibility of famous visitors. One day in the summer of 1982, a large yacht anchored offshore in that popular large yacht (the kind with helicopters!) locale off the northern tip of Pennock Island. Word quickly spread that Dirty Harry himself, Clint Eastwood, was on board.
It was reported that Eastwood was seen shopping in local stores. Almost immediately, crowds began to gather on the deck near Talbots to scan the expensive yacht with binoculars for a sight of the squinty eyed star.
After several days of "sightings" the newspaper finally commandeered a skiff to go out to the boat for an "interview."
A gray haired man appear on the stern of the boat. The "interview" went something like this.
"Can we speak to Clint?"
"Clint who?"
"Clint Eastwood."
The gray-haired man laughed.
"My name is Clint Eastman."
Dave Kiffer is a freelance writer living in Ketchikan, Alaska.
Contact Dave at dave@sitnews.us
Dave Kiffer ©2006


Publish A Letter Read Letters/Opinions
Write the Editor
SitNews
Stories In The News
Ketchikan, Alaska