Captive Audience: 'Bin' There, Done That
By Dave Kiffer
February 21, 2007
Wednesday AM

Ketchikan, Alaska -
Years ago, there was a bar in downtown Ketchikan that had beer advertisements plastered on the walls above the urinals.
To answer your first question: Yes, they were out of range of errant spraying.
To answer your second: Yes, it seems odd because the purpose of the urinals was to relieve "beer belly build up," not encourage additional imbibing.
But that wasn't really the point.
Actually, there were two points.
First of all, the ads had a captive audience. As Augie Busch the XXXXIV certainly knows, it takes forever to empty a beer bladder.
Second, relieving a full bladder is one of the most pleasurable feelings known to male kind (more on why that is an important advertising point below!)
I saw something a few weeks ago that reminded me about the bar "bathroom bulletins."
The Transportation Security Administration hopes to raise a little scratch by putting advertisements inside those quaint little storage bins that we put all our worldly goods in before approaching the security screeners.
Offhand, it's hard to think whom would want to advertise there. Maybe the Alaska Marine Highway System would like to put in a "Next time, take the ferry" message!
But I am not a marketing "guru," so what do I know?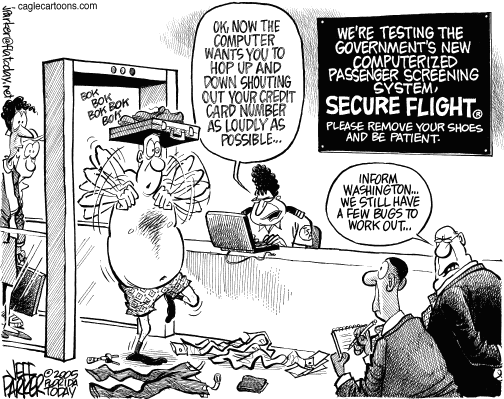 Airport Screening
Artist Jeff Parker, Florida Today
Distributed to subscribers for publication by Cagle Cartoons, Inc.

In addition to selling the ad space, TSA will also save "millions" of dollars because it will require the advertisers to buy the bins and give them to the TSA for free.
Now, I'm all for the TSA saving some money.
Maybe they could start by having only four folks instead of five standing at the x-ray machine watching as our shoes are surveyed. I guess we should all be thankful that that idiot over in Europe had "exploding" shoes and not "incendiary" underwear! But, I digress.
Actually, our local airport has less captive advertising than some. We don't have those long passageways with endless ads for things that we've already missed because we are leaving town like they do at other "international" airports. I guess there is an advantage to having a single departure "lounge."
On that note, why is it a departure "lounge"? Does it have comfy chairs, a piano bar and mood lighting?
The only relaxation in the "lounge" is the relieved sigh that escapes each passenger's mouth after he or she has cleared Checkpoint Charlie and come out on the other end with his own shoes and belt.
Anyway, it somehow still bothers me that we could be faced with niggling little mercantile reminders as we disrobe at the TSA stand.
Is nothing sacred?
I guess if we are already being bombarded with double super secret x-rays that are reading the tattoos underneath our clothes in order to flush out potential terrorists the answer to that would be "no."
But perhaps not every enforced gathering should be seen as a "message" opportunity.
What's next? Signs at the airport reading "If You Lived Here, You'd Be Home Now"?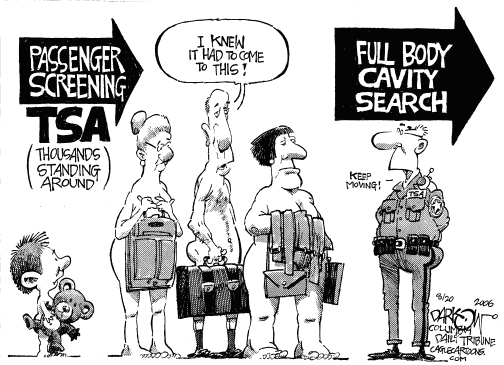 TSA Asks The Probing Questions
Artist John Darkow, Columbia Daily Tribune, Missouri
Distributed to subscribers for publication by Cagle Cartoons, Inc.

I realize that standing in line for three hours only makes it seem like we are home (and waiting to use the shower in the morning), but maybe we could raise some revenues by putting a floor of condos on top of the terminal building.
In some ways, the TSA proposal is probably just the tip of the infomercial iceberg. We are going to see a lot of other interesting "further intrusions" of advertising into our daily lives.
We have all gotten used to the fact that sports stadiums are no longer named after old dead owners (Wrigley Field) or locations (Fenway Park). It is even a rare case when a stadium is named after its major tenant anymore (Dodger and Yankee Stadiums). More often a stadium is now named after whomever has the biggest wallet regardless of their tenuous connection to sports (Ameriquest Field, PETCO (???) Park)
This is simply an extension of events being named after sponsors. Like the college football bowl games that have such long names you've already clicked off to a different channel by the time the announcers have finished the name. "We'll be right back with the opening kick off of 'The Chic-Fil-A Super Mouthwatering Cajun Chicken Sandwich Allstate You're in Good Hands Neighbor Gator Bowl!' "
Well, it seems that that trend is about to get a little bigger. I read in December that the owners of the Golden Gate Bridge are looking to "enhance" revenue by selling more advertising on the bridge. I guess that certain lanes could now be sponsored by companies with appropriate signage: the Federal "Express" Lane? the Foggy Mountain "Breakdown" Lane, sponsored by Sugar Hill Records? The mind boggles.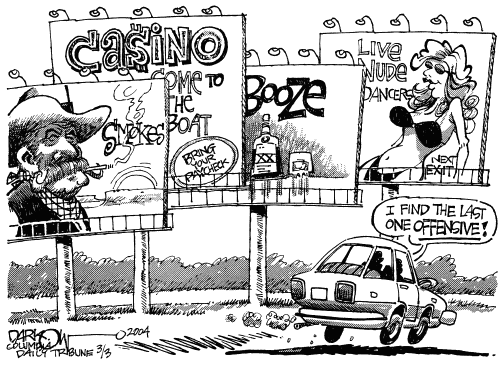 Bill Bored
Artist John Darkow, Columbia Daily Tribune, Missouri
Distributed to subscribers for publication by Cagle Cartoons, Inc.

Company officials say they will not sell "naming rights" per se, but I can imagine a future in which we will be talking about the "Golden Grain Gate Bridge" or, better yet, the "Golden Gateway Computers Bridge."
That, of course, has me pondering what local sponsorship possibilities. Why not sell the rights to our main street? It could be Tongass Trading Company Avenue!
We could boost government income without raising taxes. How about the Citicorp of Ketchikan or the Ketchikan Gateway Shoe and Vacuum Repair Borough? Ketchikan Public Storage Utilities anyone?
On the other hand, though, the advertisers would probably want a "positive" mage connection from their investment. Advertisers like to associate their product with something that has "good" connotations in the viewer's mind.
That's why beer ads have lots of scantily clad women in them. The male mind is a simple thing. If you think beer, your long-term memory will conjure up a warm and fuzzy feeling without exactly remembering why.
And that's also why the beer ads in the bar restroom (see above) were a pretty good idea after all.
Nothing spells sweet "relief" like that!

Dave Kiffer is a freelance writer living in Ketchikan, Alaska.
Contact Dave at dave@sitnews.us
Dave Kiffer ©2006


Publish A Letter Read Letters/Opinions
Write the Editor
SitNews
Stories In The News
Ketchikan, Alaska