Just a touch of gas
By Dave Kiffer
February 17, 2006
Friday

Ketchikan, Alaska - It's safe to say now that the bottom end for gas prices in town is now around $2.70
Sure, there's still a lot of up and down (mostly up, very little down here) to go but you can say that we've had our paradigm shifted enough to accept $2.70 a gallon for gas in Ketchikan.
We still use our cars for umbrellas. We still buy big trucks and SUVs as if they were going out of style. As if!
And while we do blanch a little when the Texaco and Chevron slot machines ring up $60, I don't see folks driving any less.
It was only about a year and half or so ago that the price was hovering dangerously close to $2 a gallon, people were wondering if it would go past that and - if so - would it lead to cutting back? At what point would the law of diminishing returns set in?
We watched as gas prices elsewhere crept upwards and even exceeded $2.30 in some places like San Francisco and L.A.. Still prices held firm here, as if everyone knew that $2 was it.
But then came the big spike in the middle of last year and the local $2 petroleum ceiling washed away like so much petroleum jelly. We even spiked above $3 locally, but now have settled back to $2.70.
What it is like elsewhere? Using GasBuddy.com - which tracks prices based on numbers sent in by drivers - the average cost of a gallon of gas in the U.S. over the past couple of days was $2.24.
That corresponds pretty closely with GasBuddy's report on Alaska which finds the average cost around $2.30. But what GasBuddy is really surveying is the Anchorage area (which averages around $2.28 a gallon). As soon as you move on the highway out of Anchorage proper you start finding gas prices floating up into the $2.45-$2.50 range.
GasBuddy has no figures on places off the grid like Ketchikan but you can assume they are higher still. Does Ketchikan have higher gas prices that other parts of the state? Automotive.com shows gas prices in Juneau this week at $2.55-$2.69 but that same website shows Ketchikan prices above $2.79 so take that for what it's worth.
It could be worse, at one point last year drivers in Aniak on the Kuskokwin River had gas prices north of $4 a gallon during the price spike. Of course, they only have a few miles of road, so most drivers probably only have to "fill her up" a couple of times a year.
There are also places in the rest of the country that are seeing prices in the Alaska range.
Florida ($2.30) has an average similar to Alaska's but the top end is only around $2.60 in the Conch Republic of Key West.
California has average prices hovering around $2.50 and some places like Santa Barbara and Eureka are seeing prices in the $2.80 and $2.90 range. That's scary, because unlike Ketchikan, those folks may actually have somewhere to drive every day.
New York and Nevada have state averages hovering around California's $2.50. The top end is $2.80 in upstate New York and $2.90 in Stateline, Nevada (when you're in the casino's all day you don't burn much gas?).
Finally, there is Hawaii and you pay through the nose for gas in Paradise. The average cost of a gallon of regular is around $2.90 this week. Get outside the metros and it quickly rises to around $3.10 a gallon.
If you look north of the boarder, just about everyone in Canada has been paying the equivalent of $3 a gallon since the time of Pierre Trudeau, but that's what they get for being Canadians!
Overall, there are 39 US states that have lower prices that prices than Alaska, according to GasBuddy and 10 that have higher.
Of course this is all relative. A gallon of latte would run you about $40 . Don't laugh, that only five Super Grandes. Barely enough to get you to lunch.
It seems odd that gas prices should be so high in a state where there is so much oil. But it has always been that way.
Call it the economy of scale if you like. Who really knows the answer? (although I'm sure that someone will provide me with one that involves sixteen pie charts, a 300 page long "briefing paper" and a PowerPoint presentation).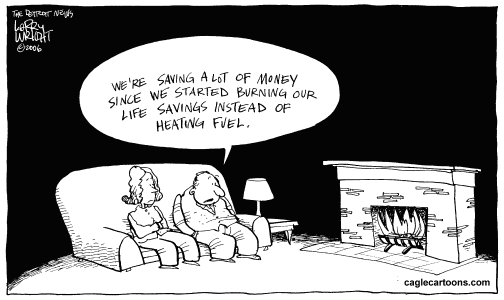 Cheap heating fuel
Larry Wright, The Detroit News
Distributed to subscribers for publication by Cagle Cartoons, Inc.

Gas was around 50 cents a gallon here when I was a kid. I remember that because every Sunday we'd drive out to the Grandparents' place in Clover Pass for dinner. My dad would stop at the Lighthouse Grocery for gas. He'd pay $5 and get 10 gallons.
On trips to Seattle, we'd marvel that gas was so cheap (around 29 cents a gallon). Of course, everything was cheaper elsewhere but that made sense because they made everything else elsewhere. Here, we made oil and yet gas was still expensive.
It was just the price of doing business. I remember when my father grumbled about 25 cent a gallon diesel fuel making it "too expensive to leave the @(*@#*()!!*(@ dock."
Now it costs about #@(&*@#*(!)(@* times that much to fuel up your trolling boat.
Of course, we don't all own boats and some of us don't even have cars. What we do all have - in some fashion - are homes.
I can't even look at the heating bill anymore. It gives me seriously bad gas.

Dave Kiffer is a freelance writer living in Ketchikan, Alaska.
Contact Dave at dave@sitnews.us
Dave Kiffer ©2006


Publish A Letter Read Letters/Opinions
Write the Editor
SitNews
Stories In The News
Ketchikan, Alaska