Bridge, Gas Prices, Weather were Top Stories
Ketchikan's Bridge Returns To The National Stage
By DAVE KIFFER
January 12, 2009
Monday

Ketchikan, Alaska - It's Baaaaaaack!!!
Ketchikan's "Bridge to Nowhere" made a big return to the national spotlight in the Fall of 2008 when Alaska Governor Sarah Palin used her action "canceling" the bridge project as a major plank in her "reformist maverick" agenda in seeking the Vice Presidency of the United States.
Alaska Governor Sarah Palin
Photo courtesy Office of the Governor
Palin was named as John McCain's running mate on the Republican national ticket in late August and her campaign dominated news statewide through the November election. McCain and Palin lost the election to Barak Obama and Joseph Biden.
The bridge was center stage when Palin told the national press corps numerous times that she had said "no way, no how" to the controversial bridge project.
Palin had made the decision earlier in the year to take the "two high bridges" option - the preferred alternative of both the community and the state Department of Transportation - off the table because of costs estimated at more than $350 million.
At year's end, the state DOT was still working to come up with a new "preferred" alternative for Gravina Access, including potentially smaller bridges or "enhanced" ferry service.
What Goes Up, Doesn't Necessarily Come Back Down
Rising fuel prices dominated the discussion in Ketchikan for much of the year. First of all, prices rose dramatically over the spring and summer, mirroring the cost of fuel elsewhere and causing local officials to scramble to come up with enough funds to cover heating costs in schools and elsewhere.
There was a also a big jump in suspected fuel thefts over previous years with residents, especially those outside of town, reporting numerous cases of oil and gas disappearing from tanks, boats, and cars.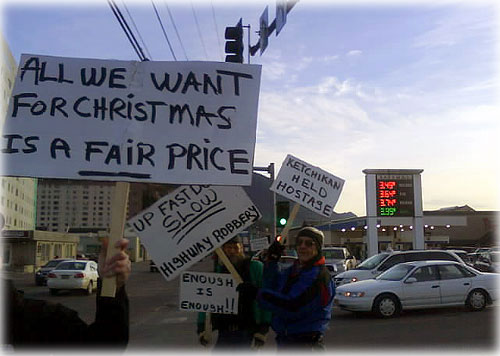 Ketchikan Residents Protest High Gas Prices
As approximately 30 Ketchikan residents protested the high price of gas on a frigid cold morning on December 20th, local gas prices began to drop.
Photo By LAURA CHARLTON

It should be noted - however - that prices in the late summer rose less quickly in Ketchikan than in most other parts of the country leading to an unusual event in early August. Ketchikan actually for a brief time had one of the lowest fuel costs in the country.
That had changed by early September though as the per gallon fuel cost jumped to well over $4.30 a gallon and diesel topped out above $5 a gallon.
But what really set residents' tounges to wagging later in the fall was that the Ketchikan prices remained high while those in the rest of the country dropped dramatically.
Local fuel dealers contended that prices remained high because they had purchased the fuel earlier in the year when the wholesale costs were still high.
Local residents responded with numerous letters to the editor and a fuel price protest. By year's end, costs - coincidentally or not - had dropped to around $2.49 a gallon.
Snow Way!!!!
For the first time in more than a decade, Ketchikan had a white Christmas. And then some.
The snowfall on December 23rd was still on the ground two days later and then was followed by a series of storms that brought approximately three and half additional feet of snow (nearly two feet fell on Dec 28-29) bringing much of the community to a grinding halt.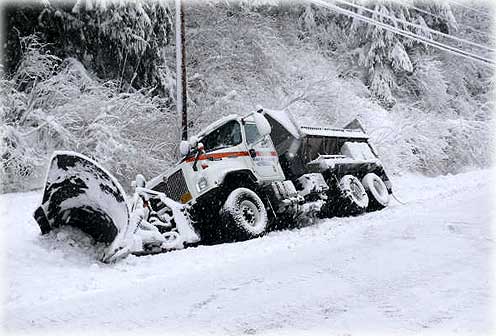 Winter Storm
This state DOT plow truck went off-highway on December 29th at about 11 am. No injuries were reported save that of the state trooper on-scene who slipped and reportedly broke his ankle.
Photographer Michael Keye Schuler
http://www.keyephotos.com

That mirrored early February when Ketchikan got two unusually dramatic snowfalls.
First on Feb. 7, nearly six inches of snow fell in about an hour during a noontime blizzard. Then on February 9, the entire town shutdown when between 18 and 24 inches fell in just over 30 hours. Rains cleared most of that snowfall away within the next week.
Overall, local weather watchers declared 2008's snowfall the biggest since the early 1970s.
Snow was continuing to fall as of the New Year turned.
Incumbents Generally Reelected
Three incumbent city council members were re-elected in October. Marty West and K.J.Harris were easily re-elected but Jason Harris had to sweat out the counting of the absentee and questioned ballots before edging out Chas. Edwardson for the third seat on the council. Former councilmember Lew Williams III was elected to fill out the term of Bob Norton who resigned in June.
Borough Assemblymember Dave Kiffer was elected borough mayor over incumbent Joe Williams. John Harrington and Jim Shoemaker were re-elected to the assembly, while Janine Gibbons was tabbed by voters to replace David Landis who couldn't run because of term limits. Todd Phillips, who finished fourth in the election was selected to serve out Kiffer's term on the assembly.
Also on the borough ballot was a proposition to allow the borough to purchase South Point Higgins beach from the Mental Health Lands Trust. It was overwhelming approved.
Two new members were seated on the School Board in October. Former board member Dave Lieben and Patrick Johnston were voted in. Incumbents Russell Thomas and Carl Webb initially chose not to file for re-election. Webb then waged an unsuccessful write-in campaign.
News Briefs
Three major Ketchikan projects felt the wrath of Governor Sarah Palin in May. Palin vetoed a $10 million dollar North Tongass Highway project, a $6 Ketchikan city fire hall replacement and a $4 million surgery department improvement at the Ketchikan General Hospital. Among the projects that Palin didn't veto were a $6 million reimbursement for Schoenbar remodel costs, a $1.5 million allotment for the Saxman Community Center, $3 million for Ketchikan port improvements and $2 million for a new South Tongass fire station.
Two Colorado men were very lucky to escape injury when their Cessna crashed and sank in Tongass narrows just short of the Ketchikan airport on Aug. 2. Officials say the plane was flying near Ketchikan when it reportedly ran low of fuel and attempted an emergency landing at the airport.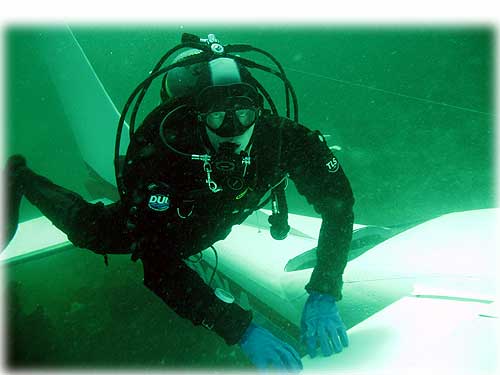 Ketchikan diver Brian Short inspecting a Cessna Centurion which ditched into Tongass Narrows on August 1st. The occupants escaped their plane before it sunk.
Photo by Mike Kurth
After 32 years of operation, the Ketchikan Christian Academy announced in May that it was closing for good at the end o f the school year. School officials estimated the academy had had more than 800 students over the years, but enrollment had dropped from a high of 80 students to less that 30 in recent years.
One hundred and thirty two students made up the Kayhi graduating class of 2008. Valedictorian was Patrick Doherty. Commencement speaker was Bette Jakubek, who daughter Milissa would have been one of the graduates but died in a car accident two years ago.
Ketchikan School officials faced a budget crisis in the fall when student enrollment was more than 120 students below last year's number. The district was faced with the loss of more than $1 million in state funding, but the district caught a break when the enrollment drop was slightly more than the 5 percent "hold harmless" thresh hold that limit's the amount of state funding cut when a district loses more than that many students in a calendar year.
The agreement to sell more than 200 acres of land for $9 million in Ward Cove to a developer fell apart in October when the developer defaulted on the agreement. At year's end, the borough was still deciding what steps to take next on the former Ketchikan Pulp Company property.
City officials had to scramble in mid-September when it was determined that several wooden bridges were unsafe and had to be closed. Work proceeded on improvements to Water, Millar, Dunton and Grant streets.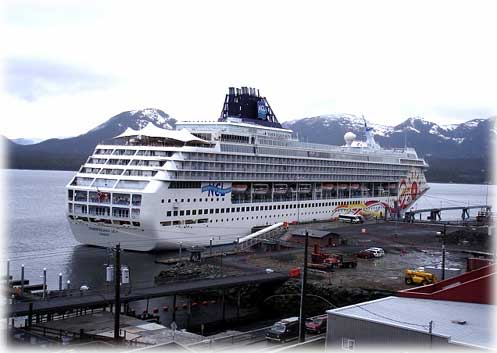 Norwegian Sun -- First Ship to Dock at Berth IV
Photo by Roberta "Bobbie" McCreary

Cruise ship Berth IV officially opened on May 13th. The berth - which allows four large ships to dock simultaneously Downtown - was built by Survey Point Holdings and is leased by the city. A record total of 941,910 cruise passengers came to Ketchikan in the summer of 2008.
A $30 million dollar FAA project was completed in the early fall. The project added more 1,500 feet to the runway safety after and moved the runway itself 750 further south. The project necessitated moving the mouth of Government Creek south several hundred yards.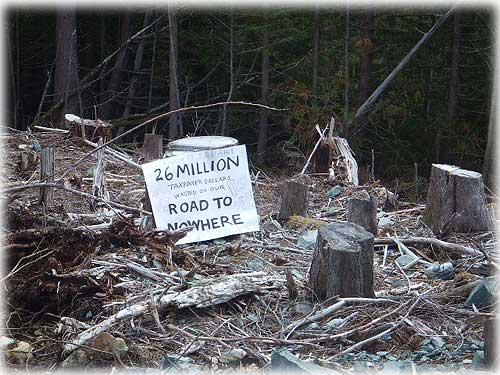 Road to Nowhere
Photo by Chris Wilhelm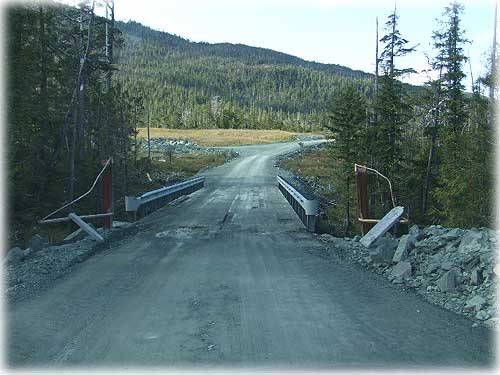 A 3.2 mile road from the airport south on Gravina Island to the proposed location of the Gravina Access bridge.
Photo by Chris Wilhelm

The "Road to Nowhere" was completed in the fall.. The $25 million project completed a 3.2 mile road from the airport south on Gravina Island to the proposed location of the Gravina Access bridge. The road also accesses borough and private land on the island and connects it to the airport road system.
People
Former city councilmember and longtime legislative aide Jim Van Horn was named Chamber of Commerce citizen of the year in early January.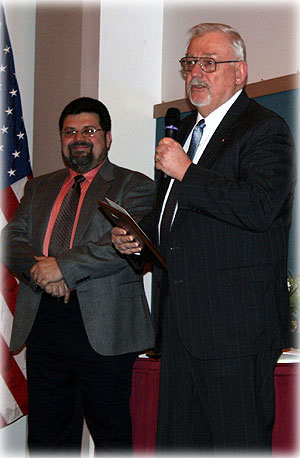 Jim Van Horn was named Chamber of Commerce Citizen of the Year. On the left is Miguel Torres.
Photograph by Mary Kauffman
Metlakatla Mayor John Scudero had barely been on the job for a month when the city council unanimously voted in early February to remove him from office in a dispute over his firing of a long-time city employee. Karl Cook was named Mayor by the town council.
Steve Schweppe retired as city attorney in June after 18 years on the job.
Borough assessor Dennis Finnegan returned in December at 30 years with the borough.
The state of Alaska is pressing forward with attempts to retry Rachel Waterman, a Prince of Wales teenager who the state believes is guilty of murder in the 2004 death of her mother. A Juneau Superior Court judge dismissed the charges in 2006, but in September of 2008, the state announced it was asking an appellate court to overturn the superior court ruling. Waterman, who is now 20, is pursuing a college degree out of state, according to her father.
Joe Mehall, 90, a Ketchikan resident who received two bronze stars and three purple hearts as a paratrooper in World War II, died at the Ketchikan Pioneer's home on Jan. 10.
Wes Davidson, 88, a former Ketchikan Gateway Borough Assemblyman and one of the founders of the Alaska Loggers Association in 1957, died at the age of 88 on January 31.
Helen Finney, 79, former member of the city council and the borough assembly and the founder of Alaskan Women in Timber, died Feb. 25.
Lew Williams Jr. , 83, the retired long-time publisher of the Ketchikan Daily News died on May 3.
Phil Myerchin, 70, who taught at Ketchikan High School for 30 years, died on Sept. 11.
Father Don Bullock, 85, longtime Ketchikan minister and radio personality, died at the Ketchikan Pioneer's Home on December 7.
Sports
Cody Hillis of Whale Pass won his seventh Bull of the Woods title at the Prince of Wales Island Fair and Logging Rodeo in July. Hillis won by the narrowest of margins, just under one second, the margin in which he beat Chris Nelson in the last event, the skiff bailing. Hillis and Nelson had been tied going in to the final event.
Ketchikan High School's Nick Martin was Kayhi's first state wrestling champion since 2005. Wrestling at 119 pounds, Martin finished 32-0 in 2008.
The Ketchikan High School girls basketball team won its third straight Clarke Cochrane Tourney title in December. The boys team - which was defending champions - finished fifth.
Weather stats
High: 78 degrees, June 30
Low: 4 degrees, January 28
Consecutive rainy days: 44 - September 26 through November 8
Consecutive sunny days: 10 - May 23 through June 1
Wind high: 60 mph - April 12
Windiest day: 22.9 mph - April 12
Most precipitation: 4.53 inches- October 12
Total Precipitation: 164.50 inches
Total days w/o precipitation: 85 (that means 281 days of rain in 2008!)
Nota Bene: If you thought summer was dreadful you were right. There were only six non-rainy days in June, eight non-rainy days in July and nine non-rainy ones in August. Approximately a foot of rain fell each of those months, more than twice the usual amount.
Dave Kiffer is a freelance writer living in Ketchikan, Alaska.
Contact Dave at dave@sitnews.us
Dave Kiffer ©2009


Publish A Letter in SitNews Read Letters/Opinions
Contact the Editor
SitNews ©2009
Stories In The News
Ketchikan, Alaska