Kanayama... Ketchikan's Sister City
by Daniel Patton
November 02, 2004
Tuesday

In 1986, through the work of many forward-thinking politicians and educators on both sides of the Pacific, Ketchikan and Kanayama, Japan began a sister city relationship. Since then, over 500 middle school students, 36 teachers, several political delegations and cultural emissaries (Alaska Native dancers, Japanese Taiko drummers, Japanese flower arrangers) have made the 9,000 mile journey across the North Pacific to participate in cultural and educational enrichment. This remarkably successful sister city arrangement is one of the longest running Japanese-American exchange programs in either nation.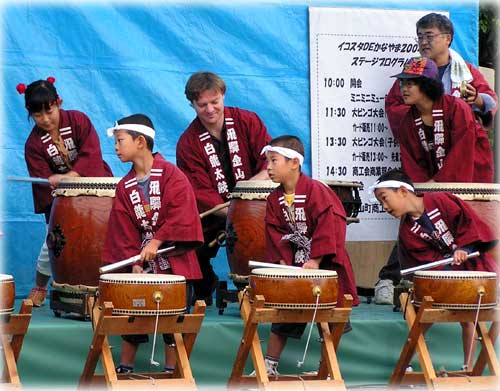 Several local elementary school children and Dan Patton performing
on the Japanese Tiako drums at a local festival.

Ohayo Gozaimasu Citizens of Ketchikan!
Hello, this is Dan Patton, the 2004-2005 Ketchikan-Kanayama exchange English teacher, checking in from the beautiful city of Kanayama, Japan. I'm excited to use sitnews.us as a way to spread awareness of this exceptional program, Kanayama, and Japan! Most people in Ketchikan have at least heard of the exchange program and many have had friends or relatives who have been to Kanayama. However, the perceptions are somewhat vague. I hope, through a series of articles I will write this year, to give Ketchikanites a glimpse of what everyday life is like here in their sister city. I want to tell you about the Kanayama's people, schools, jobs, food, entertainment, economics, history, naturethe list goes on and on. Mostly, however, I want to encourage more people to get involved personally with the program and maybe even motivate some to make the journey to Kanayama themselves.
So putting first thing first, where exactly is Kanayama, and what does it look like here?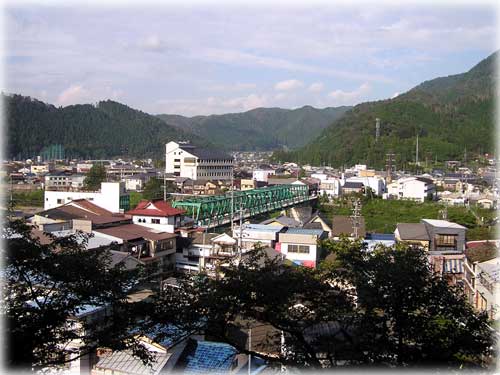 Part the town of Kanayama taken from the Kanayama Elementary school.

Kanayama is located in a very mountainous region of Japan known as Gifu Prefecture. If you have a map of Japan in front of you (there are some good ones at google.com 'images'), look in the southern part of the main island, Honshu, about 60 miles north of Nagoya City. You'll see that Kanayama is in the foothills of the Japanese Alps, a rugged mountain range to the north with peaks approaching 10,000 ft. The mountains around Kanayama are lower, in the range of 1,500-2,000 ft, very steep, and covered in dense forest. The trees are largely evergreen, including Japanese varieties of cedar and hemlock. There are also several deciduous varieties in the mix, including the Japanese maple, a tree whose leaves turn vivid red in the fall. Minus the ocean, the geography of Kanayama is very similar to Ketchikan's. Just about every window in town looks outs to green mountainsides. Cold, swiftly flowing creeks and streams curse through the valleys and waterfalls abound. Hiking in the forest here is a lot like hiking in Ketchikan; there is a dense canopy overhead, a wide variety of ferns, and lots of fungus covered fallen wood. And it rains quite a bit here too!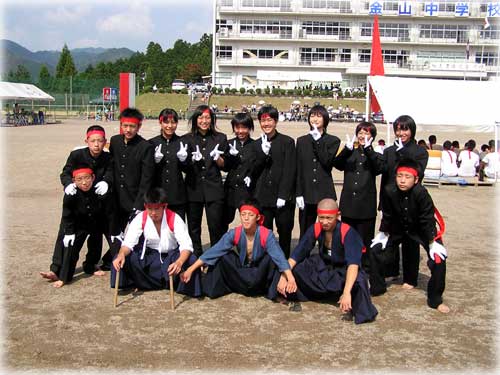 Kanayama Jr. High students taken during the annual sports festival held in September. The students pictured are about to compete in a cheering competition called `oendan` in Japanese.

Kanayama is a small city, especially by Japanese standards, with around 8,000 residents. Downtown Kanayama is built at the confluence of two sizeable rivers. Several bridges, including a few that resemble longer versions of our Thomas Basin bridge, span the rivers. The houses and businesses are packed tightly together along narrow streets, their fronts reaching right up to the edge of the street. Downtown Kanayama is reasonably vibrant. There are banks, bakeries, clothing and shoe stores, bookstores, small butcher shops, restaurants, etc. However, in recent years many of the smaller downtown business have closed as a result of a tendency toward building larger stores on the outskirts of towns. Sound familiar? Kanayama also includes two outlying neighborhoods, roughly equivalent to Ketchikan's 'out north' and 'out south'. Higashi and Sugata, as they are known locally, extend into narrow valleys that branch out from downtown.
When I arrived, I was surprised to see large expanses of virtually wild country. I had fallen into the popular myth that Japan was 'paved over'. While it is true people have been living here for thousands of years and just about every watershed has some sort of road or path running up it, the sheer geography of this mountainous area prohibits people from colonizing the majority of the land. Thus, there is still quite a bit of wildlife to be seen. In the short time I've been here I've already seen several deer, monkeys, herons, falcons, and gorgeous butterflies (something this region of Japan is famous for). There are even bears, the Asian Black bear to be specific (or Moon Bear locally), that live in the forest. Lately, they have been causing problems by getting into garbage, raiding gardens, and terrorizing citizens. Sound familiar?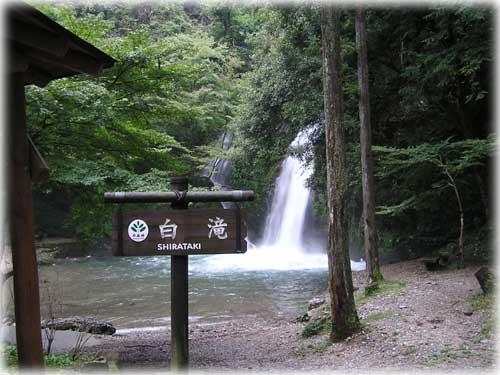 The Shirataki waterfall near downtown Kanayama

This time of year Kanayama is especially beautiful because the deciduous trees have begun to show their fall foliage. For the next month or so the mountain sides will be a stunning mix of reds, yellows, and greens. Tucked between the river banks and mountain sides are beautifully terraced rice paddies. Like Ketchikan, there is precious little flat ground around here. These days there is only stubble in the paddies, but in each field last month you could see harvested rice stalks bundled together and hanging to dry on wooden racks. After they were dry the rice was separated and the stalks were burnt. The aromatic smell of burning rice stalks often filled the air. Now, busy gardeners are working to harvest vegetable crops before the first freeze. Along the creeks and rivers it's common to see anglers with their distinctive Asian style straw hats and incredibly long bamboo fishing poles trying to hook into trout and aiyu, a small trout-like fish that is a local delicacy. On the roads are many tourists, eager to leave the city and experience the countryside, if only for the weekend. A big draw tourist draw in this region is the many onsens: public bath houses built around flows of hot, geothermic water. The Japanese place great value on the medicinal qualities of hot spring water and come from miles around to soak and relax in the region's onsens.
Thanks for reading this article and if you are interested, please get involved with the exchange program. If your child is in Jr. High, encourage him or her to apply for the exchange. If you are interested in teaching English abroad, apply to be the exchange teacher next year. If you are involved in a cultural activity, consider coming to Kanayama and sharing it with our sister city. Or, if you are simply interested in Japan and the Japanese lifestyle, come to Kanayama as a tourist. I'm sure as a Ketchikanite you would be warmly received. As the ties between Ketchikan and Kanayama grow, the benefits will certainly follow. More on this later and feel free to email me with questions of if you want more information.


Dan Patton
experiencealaska@yahoo.com
Dan Patton ©2004
2004-2005 Exchange Teacher

E-mail your news & photos to editor@sitnews.org


Publish A Letter on SitNews Read Letters/Opinions
Submit A Letter to the Editor

Sitnews
Stories In The News
Ketchikan, Alaska