Dear Crabby
by Mrs. Crabcakes - Ketchikan, Alaska

This column is strictly for entertainment purposes only and
is not intended to be taken to heart as serious advice.
December 27, 2004
Monday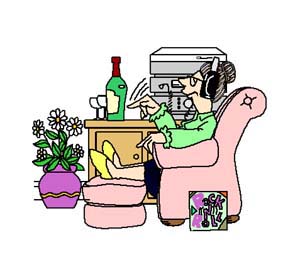 DEAR CRABBY,
I moved to New Jersey 5 years ago, but I find myself thinking about home every day. I lived in Ketchikan most all my life and I can't seem to stop wondering why I left. I guess what really upsets me is, I've lost many friends and family while residing here in Jersey due to work and medical. Due to a car accident I'm stuck here.
So I guess what I'm asking for is a little cheering up; not so much in advice. I have to hurry up and wait ....
MISSING HOME
DEAR MISSING,
Well, it's about time one of you who moved away and left us all here is sorry. You're not missing much. We should be in a White Winter Wonderland right now, but where is Jack Frost? Not nipping at out noses, our heels, or anything else for that matter. It is the usual downpour season of forty days and forty nights, with intermittent 60 mph windstorms. Tomorrow is 85% chance of precipitation. The next day they've predicted a 99% chance of rain. After that, a day of showers, then drizzle, and 90% chance of mist and moisture. And 100% fast actin' Tinactin.
Very soon, I predict they will find a hypothermic Santa, when some family wakes up freezing, the fire having been drowned, velvet suit still dripping, he being all water logged and bloated, stuck in the chiminey with some stupid little dog chewing his boots off. No snow for Santa. No rain-gear either. Yeah, we're all having a blast.
Am I cheering you up? All of MY friends are gone too. You Remo's all whimp out and move away, leaving us in dark, wet winters with nothing to do but entertain strangers during the best 5 months a year. At least you have major shopping options. We have Wally World.
So, what was the big attraction to New Jersey? The scenery? The fine culture? Ignore that "Garden State" thing on the license plate! Get home. Misery loves company and I ain't goin' nowhere!


Web mail your questions to Dear Crabby... Click here
If you want to submit a question anonymously, use the Web Mail Form.
OR


crabcakes@sitnews.org
Post a Comment View Comments
Submit an Opinion - Letter
Sitnews
Stories In The News
Ketchikan, Alaska