Dear Crabby
by Mrs. Crabcakes - Ketchikan, Alaska

This column is strictly for entertainment purposes only and
is not intended to be taken to heart as serious advice.
November 01, 2004
Monday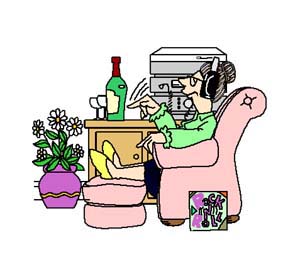 DEAR CRABBY,
I've seen the 'test' for alcoholism, where if you can answer "yes" to 3 or more questions, you have a drinking problem. I've seen similar quizzes for drug abuse, gambling, and sex addiction. What I'm wondering is, is there a test for 'workaholics'?
I make enough money to pay our bills and put some away each month, yet my wife still works long hours. We have 5 sons and two daughters, and they only see their mother at night when she's making dinner or cleaning house on the weekends. She used to be home all the time, but says she needs something other than the children to make her happy. We have plenty for her to do here, so I don't understand her attitude. She just can't tear herself away from the job, and I'm getting sick of it. Is there a test?
HOUSE WITHOUT A SPOUSE
DEAR HOUSE W.A.S.,
You two have 7 kids? You're lucky she comes home at all. If it were me, I'd come home to shower in the middle of the night and sneak back out again... I mean, what is wrong with that woman? Can you imagine her nerve, not wanting to stay home all day every day washing dishes and dirty socks? Oh well, to each her own. I think it's safe to say, you don't need a test. If she's working full time and has 7 kids to take care of on top of it, she's an involuntary workaholic. Then again, she could be stashing money to escape. Or raising the necessary funds to send the kids to boarding school...

Web mail your questions to Dear Crabby... Click here
If you want to submit a question anonymously, use the Web Mail Form.
OR


crabcakes@sitnews.org
Post a Comment View Comments
Submit an Opinion - Letter
Sitnews
Stories In The News
Ketchikan, Alaska