Dear Crabby
by Mrs. Crabcakes - Ketchikan, Alaska
Saturday - July 10, 2004
This column is strictly for entertainment purposes only and
is not intended to be taken to heart as serious advice.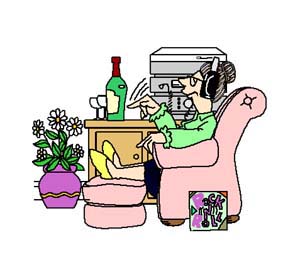 DEAR CRABBY,
My fiance, "Eric" and I got engaged seven months ago. We plan to be married in September. We are having a long engagement so we have time to save money for the kind of wedding we have always wanted. My dad was laid off last year, and now works at a tourism job, so they can't do everything for us anymore.
A situation has come up in my family recently, and I would like your opinion about it. My sister and her husband have made an appointment for a family portrait to be taken, and while it does include my parents, myself, and their children, it does not include Eric. I don't understand why they won't allow my fiance to be in the picture, and I told them that. They said he isn't part of the family yet, and this is a family only portrait.
My parents love Eric like the son they never had, and he spends alot of time at our house helping them out with repairs and yardwork. He is not close to his own family, and they live in Washington State, so he thinks of my folks like family already. My parents will not take sides, and say it's up to my sister and her husband, because it is their photography session. What do you think?
UNHAPPY SISTER


DEAR US,
I take it you are the spoiled younger sister. So lookie here Ebeneezer, why don't you pony up some money to put whomever you want in your own portrait? When you think of your sister and brother in laws' photographer, realize THIS:
THEY are making the appointment.
THEY are paying for the pictures
ERIC is NOT a family member yet.
YOU don't give the orders in their family.
Why don't you just insert him digitally with Photoshop later, or maybe try to slip him into the picture in a dog suit? How big is he, anyway?
Web mail your questions to Dear Crabby... Click here
If you want to submit a question anonymously, use the Web Mail Form.
OR


crabcakes@sitnews.org
Post a Comment View Comments
Submit an Opinion - Letter
Sitnews
Stories In The News
Ketchikan, Alaska