Dear Crabby
by Mrs. Crabcakes - Ketchikan, Alaska
Monday - June 14, 2004
This column is strictly for entertainment purposes only and
is not intended to be taken to heart as serious advice.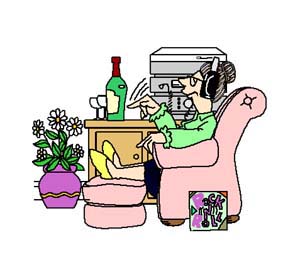 DEAR CRABBY,
I've been divorced for almost 4 years, and except for having my son on weekends, I live alone. I've been working with the woman I love- and in very tight quarters. I have never known such caring kindness before, especially in a platonic relationship. She is thoughtful, giving, and generally wonderful.
It appears she is happy in her marriage, and I know I'm dreaming to think anything can come of this. The fact that we spend so much time alone together, laughing, talking, and working, makes me think there could be something there. She seems to like our 'interactions', and I live for the time we spend together.
I know I'm in love with her, and have been for some time. She does little things for me that make me feel special and I know in another life, we belong together.
How can I keep from making a fool of myself; and what if her husband learns how I feel? PS If any women out there want to write, please pass along my address.
PINING CO WORKER
DEAR PINING CO W,
She sounds like your dream woman. Actually, she sounds like your mother. Caring, kind, giving, platonic relationship. HHmmm... How's her potato salad? My advice? Keep your eyes in your head when she's around, and go seek some nice single girl ­ Sunday morning in church or Friday night in the bars like everyone else.

DEAR CRABBY,
There has been a big discussion at work here about adult thumb sucking. Society seems to consider this an embarrassing habit. Well, there are many of us out here that think sucking your thumb is perfectly normal and acceptable at any age!
I am a 24 year old senior in college and have been a thumb- sucker ever since I can remember. I think we should just accept things like this about ourselves and others without being so judgmental. It is a relaxing habit that has been a healthy alternative to drugs and alcohol when I'm stressed. My fiancé, family and all of my friends know I suck my thumb, and no one cares.
COLLEGE AGE THUMB SUCKER
DEAR CATS,
Of course they don't care. When they are bored, they have something to talk about, and they make fun of you behind your back. So thanks, but I'll stick to booze.


Web mail your questions to Dear Crabby... Click here
If you want to submit a question anonymously, use the Web Mail Form.
OR


crabcakes@sitnews.org
Post a Comment View Comments
Submit an Opinion - Letter
Sitnews
Stories In The News
Ketchikan, Alaska