Dear Crabby
by Mrs. Crabcakes - Ketchikan, Alaska
Monday - March 08, 2004
This column is strictly for entertainment purposes only and
is not intended to be taken to heart as serious advice.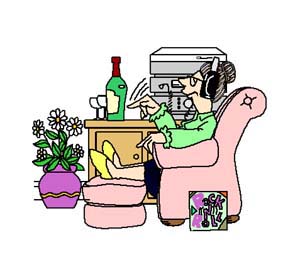 DEAR READERS,
I must apologize. I left town for 2 weeks and had tried to time my columns so as not to inconvenience you. I had left it in (what I thought were) the capable hands of my cousin, Flabby. I have returned, only to find she had completed only one letter, and even this one is embarrassing. I guess every family has some-eccentric relatives; 'funny', strange, some even raised to the status of Village idiot. I have discovered that Flabby looks up to those people. Apparently, we are not as alike as I'd thought. Flabby's "advice":

DEAR FLABBY,
I am not graduating for 2 more years yet, but we're researching career choices this week in school. We need some occupations so we can plan our paths after graduation. I was wondering what you would suggest. Thank you.
HIGH SCHOOL SOPHMORE
DEAR HIGH SCHOOL,
I have thought long and hard about these things. OK, truth is, I have never thought long and hard about anything in my life. I have never even attempted anything hard. The only reason I agreed to do this column for ol' Crabby when she was gone is so I could play around with the voice software on this computer. If this involved any kind of work, I would have made some lame excuse to get out of it. Turns out, I listen to an array of funny voices and talk back to the machine while lying flat on my back, eating Dove Bars and doughnuts until dinnertime.
Concerning your question: I myself have always leaned toward the more creative type enterprises such as couch tester. Some are so low to the floor that you have to 'roll up' out of them. I don't like that. I would like to be a member of a movie test audience (critic involves too much thinking, not enough enjoyment), an ice cream taster, a bed sheet designer (face it, anyone can throw paint at a sheet and make money when someone clones the results). How about being in charge of approving or poo-pooing luxury restaurants, five star resorts and high performance cars (Viper, Lotus, Lamborghini, anyone?) Deciding which cats and dogs are ugly so shouldn't be on calendars, and which firemen should be (shirt off; suspenders, pants, hats and boots on). Doing a thumbs up or down on TV pilots sounds good. Pretty much anything that requires sitting around and indulging myself appeals to me. It's all out there waiting for you, kid!
DEAR CRABBY,
My husband and I fly south each winter to spend a week with our daughter, her husband, and 4 children. They also come here for 2 weeks every summer, so the men can go fishing, and we all go camping for a few days.
This year though, I am thinking about arranging a trip of our own, because these "vacations" are anything but restful for me. I do all the dishes, laundry, cooking, cleaning, shopping, babysitting, and serve everyone during every visit. They are content to sit and do nothing, or go recreate while I stay behind to catch up on the housework and start the evening meal. I can't take it anymore. I'm exhausted, and feel resentful and unappreciated.
I want to spend time getting to know my grandchildren, but instead, I feel like I'm getting to know my place in the family. Can you give me any ideas other than avoiding it altogether?
TIRED GRANDMA IN FIRST CITY
DEAR TGIF,
Lookie here Hazel, I mean Grandma; if you were smart enough to have a daughter that has 4 children and is still married in this day and age, with enough vacation money to come to Alaska annually, then you cannot possibly be too dumb to get out of this situation. No, I think you are too soft-hearted. Or chicken. Or passive-aggressive and unimaginative, thereby needing my expertise. You have come to the right place.
Send your daughter a 'heads up' note before changing your travel plans so as not to cause any permanent emotional harm. When one is used to their mother waiting on them hand and foot until she drops dead and can no longer make her 'specialty strawberry waffles' (due to her being dead and all), it can be traumatic. It can be equally traumatic to lose a fish. Especially if her husband is a whiney baby about losing his fish.
Back to the subject! NO! YES! OK then. (Did I say that out loud?) You should dye everything red in the laundry, give them all the runs with your cooking, and forget to flush the toilet a lot. Say "yes", when they ask if the dishes in the dishwasher are clean, whether they are or not. Go for a walk when everyone thinks you are inside cooking. Show them you are one of the gang, that you are fun, just like them! That you, too can be a slob! You, too are no good at housework while on vacation! Order pizza, hide in the bathroom when it arrives, then act surprised and thrilled that "We" don't have to cook tonight. See a movie instead of shopping, just as they're running out of toilet paper back at the ranch. They'll either be helping out or grossed out in no time. Good luck, grandma! Now, as long as you're waiting on everyone, get me a beer.

Web mail your questions to Dear Crabby... Click here
If you want to submit a question anonymously, use the Web Mail Form.
OR


crabcakes@sitnews.org
Post a Comment View Comments
Submit an Opinion - Letter
Sitnews
Stories In The News
Ketchikan, Alaska