Good old golden rule days
By MARSHA MERCER
Media General News Service
November 17, 2006
Friday

WASHINGTON -- "I truly believe in the golden rule," Senate Majority Leader-elect Harry Reid said last week. "And that means we're not going to treat them like they treated us."
What's that? Refraining from tit-for-tat behavior against the Republicans is laudable and it may be surprising on Capitol Hill, but it's hardly the golden rule.
The golden rule calls for more than rising above revenge. It's doing unto others as you would have them do unto you.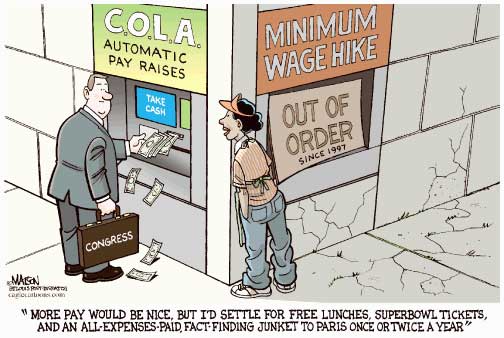 Congressional Pay & Minimum Wage
Artist RJ Matson, The St. Louis Post Dispatch

This isn't the first time a politician has gotten tangled up in the golden rule. Here's President Bush in Springfield, Mo., in 2004:
"The true strength of America is found in the hearts and souls of people like Travis, people who are willing to love their neighbor, just like they would like to love themselves."
These days, even gold isn't the gold standard. Some business manuals advise that it's not good enough to treat people as you would like to be treated. You need to treat people as they would like to be treated. Author Dr. Tony Alessandra calls this "the platinum rule."
Nobody expects Congress to live by precious metal rules. Politics has its own demands. The best we can hope for is cooperation and civility.
But this week, on the 43rd anniversary of the death of President Kennedy on Nov. 22, 1963, it's worth remembering a president who invoked the golden rule _ not just as a behavioral standard for tough partisans on Capitol Hill but as a beacon for the larger society.
During the turbulent civil rights era, JFK awakened America's conscience to the moral crisis facing the nation on race relations.
On the evening of June 11, 1963, hours after he federalized the Alabama National Guard to allow black students to register for classes at the University of Alabama, Kennedy made a televised speech from the Oval Office,
"We are confronted primarily with a moral issue. It is as old as the scriptures and is as clear as the American Constitution," he said.
"The heart of the question is whether all Americans are to be afforded equal rights and equal opportunities, whether we are going to treat our fellow Americans as we want to be treated."
Kennedy called on Congress to pass legislation to extend equal rights to all Americans. But he also said that legislation "cannot solve this problem alone. It must be solved in the homes of every American in every community across our country."
And he called on all Americans to help make the change.
"It ought to be possible for American consumers of any color to receive service in places of public accommodation, such as hotels and restaurants and theaters and retail stores, without being forced to resort to demonstrations in the street, and it ought to be possible for American citizens of any color to register to vote in a free election without interference or fear or reprisal.
"It ought to be possible, in short, for every American to enjoy the privileges of being American without regard to his race or his color."
Kennedy was dead five months and 11 days later, and it fell to Lyndon Johnson to twist arms to get the civil rights legislation passed the next year.
A lot has changed since then, and our politics reflect the changes. The last midterm campaign revolved around Iraq and Bush and taxes. Changing course in Iraq is Topic A on Capitol Hill. But Democrats know that Iraq alone won't close the deal with voters in 2008.
Sen. Charles Schumer, D-N.Y., who ran the Democrats' successful senatorial campaign effort, says voters this year took a chance on the Democrats. Now the Democrats need to prove they understand the average American's problems by raising the minimum wage, expanding tuition tax credits and lowering prescription drug costs for seniors.
All that's fine, but Democrats could learn from JFK who also asked people to pitch in to make the country better.
"Every American," Kennedy said so long ago, "ought to have the right to be treated as he would wish to be treated, as one would wish his children to be treated. But this is not the case."
Marsha Mercer is Washington bureau chief of Media General News Service.
E-mail mmercer(at)mediageneral.com
Distributed to subscribers for publication by
Scripps Howard News Service, http://www.shns.com

Publish A Letter on SitNews Read Letters/Opinions
Submit A Letter to the Editor

Sitnews
Stories In The News
Ketchikan, Alaska