A loser of a first impression
An editorial / By Dale McFeatters
Scripps Howard News Service
November 17, 2006
Friday

Nancy Pelosi's first act as speaker-elect of the U.S. House was to stumble badly.
A child of Baltimore's machine politics broke an old rule of those politics by picking a fight that she should have known she would lose - and lose big.
Late in the game, she suddenly endorsed John Murtha for the post of House majority leader, in effect her top deputy, over the consensus favorite, Steny Hoyer. Hoyer won, 149 to 86.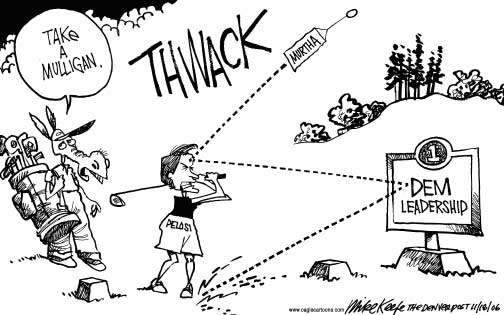 Pelosi in the Tee box
Artist Mike Keefe, The Denver Post
Distributed to subscribers for publication by Cagle Cartoons, Inc.

So much for a display of Democratic unity. The great crush of press outside the Democratic caucus was there for the Hoyer-Murtha fight, not the Pelosi coronation.
In the short term, Pelosi's rebellious charges did her a favor. Hoyer is a skilled and popular legislative operative who will, as the saying goes, make the trains run on time.
The more roughhewn and blunt Murtha would have been a constant target for Republicans, who have it in for the former Marine who became the first authoritative lawmaker to say that the Iraq war was a failure and the United States should withdraw.
One of the House Democrats' strongest issues in the election was that they would restore high ethical standards that corrupt Republicans had allowed to lapse.
Murtha, who had a near-death experience with a corruption scandal 26 years ago - resurrected once he announced for the leadership - would have been viewed as a repudiation of that pledge. He derided as "total crap" Pelosi's ethics reform package, but said that as leader he would work to see that it passed anyway, showing a certain flexibility of principle that voters find all too common in politicians.
In the longer run, Pelosi may have hurt herself with the Murtha gaffe. That misstep showed that she is not invulnerable and may have prompted some ambitious Democrats to think about a leadership challenge down the road.
Like Pelosi did with Democrats, Newt Gingrich led his fellow Republicans out of the wilderness in 1994. He weathered an abortive coup in 1997 and resigned as speaker in 1998.
The 41 freshmen House Democrats are a generation removed from Pelosi, 66, and Hoyer, 67, and their first experience with their new leaders was a failed attempt by one to oust the other. The newcomers have to be wondering.
If Democrats had to have this test of wills - and maybe it was inevitable - it was better to have it now, in the exhibition season, so to speak, than next year when the games count for real.


Distributed to subscribers for publication by
Scripps Howard News Service, http://www.shns.com

Publish A Letter on SitNews Read Letters/Opinions
Submit A Letter to the Editor

Sitnews
Stories In The News
Ketchikan, Alaska