Pullout or bloodbath?
By JOHN HALL
Media General News Service
November 15, 2006
Wednesday

WASHINGTON -- Scarcely 10 days have passed since the stunning rebuff to the administration's Iraq policy, and second thoughts have begun appearing about the American troop withdrawal that voters had uppermost in mind.
The Baker-Hamilton study group goes to the White House and does a teleconference with British Prime Minister Tony Blair. Then it begins working on the Iraq policy plan it will present by the end of the year.
All the way from down under, Australian Prime Minister John Howard gets the drift, mate. He predicts the study group won't recommend rapid U.S. withdrawal.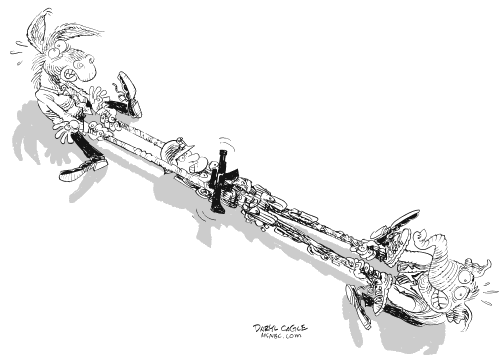 Arguing Over the Troops
Artist Daryl Cagle, MSNBC.com
Distributed to subscribers for publication by Cagle Cartoons, Inc.

What about the new Democratic Congress?
Many Democrats are now promising to work towards a fast exit when they take control next year, including Sen. Carl Levin of Michigan, the incoming Armed Services Committee chairman.
America would suffer "enormous damage" if it did so, John Howard argued. But Carl Levin said there was probably a slim majority now in the Senate to back his call for a phased withdrawal of U.S. troops, the beginning of an end to U.S. involvement in the war.
What about the House? Look for a big clue Thursday. Rep. John Murtha, D-Pa., is challenging House Minority Whip Steny Hoyer for the post of House majority leader in next year's Congress.
Wow! You don't care?
Listen, Murtha's opposition to the Iraq war policy was one of the most significant breaks with President Bush because of Murtha's combat record as a Marine and his pro-military House record. If he wins today, it could be a sign of a majority forming next year to bring troops home.
Maybe. The legislative calendar is long and deep, and there are many bills and riders before we sleep. (Frost, as amended.)
The bipartisan panel, headed by former Secretary of State James Baker and former Rep. Lee Hamilton of Indiana isn't called a study group without reason. It is less likely to focus on an exit strategy than broader geopolitical goals, perhaps along the lines that Tony Blair laid down this week. He recommended more talk and less conflict with Middle East adversaries like Syria and Iran. Even President Bush couldn't swallow that diversion and rejected any conferring with axis-of-evil-ite Iran.
A step-up of the pace in handing over security responsibilities to government forces in Iraq could be a safe avenue for the group to explore. A troop pullout based on progress in this area is the obvious solution.
Iraqi Prime Minister Nouri al-Maliki, however, has made even this a tricky proposition. He suggested he would favor a timetable for taking control of national security, a prelude for American withdrawal, if it were tied to greater freedom for Iraqi troops to handle security the way they see fit.
Al-Maliki lately has been on the side of getting Americans out of Iraq on as fast a pace as possible. He wants to execute Saddam Hussein, show foreigners the gate and get on with the business of running his country.
Fine, say a lot of Americans.
Bush says "no" if it leaves a safe haven for al-Qaeda, but many think that could be resolved from Special Forces Kurdish bases or outside Iraq altogether.
A greater concern is that a premature withdrawal will lead to a civil war. That, in Iraq, could be a blood bath. It may already be one.
The role of American troops increasingly has become one of restraining Iraqi militias and Shiite troops in their treatment of the Sunni minority in Iraq. Reports of death squads roaming through Sunni neighborhoods and Shiite killers posing as uniformed police and soldiers are accompanied by hundreds of mutilated bodies turning up each week.
Al-Maliki has close political ties with the largest of Iraq's private sectarian militia organizations. Even with Americans staring at him, his control of the militias has been spotty. But he exercises some degree of clout when U.S. leadership forces him to use it.
As if they didn't have enough to do, an additional mission seems to have crept in on American troops: to be sure that those left in charge when they leave will not abuse their power. If there are no longer foreigners to defend the ordinary Iraqis when the Yanks leave, who will?
John Hall is the senior Washington correspondent of Media General News Service. E-mail jhall(at)mediageneral.com.)


Distributed to subscribers for publication by
Scripps Howard News Service, http://www.shns.com

Publish A Letter on SitNews Read Letters/Opinions
Submit A Letter to the Editor

Sitnews
Stories In The News
Ketchikan, Alaska