One scandal displaces another
By DAN K. THOMASSON
Scripps Howard News Service
October 09, 2006
Monday

WASHINGTON -- When you have Mark Foley who needs Jack Abramoff? The nefarious onetime super lobbyist is old hat - as black as it is.
Suddenly, the great hope of the Democrats for regaining control of Congress has shifted to the tawdry activities of Foley, who resigned his Florida House seat immediately after it was disclosed that he had been sending dirty messages to teenage boys who were House pages and that Republican leaders had known for sometime that something was amiss and failed to act appropriately.
So out with the old and in with the new (scandal that is). It's the Washington way at election time, after all. Besides this one is much closer to balloting time and involves indiscretions about which there can be little doubt. In fact the only gray in the Foley mess is what did the House Republican leaders know and when did they know it. For Watergate buffs that should sound familiar.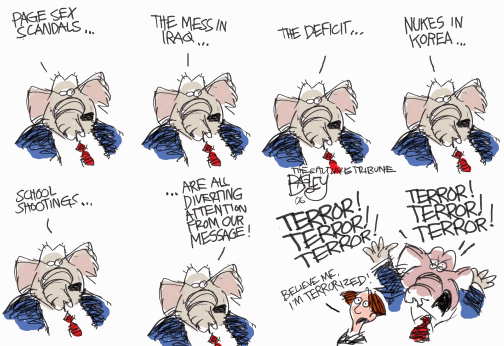 GOP Message
Pat Bagley , Salt Lake Tribune
Distributed to subscribers for publication by Cagle Cartoons, Inc.

Although the election is still five weeks away, unless this Republican nightmare fades quickly which seems doubtful, it will be on the minds of a lot of voters next month. That seems especially true given the fact that the House Ethics Committee will conduct its own inquiry.
Certainly the polls are showing it has been having a serious negative impact on GOP hopes of holding on to Congress. GOP pollsters are conceding that their majorities in both Houses are in great peril.
Revelations about Foley's email activities have sent shivers through even the Republican conservatives, particularly the more evangelical, who oppose the very nature of what Foley's messages imply even between consenting adults let alone a congressman and teenagers he had made a show of pretending to protect. The question now becomes what portion of this important Republican base is so disgusted and disillusioned that it will just stay home in November.
House Speaker Dennis Hastert has met calls for his resignation with contentions that he knew nothing of Foley's sexually explicit e-mails to pages and that when he did discover them he demanded Foley resign immediately. Even if that is completely accurate, he did know that the congressman had written more than just an "overly friendly" e-mail to a 16-year-old that while not sexually explicit was suggestive enough to raise hackles.
If the speaker and the rest of his leadership team have any way out it is that the rather bland message to the 16-year-old also was dismissed by both the St. Petersburg Times and the Miami Herald after being convinced by Foley it was a harmless inquiry into the young man's welfare. Neither newspaper ran a story although both had investigated the incident a year earlier. Furthermore, it now turns out the FBI had a copy of that message in July and decided not to take action.
Adding to the Republican distress is the fact Foley had been in the forefront of efforts to curtail sexual predators making the rather sanctimonious, over dressed, over quaffed six-term congressman one of the larger hypocrites in a profession full of them. But then that is probably not a surprise given the history of these kinds of things. It was always thus, my mother used to say, watch out for those who protest too much.
It would be difficult to imagine that Hastert could have seen the really offensive emails and not taken appropriate action even if it meant losing a safe seat in a perilous election. Although he never has impressed me as the brightest light in the chamber, there has been nothing to suggest that he is that callously insensitive and unscrupulous. If it is discovered otherwise, he is and should be finished. Color him gone. He is, after all, a former high school wrestling coach who must be acutely aware of how explosive these kinds of situations can be.
But it is frequently the small things that bring the house down around one's ears, particularly the U.S. House of Representatives where a succession of speakers have found themselves besieged by indiscretions often seemingly trivial, but simple enough for the average voter to get his or her anger around.
This isn't Jack Abramoff lying, stealing and cheating his way into what became for him unwanted prominence. It is a nasty piece of business that infuriates every mother and father and grandmother and grandfather who already are constantly fearful of lurking Internet abuse of one of theirs. Ironically, all the anger over the failures in Iraq and accusations about the president's foreign policy and counterintelligence missteps may not hold a candle to the damage done Republicans by this incident.
Jack who? Osama who?
Dan K. Thomasson is former editor of the Scripps Howard News Service
Distributed to subscribers for publication by
Scripps Howard News Service, http://www.shns.com

Publish A Letter on SitNews Read Letters/Opinions
Submit A Letter to the Editor

Sitnews
Stories In The News
Ketchikan, Alaska