But only one Clinton can drive the car
By MARSHA MERCER
Media General News Service
September 11, 2007
Tuesday

WASHINGTON -- Hillary Rodham Clinton jokes that if she's elected, the country finally will have a president who doesn't mind pulling over and asking directions.
That's funny, but when I imagine her in the driver's seat, I see Bill riding shotgun, telling her where to turn. Maybe she listens, maybe not. But I can't imagine the two of them feeling the need to ask anyone else for directions.
Their partnership is as fascinating as it is unknowable. The reality is, we're in uncharted territory as a nation with a former president as potential first spouse. His role in the West Wing? Who knows?
First we'd have to figure out what to call the president's husband.
"My Scottish friends say I should be called 'first laddie,' " Bill Clinton quipped to Oprah Winfrey last week, "because that's the closest thing to 'first lady.' "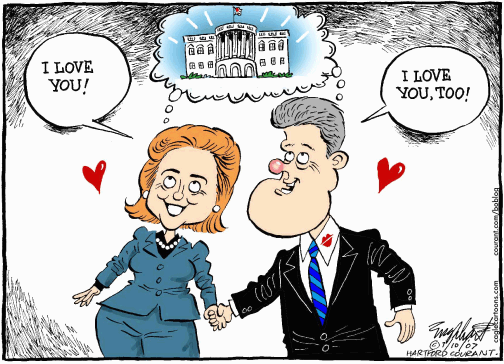 Clintons In Love
Artist Bob Englehart, The Hartford Courant
Distributed to subscribers for publication by Cagle Cartoons Inc.

He says he's enjoying his post-presidency, and who wouldn't. He has millions tucked away from speeches. His humanitarian relief efforts have made him an international hero. He golfs. He even found time to write another book.
The book is the ostensible reason for his current media blitz, but it also gives him an opportunity to shine his considerable personal wattage on his wife's campaign.
Clinton's star power made Fred Thompson's much-anticipated debut into the Republican presidential race almost anticlimactic. Thompson, though, is playing the Clinton card from Day One.
On his Web video explaining why he's running, Thompson said Republicans in Congress were down after the 1992 Clinton win, and "you don't want to have to come back from another Clinton victory."
In the 1992 campaign, the Clintons' early offer of a co-presidency, "buy one, get one free," fell flat after Hillary's comment that she could have stayed home and baked cookies but chose instead to have a career. This time around, Bill is her softer side. Sunny and warm, he exudes a we're-in-this-together coziness. He sounds kind, smart and conciliatory, like Barack Obama. The former first lady, ever proving she's tough enough for the top job, portrays herself as a fighter.
Bill Clinton's new book, "Giving," about global charity efforts from the corporate level to the individual, is subtitled, "How Each of Us Can Change the World." Why not just attach a sticky note that reads, "Hey, boomers, it's not too late! Join us!"
On Winfrey's talk show, he shared a glimpse of life, Clinton-style. Some days, he said, he gets a call from somewhere in America, and it's Hillary, saying, " 'Do you realize I'm 15 years older than you when you did this?' And I say, 'Well, nobody made you run, girl.' "
Clinton's 1992 campaign staff called him Secretariat because he was the "thoroughbred of thoroughbreds" as a campaigner, former press secretary George Stephanopoulos has told PBS.
"Whether it was working a rope line or giving a speech or devising the policy or just having the stamina to last through four 20-hour campaign days in a row and do it with good humor and grace. None of us had ever seen anything like this before."
The 2008 presidential campaign will be the longest and most grueling on record. It's been going forever and has barely begun. Candidates have every right to be tired and cranky, but of course they can't show it.
Hillary Clinton turns 60 next month. Nobody is suggesting she's too old to be president, unlike poor John McCain, 71. A high-schooler in Concord, N.H., asked McCain last week whether he worries he might die in office or get Alzheimer's.
McCain said voters should judge his vigor for themselves, and, the Concord Monitor reported, he then turned to the kid and said, "Thanks for the question, you little jerk. You're drafted."
We rarely see such unscripted moments with Hillary. It's easy to be cynical about her and her husband.
When Winfrey asked Bill whether he misses the White House, his answer was classically calibrated.
"Yes and no," he said.
He enjoys what he's doing now; it's a waste of time to wish you could do something you no longer can; and besides, he said, he's still "sort of in politics" through Hillary.
That's like saying a fish is sort of involved in water. Or that Hillary would stop for directions if Bill was in the car.
Marsha Mercer is Washington bureau chief of Media General News Service.
E-mail mmercer(at)mediageneral.com
Distributed to subscribers for publication by
Scripps Howard News Service, http://www.scrippsnews.com

E-mail your news, photos & letters to editor@sitnews.us

SitNews ©2007
Stories In The News
Ketchikan, Alaska