War between the states
An editorial / By Dale McFeatters
Scripps Howard News Service
May 20, 2010
Thursday

While President Barack Obama was patching things up with Mexican President Felipe Calderon, another border problem was heating up -- the escalating tensions between California and Arizona.
It began when Arizona passed a law enabling police to stop suspected illegal immigrants and ask for ID. The San Diego city council, with a large population of Mexican origin, passed a resolution disapproving of the law. In turn, Arizonans, 2 million of whom visit the city annually, threatened to boycott San Diego's beaches this summer.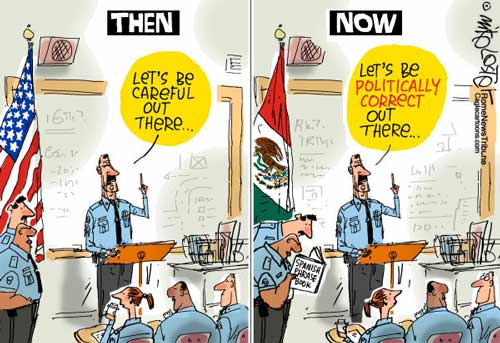 Let's Be Careful Out There
By Mike Lester, The Rome News-Tribune
Distributed to subscribers for publication by Cagle Cartoons, Inc.

Matters were more serious in Los Angeles. There, the city council not only disapproved of the law but voted to boycott Arizona and Arizona-based businesses. In addition, council members urged the city to try to convince conventions to relocate from Arizona to Los Angeles.
Then Gary Pierce, a member of the Arizona energy commission, suggested that unless L.A. Mayor Antonio Villaraigosa renounced the boycott his state might cut off the 25 percent of Los Angeles' electricity supplied by two Arizona power plants.
And Pierce also launched a novel metaphor into the dispute: "I feel like if you're going to boycott the candy store, you've got to leave all the candy alone."
Austin Beutner, LA's top water and power officials, shot back with a statement saying, in essence, bring it on. He noted that Los Angeles was part owner of the two plants, leaving the implication that the city might reciprocate by cutting off Arizona's power.
Moreover, he made a pitch for "any conventions or meetings that were going to be held in Arizona to come to Los Angeles," which, he added, has better facilities and better weather.
Arizona politicians have been lobbying Obama to station 1,500 National Guardsmen on the border. Everyone just assumed they meant the border with Mexico but the way relations with California are deteriorating, maybe not.
Distributed to subscribers for publication by
Scripps Howard News Service, http://www.scrippsnews.com


SitNews ©2010
Stories In The News
Ketchikan, Alaska

Articles & photographs that appear in SitNews are protected by copyright and may not be reprinted or redistributed without written permission from and payment of required fees to the proper sources.