YARDSMART
Chaos theory and cottage gardens
By MAUREEN GILMER
DIY Network
May 29, 2008
Thursday

Being allergic to math, I can't begin to explain the physics of chaos theory, but I think it's happening in the cottage garden. Where else can we find plants randomly thrown together that result in such intrinsic beauty? It brings me to a belief I've held for decades, that there are no ugly cottage gardens.
No matter what flowers you throw together, if there are enough of them it is always charming. This is often the case with a riot of spring wildflowers, which bear the same impact as a carefully designed garden. It is not that some divine hand arranged each serendipitous wild combination, but rather that all combinations are beautiful. The randomness of the wildflowers proves we simply can't go wrong no matter how much we try.
When anyone who gardens decides to let go of preconceived ideas of what flowers go together and simply lets feelings guide the hand, the result is always satisfying.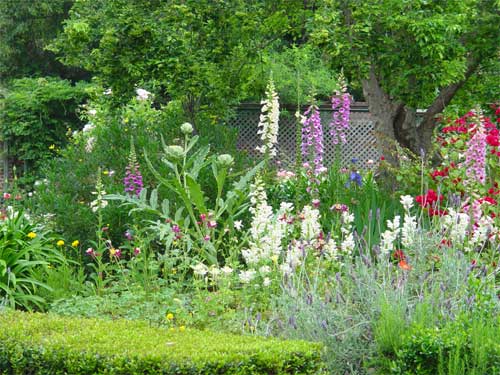 You wouldn't think that oddities such as artichokes are suited to the cottage garden, but in this composition they blend naturally with foxgloves and columbine.
SHNS photo courtesy Maureen Gilmer

Cottage gardens actually evolved as gardens of the people, the lower working classes, often domestics in the manor houses of the wealthy. Their gardens were at once collections of useful plants from the countryside and assorted wildflowers brought into cultivation merely because they bore beautiful colors.
Estate laborers and gardeners often brought home slips, seeds and bulbs from their landlord's horticultural collections. These imports from around the world expanded the range of plants that inhabited such humble abodes. The Chinese peony and the Arabian hollyhock and Peruvian lily were for the first time grown in proximity with the woodland violet and French lavender. Strangely enough, they worked.
As hard times affect every American, flower gardens remain one of the most satisfying things we can do to make beauty and harmony out of economic chaos. Many fail to realize that of all things in the garden center, plants offer the narrowest profit margin to the proprietor and growers. This means that when you buy plants you are receiving the greatest value for your dollar, and when those plants provide us with seeds or offsets or cuttings, the value doubles.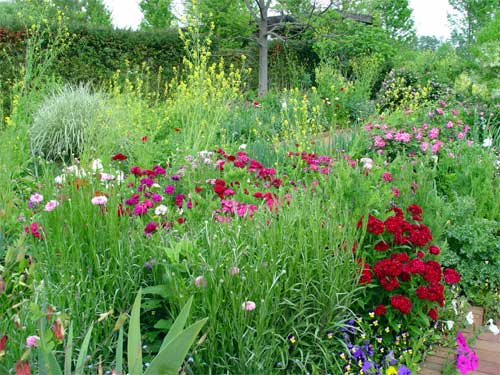 The haphazard look of cottage-garden plantings is what endears them to their creators, with each a very serendipitous composition.
SHNS photo courtesy Maureen Gilmer

The trick to gardening in hard times is to keep plants front and center, then simply resist indulging in the hard goods and decorator items. You'll find plenty of that stuff at garage sales! Do not forget the value of community, either, because cottage gardeners were famous for sharing roots and seeds with friends and neighbors.
When rising gas and food prices limit our household budget to necessities, do not forget to turn back to the garden. We've strayed far from the basics of garden-making, choosing to buy a landscape rather than create one. And for those who have hesitated to try for lack of design knowledge or skill, remember that there are no ugly cottage gardens. No matter how unsophisticated or random our preferences, nature in her creative wisdom turns chaos into a mysterious compatibility that ensures you'll never find regret in a cottage garden.
Those laborers centuries ago managed to create their flower gardens with little more than seeds and a compost bin.
Maureen Gilmer is a horticulturist and host of "Weekend Gardening" on DIY Network. Contact her at her Web site www.moplants.com or visit www.diynetwork.com
Distributed to subscribers for publication by
Scripps Howard News Service, http://www.scrippsnews.com


Publish A Letter in SitNews Read Letters/Opinions
Contact the Editor
SitNews ©2008
Stories In The News
Ketchikan, Alaska

Articles & photographs that appear in SitNews may be protected by copyright and may not be reprinted without written permission from and payment of any required fees to the proper sources.