Hint: Louisiana's sort of boot-shaped
An editorial / By Dale McFeatters
Scripps Howard News Service
May 05, 2006
Friday AM

Adults prone to brooding over the inadequate education of our young have yet more reason to brood.
The National Geographic Society polled 510 Americans ages 18 to 24 and found that the majority of them, in the broadest sense of the term, don't know where they are.
One-third couldn't locate Louisiana and nearly half couldn't locate Mississippi on a map of the United States despite those two states dominating the news coverage last fall. OK, so these aren't exactly top tier, destination states, but half couldn't locate New York state either.
It was worse overseas.
Ambrose Bierce once wrote, "War is God's way of teaching Americans geography." Wrong.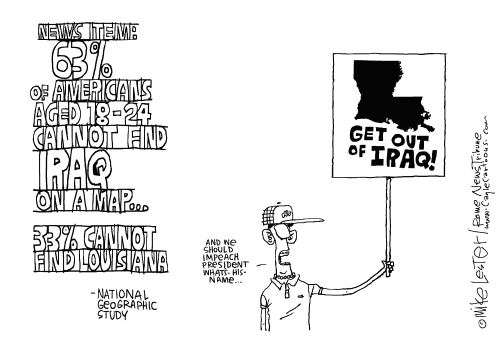 National Geographic
By Mike Lester, The Rome News-Tribune
Distributed to subscribers for publication by Cagle Cartoons, Inc.

Sixty-three percent couldn't find Iraq, where we've been fighting for over three years, on a map of the Middle East and 90 percent couldn't find Afghanistan, where we'll have been fighting five years this fall.
Three-quarters couldn't find Iran or Israel, and 47 percent couldn't locate the Indian subcontinent on a map of Asia. Similarly, 75 percent couldn't find Indonesia.
There are other embarrassments but you get the drift. The dismaying part is that less than 30 percent think it's important to know the location of countries in the news.
This suggests that basic geography is being taught dismissively or not at all. And young people don't suddenly decide en masse that they're going to zone out on geography; they take their cue from adults who, except for the World War II generation that learned geography the hard way, may not fare much better.
How hard can it be to teach the location of the 50 states on a map or to identify the world's major nations. It's not like Indonesia is some obscure Pacific atoll.
The National Geographic, along with several educational organizations, plans an instruction campaign called My Wonderful World to remedy this knowledge deficit in students 8 to 17.
Let's hope this works since otherwise we really can't leave any children behind. They'd get lost.
Contact Dale McFeatters at McFeattersD(at)SHNS.com
Distributed to subscribers for publication by Scripps Howard News Service.

Publish A Letter on SitNews Read Letters/Opinions
Submit A Letter to the Editor

Sitnews
Stories In The News
Ketchikan, Alaska