Hurrah for tea parties
By JAY AMBROSE
Scripps Howard News Service
April 16, 2009
Thursday

Over at lowbrow MSNBC, the jokes about tea parties have been lewd and crude. Some other commentators think such protests are just stupid. And the federal government has been worrying about right-wing extremists.
So it seemed a kind of truth-seeking mission to visit Denver's Tax Day demonstration, a gathering of men and women whose ideas were pretty well summed up in the posters they were carrying.
"Haste, waste and fear is not a plan," said one. "200 years to build a nation, one election to destroy it," said another. In large, Magic-Marker letters, readers were told of the threat of socialism and the blessings of free enterprise. Anyone still suspecting President Barack Obama was the day's hero need only have glanced at this message: "Hail to the thief."
But in contrast to any federal paranoia about a recession-bred willingness to sign up with militias or supremacist groups, the 5,000 or so people gathered in front of Colorado's golden-domed Capitol were everyday folks, mostly cheerful, laughing, having a good time, carrying flags, singing patriotic songs, saying the Pledge of Allegiance and focused on one overriding theme: the government's Obama-directed spending binge.
Repeatedly, a speaker referred to the trillions in debt being piled up, and repeatedly, he and others worried about the burden on future generations and the implications to individual liberty. There was some play with an Obama rhetorical trick - his asking people whether they could do this or that and having them say, "Yes, we can." A speaker asked a series of questions at this session -- such as whether the government can take over the economy -- and was told by the shouting audience, "No, you can't."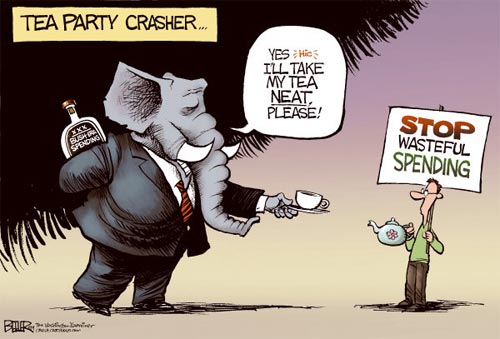 Tea Party Crasher
By Nate Beeler, The Washington Examiner
Distributed to subscribers for publication by Cagle Cartoons, Inc.

This wasn't a Republican deal, even though some Republican state legislators stood above the crowd on a balcony, encouraging everyone with thumbs-up gestures. How do you suppose they felt when the speaker said, look, Republicans helped get us in this mess -- they spent like crazy when it was their turn? The Denver tea party was mostly a grassroots, Internet-coordinated occurrence like some 730 others that took place across the country.
Nor was this an act of mob imbecility, even if Obama insists that economists of all ideological persuasions agree that spending is the only available means of getting us out of the recession. In fact, dozens of economists including Nobel Prize winners say differently -- that lowering spending would serve us better, and that the government should at least not spend crazily.
To me, it is encouraging that at least some Americans care enough about a mindless tumble into jeopardy to make themselves heard. This whole tea party phenomenon -- patterned after the 1773 Boston tea party -- is at least one signal to Washington that some get it that that this spending spree coming on top of an already huge debt could be economically devastating, and that there's a plan for unprecedented levels of spending on new and expanded programs even when the recession ends.
Unlike liberal pundits, these Americans also understand that Obama has already increased tobacco taxes mostly affecting low-income Americans, that his carbon tax plans would hit everyone and that government at all levels is grabbing increasingly outrageous percentages of income from society's most productive members to the detriment of all of us.
Ah, but such understandings can make you suspicious in the eyes of the Department of Homeland Security, which devised a mostly speculative, bias-ridden report about the potential of "right-wing" violence from returning war veterans and different conservative groups, demonstrating, if anything, a rather disconcerting left-wing extremism.
And such understandings make you game for dirty, ridiculing jokes over at MSNBC, where Keith Olbermann, Rachel Maddow and others seem to be intent on seeing just how obnoxiously vulgar they can become. If the value of a cause can be measured by the loutishness of its enemies, the tea party cause must be great indeed.
Jay Ambrose, formerly Washington director of editorial policy for Scripps Howard newspapers and the editor of dailies in El Paso, Texas, and Denver, is a columnist living in Colorado.
He can be reached at SpeaktoJay(at)aol.com
Distributed to subscribers for publication by
Scripps Howard News Service, http://www.scrippsnews.com


SitNews ©2009
Stories In The News
Ketchikan, Alaska

Articles & photographs that appear in SitNews are protected by copyright and may not be reprinted or redistributed without written permission from and payment of required fees to the proper sources.