The Bush administration's sex scandal
By ANN MCFEATTERS
Scripps Howard News Service
April 19, 2007
Thursday

WASHINGTON -- What would you think if the president of the world's most powerful bank, after being given the job by the president of the United States, used his influence to get his girlfriend at the bank detailed to the State Department at a salary higher than that of Secretary of State Condoleezza Rice?
What would you think if the bank president then went on to say that he wanted the hallmark of his new career to be an all-out fight against global corruption and for good governance while ferreting out irregularities within the bank itself?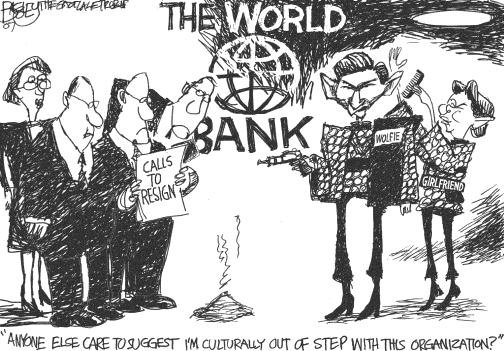 Romulan Wolfowitz
Artist Pat Bagley, Attribution Pat Bagley, Salt Lake Tribune
Distributed to subscribers for publication by Cagle Cartoons, Inc.

What would you say if while this bank president was in his previous job as the No. 2 official at the Defense Department and was advising the U.S. president to go to war in Iraq, the Pentagon sent that same girlfriend, Shaha ali Riza, to Iraq to report on the situation there?
What would you do if you were in the White House while the staff of the bank urged the bank president to resign and he declined, insisting he was sorry and would change his management style (at the age of 63)?
And there you have the nub of the latest Washington scandal.
As a reward for helping oversee the start of the Iraq war and its immediate aftermath, President Bush sent Paul Wolfowitz to head the World Bank. Begun in 1944 to stabilize Europe and eventually reduce poverty, the World Bank loans billions of dollars each year to developing nations. The United States as a major supporter claims the right to name its president.
Wolfowitz's girlfriend, Riza, also worked at the bank. Because bank rules forbid one romantic partner supervising another, Wolfowitz says he negotiated a deal for her to work at State with a raise of $60,000. (And she doesn't pay U.S. taxes because she is still paid by the bank.) He now says he shouldn't have done it but felt bad because of the conflict of interest and was worried she might sue the bank.
When Wolfowitz was deputy defense secretary, the Pentagon OK'd a trip by his girlfriend, Riza, to Iraq in 2003, paid for by a defense contractor, even though the World Bank did not permit its employees to travel to Iraq, an occupied country. She took a month's leave and gave an upbeat report to the bank's board about Iraq. (The United States is eager to have international validation for what it has done in Iraq, a formidable task.) There was considerable grousing at the bank about Riza's trip.
Much of the bank's spring meeting earlier this month was devoted not to pondering corruption in debtor governments but to the confusion over whether there is the appearance of corruption at the bank. Wolfowitz's stated goal in his powerful job, which he has held for two years, is to fight against corruption and for good governance. He's been controversial for denying development money to countries he claims are corrupt, which, ironically, do not support U.S. policies, such as with Iraq.
The White House says it stands by its man Wolfowitz and wants him to stay on the job. Wolfowitz, a rumpled theoretician who made news when he took off his shoes at a mosque and revealed two holey socks, admits he made a mistake but vows to stay. Riza, who is still Wolfowitz's companion, is not publicly talking, although she complained in a written message to the bank board that she's a victim of a job switch she tried to avoid. She gets $193,000 a year, tax-free. (Her nominal boss, Rice, gets $186,000 and pays taxes.)
The bank's staff association argues that Wolfowitz has compromised the integrity and effectiveness of the bank. The bank's board is studying the situation.
Most people think Wolfowitz's name is sullied, his credibility shot.
But far worse, the United States, because of the Bush administration, is being soundly criticized once again for having two standards on good governance - one for others and one for itself. This follows earlier charges of hypocrisy when the administration announced a doctrine of pre-emptive war, when it put terrorism suspects in jail without lawyers or due process, when acts of torture were condoned in a White House memo and when it denounced the Geneva Conventions on treatment of prisoners.
"Do as we say, not as we do" is not cutting it anymore.
Scripps Howard columnist Ann McFeatters has covered the
White House and national politics since 1986.
E-mail amcfeatters(at)hotmail.com
Distributed to subscribers for publication by
Scripps Howard News Service, http://www.scrippsnews.com

Publish A Letter on SitNews Read Letters/Opinions
Submit A Letter to the Editor

Sitnews
Stories In The News
Ketchikan, Alaska