A replacement for the dollar?
An editorial / By Dale McFeatters
Scripps Howard News Service
March 26, 2009
Thursday

It didn't take long for the other shoe to drop.
First, Chinese Premier Wen Jiabao said he had "worries" about the safety of China's vast holdings of U.S. government bonds. Then China's central banker, Zhou Xiaochuan suggested, without mentioning the dollar by name, that it was time to create a new global reserve currency.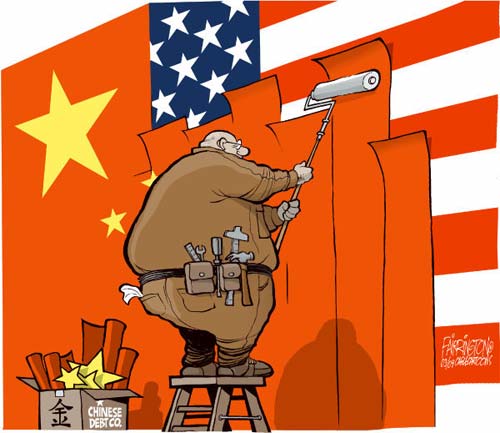 Debt To China
By Brian Fairrington, Cagle Cartoons
Distributed to subscribers for publication by Cagle Cartoons, Inc.

The Russians have also called for the dollar to be replaced as the international standard and plan to propose this at next month's meeting of the Group of 20. The new currency would bring an end, the Russians said, "to the obsolescent unipolar world economic order." "Unipolar" means us.
The dollar has been the international standard for national currency reserves and economic transactions since the last century when, after a long evolutionary process, it replaced the British pound sterling. The other reserve currencies, although to a considerably lesser extent, are the European Union's euro and the Japanese yen.
The Russians would like to see the ruble become a reserve currency and has suggested that there should be a "ruble zone" much like the euro zone. Not surprisingly, this idea holds little appeal for Russia's neighbors.
The Russians' suggestion seems more mischievous than anything else. But the Chinese worry about the worth of its national wealth in U.S. dollars being outside its control. Its economy is peculiarly sensitive to decisions made in Washington.
Over time, as China's economy matures and it establishes a reputation for financial trustworthiness, the yuan may naturally emerge as a reserve currency. As for the dollar, it's not going anywhere. The obstacles to creating from scratch a global super-sovereign currency are just too great.
But simply raising the prospect should be a reminder that the importance of American economic health extends far beyond our borders.

Distributed to subscribers for publication by
Scripps Howard News Service, http://www.scrippsnews.com


SitNews ©2009
Stories In The News
Ketchikan, Alaska

Articles & photographs that appear in SitNews are protected by copyright and may not be reprinted or redistributed without written permission from and payment of required fees to the proper sources.