Bush and Congress square off
An editorial / By Dale McFeatters
Scripps Howard News Service
March 22, 2007
Thursday AM

President Bush undoubtedly felt he had no choice but to dig in and fight a gathering move in the House and Senate to subpoena several of his top White House aides in connection with the firing of eight U.S. attorneys.
But Democrats and some Republicans also likely feel that they have no choice to reject the very limited compromise the president has offered: The aides would address only certain questions in private with no oaths being administered and no transcripts kept. These precautions suggest the White House fears there could be some legal fallout.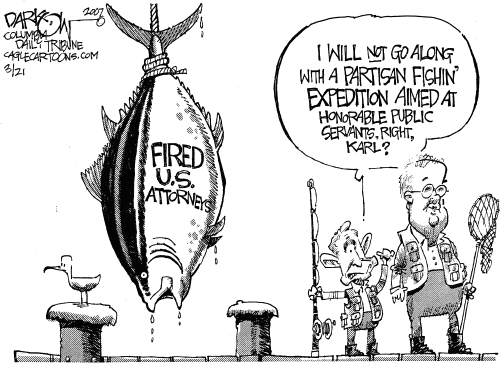 Fish Story
Artist John Darkow, Columbia Daily Tribune, Missouri
Distributed to subscribers for publication by Cagle Cartoons, Inc.

Both sides cite institutional reasons for their stands: The White House its right to protect privileged communications and confidentiality, and Congress its right to exercise oversight over the executive branch.
In a brief appearance before reporters, Bush argued that he has the right to fire federal prosecutors, who serve at the pleasure of the president, for any reason or no reason at all. He noted that all eight had served full four-year terms and that the start of his second term was a natural time to shuffle personnel.
All this is true, but the White House is only now making the arguments it should have made at the time. Instead, as the president admitted, the explanations for the changes were confusing, incomplete and badly handled.
Inexcusably, the Justice Department trashed the prosecutors' professional reputations and subsequent departmental e-mails that came to light established that there was considerable political motivation involved, specifically the failure of some of the U.S. attorneys to mount high-profile, pre-election investigations of Democrats for voter fraud.
There is enough there to warrant further congressional investigation, as many Republicans tacitly conceded by not opposing the approval of subpoena authority by the House and Senate Judiciary committees. There is precedent for White House aides testifying under oath and in public before Congress, and surely safeguards could be negotiated to protect presidential confidentiality.
Many of the separation-of-powers issues here are more a matter of tradition than law, and it would serve no one's interest if this basically political dispute became a constitutional confrontation to be settled by the Supreme Court.


Distributed to subscribers for publication by
Scripps Howard News Service, http://www.scrippsnews.com

Publish A Letter on SitNews Read Letters/Opinions
Submit A Letter to the Editor

Sitnews
Stories In The News
Ketchikan, Alaska