The Walter Reed problem
An editorial / By Dale McFeatters
Scripps Howard News Service
March 09, 2007
Friday AM

Washington has come up with twice the usual number of solutions to the problem of scandalously poor outpatient treatment and housing at Walter Reed Army Medical Center.
President Bush has named former Senate Republican leader Bob Dole and former Health and Human Services Secretary Donna Shalala, a Democrat, to co-chair a bipartisan commission to study the care given wounded troops once they're brought home. Both are respected Washington veterans, and Dole would seem an inspired choice given his own hellish recovery from wounds in World War II.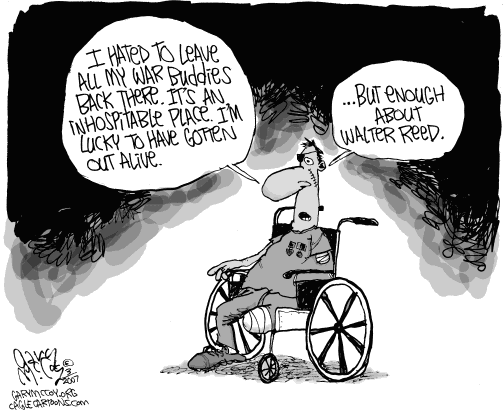 Walter Reed Vet
Artist Gary McCoy, Cagle Cartoons
Distributed to subscribers for publication by Cagle Cartoons Inc.


Bush also named a Cabinet-level interagency task force to come up with immediate improvements in the after-care of the wounded, a sad episode that had been simmering out of sight of the larger world until The Washington Post spotlighted it.
Separately, the Pentagon has begun a review of outpatient care and committees in both the House and Senate have begun hearings.
Contacted by distraught family members with wounded soldiers at Walter Reed, the Post documented dilapidated and unsanitary housing, unreasonable and arbitrary demands on the outpatients and soldiers left in bureaucratic limbo as they sought rehabilitation and benefits.
Walter Reed is a straight shot up 16th Street from the White House, regularly visited by VIPs and within easy distance of the U.S. Capitol and the Pentagon. If the outpatient care is so bad there, it makes one wonder what it is like at less visible hospitals where stonewalled families can't summon the heavy artillery of the Post.
The full story is not in, but Walter Reed seems a textbook case of how a bureaucracy can go wrong.
Despite its renewed importance because of the Iraq war, Walter Reed was targeted for base closing in 2005 as a money-saving measure, and it is easy to imagine the green eyeshades denying requests for funds to upgrade facilities on the grounds: Why pour money into buildings that are going to close anyway?
The onerous red tape and complicated reviews are intended to prevent fraud and abuse and not to be an obstacle to honestly deserved benefits, but over time in any bureaucracy, paperwork will take precedence over people.
The solution to this, especially in a closed institution like the military, is intensive scrutiny and oversight by congressional committees, veterans watchdog groups and independent audits.
The commissions, task forces, hearings and reviews should try to prevent problems, not clean up after the press discovers them.


Distributed to subscribers for publication by
Scripps Howard News Service, http://www.scrippsnews.com

Publish A Letter on SitNews Read Letters/Opinions
Submit A Letter to the Editor

Sitnews
Stories In The News
Ketchikan, Alaska