Obama's plans lack details
By ANN McFEATTERS
Scripps Howard News Service
February 26, 2009
Thursday

President Obama has taken to heart the cheerleading aspect of his job. We have yet to see how his plans will work in real life.
His proposed budget is like a dazzling magical, mirrored box -- reflecting what you want to see. It has money for health care. It promises an end to waste, fraud and abuse. It addresses climate change. The billions we spend each year on Iraq and Afghanistan are finally on the books.
But the (gulp) $3.55 trillion package Obama will send to Congress calls for deficit spending that may reach $2 trillion just for this year alone, even as he promises to cut the deficit in half in four years.
For the vexed middle-class, the budget proposes to make permanent the roughly $10-a-week cut in individual federal withholding in the stimulus package supposed to start in April. It also puts hundreds of billions of new taxes on the rich by phasing down the mortgage interest and charitable gift deductions for couples making more than $250,000 a year.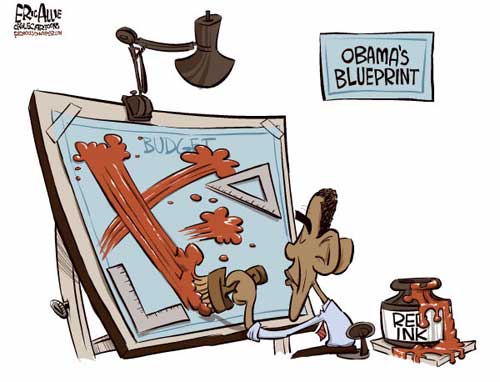 Budget blueprint
Eric Allie, Caglecartoons.com
Distributed to subscribers for publication by Cagle Cartoons, Inc.

One hitch -- nobody has seen details. Those are supposed to be unveiled (as in "all will be revealed") in April.
We are mesmerized by the cadences in Obama's speeches. His voice is reassuring and firm, even as he warns of tough times and tough choices.
But we don't have enough information to assess his plans. He wants to spend $634 billion on a down payment to expand health care coverage, to be paid for by tax hikes on the rich of $318 billion over ten years and another $318 billion to be cut out of Medicare and Medicaid through smaller payments to managed care companies, prescription drug manufacturers and hospitals.
It defies the imagination to see how that is supposed to work when both programs are struggling and drug companies, hospitals and managed care are enormously powerful on Capitol Hill. The special-interest lobbyists are already lining up in the halls of Congress.
We understand that Obama has been in office little more than a month, and that the economic catastrophes and many problems he inherited would make most people despair. Nonetheless, this crisis is more than a year old and we have shelled out so much money (borrowed against future earnings) and we have seen so little, if anything, for it, that we can't be faulted for complaining that it's time to meet the devils lurking in the details.
Even as he promises America will emerge from what will be the deepest, longest recession since the Great Depression, Obama did not sugarcoat our problems. Nine million people can't find fulltime jobs. Another 3.5 million people lost their jobs in the past 13 months. Millions can't pay their bills and have lost their retirement savings. The capital markets are frozen.
Obama wants to invest in new energy sources and a more energy efficient America. He pledged to repair crumbling roads, bridges, and schools and expand broadband lines across the country. He says we will invest in innovation and equip thousands of schools, community colleges and universities with modern classrooms, labs and libraries. All health records will be computerized in five years.
He'll make the military stronger and take care of our veterans. Companies that send jobs overseas will lose tax breaks. Wealthy farmers must lose subsidies. After imposing new caps on carbon emissions on users of fossil fuels to combat global warming, Obama proposes then to raise billions of dollars by selling permits to exceed those caps.
So many questions! So few answers!
Obama sought guidance from Franklin D. Roosevelt's presidency. But the world moves faster; people are less patient.
The 100-days report card for new presidents was an arbitrary, cutesy contrivance, born in Washington, with little relevance for real America. This year that won't be true. Enormous attention will be paid to the marks we all give Obama on or about April 30.
We'll know the details of the budget. We'll know if the markets stabilize, although the recession will last through 2009 well into 2010. We'll know if Congress will help or hinder. And we'll have a better idea if this new administration knows what it is doing or is just really good at rhetoric.
Scripps Howard columnist Ann McFeatters has covered the White House and national politics since 1986.
E-mail amcfeatters(at)nationalpress.com
Distributed to subscribers for publication by
Scripps Howard News Service, http://www.scrippsnews.com


SitNews ©2009
Stories In The News
Ketchikan, Alaska

Articles & photographs that appear in SitNews are protected by copyright and may not be reprinted or redistributed without written permission from and payment of required fees to the proper sources.