Protecting our ports
Editorial
The Providence Journal
January 22, 2007
Monday

The decision by Dubai Ports World to give up its planned takeover of several U.S. port operations is comforting news. First announced last February, the deal had been vehemently condemned by U.S. politicians as a security risk. Had it won approval, a half-dozen Atlantic and Gulf Coast container terminals would have been under the control of a government-owned Middle Eastern company.
It did not matter that Dubai, one of the United Arab Emirates, had historically served as a U.S. ally, or that security in American ports would continue to be handled the same way. The fact that some of the 9/11 hijackers had moved through the UAE, and used its banking system, made too many Americans uneasy.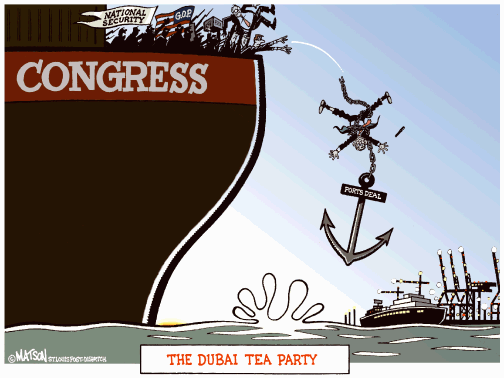 The Dubai Tea Party
Artist RJ Matson, The St. Louis Post Dispatch
Distributed to subscribers for publication by Cagle Cartoons, Inc.

Now DP World has announced that it will sell its U.S. operations to U.S.-based AIG Global Investment Group. Along with container ports in New York, Philadelphia, Baltimore, New Orleans, Tampa and Miami, AIG will acquire a New York passenger terminal, as well as stevedoring operations at 16 Eastern and Gulf locations.
Since the 9/11 attacks, U.S. ports have been regarded as potential transit points for nuclear or biological weapons. Placing these vulnerable sites under the control of an Arab government, no matter how ostensibly friendly, seems to be taking an unnecessary risk. With Congress prepared to reject the deal, it made sense for DP World to withdraw.
The episode may have done some short-term damage to U.S.-UAE relations. Already, it has driven some Middle Eastern investment dollars away from the United States. Unfortunately, though, given a threat as elusive as that unleashed in 2001, Americans cannot afford to be too trusting. The Middle East continues to harbor U.S. enemies, who might more easily ingratiate themselves with, or penetrate the security of, a Middle Eastern company than an American one. For the near future, certain sensitive assets must remain under U.S. control.
When the port deal first surfaced, many Americans were surprised to learn that numerous U.S. terminals were already being run by foreign companies. DP World, one of the largest, has operations in 24 nations. Its U.S. acquisition had essentially been approved behind closed doors - a maneuver that worsened public qualms.
In the future, such deals may fare better if they are proposed and debated in the open. The incoming Congress should pledge more vigilant oversight of agreements affecting homeland security, along with greater transparency.


Distributed to subscribers for publication by
Scripps Howard News Service, http://www.scrippsnews.com

Publish A Letter on SitNews Read Letters/Opinions
Submit A Letter to the Editor

Sitnews
Stories In The News
Ketchikan, Alaska