Happy Father's Day
By Martha Randolph Carr
June 15, 2008
Sunday

Here's to all of the great fathers out there who consistently put their families first. This Father's Day, instead of a gift purchased in a store like a tie or a new ratchet set let's return the favor and spend a little time just hanging around good old Dad.
We can show these men who tried to mentor us that we've learned a thing or two watching them all these years and bring along a good attitude as well. Pick out an activity, nothing showy or expensive but definitely something they'd like to do and just be there for them. Go bowling if that's his hobby, or try out a few golf swings at the driving range or just take a slow walk around the neighborhood. Be fully present and hang on every word without thinking about what you'd really like to talk about if you could only figure out how to change the subject. Save that for the next day when you can go back to leaning on Dad's shoulder. This day, even a lazy afternoon on the couch watching old reruns on TV is acceptable if that's what would make your dad happy.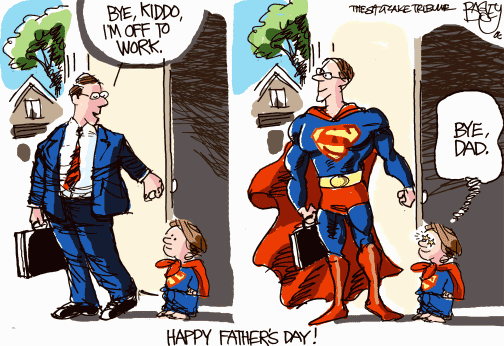 Super Dad
Pat Bagley, Salt Lake Tribune
Distributed to subscribers for publication by Cagle Cartoons, Inc.

You're giving back the gift your father has given to you since the day you were born. You're letting him know he matters so much you can't think of anywhere else you'd rather be. It's the one kind of re-gifting that's always acceptable and returning it never requires a receipt. It's what he was giving to you every time he put all of his other cares aside and just showed up because he knew it was important to you. No explanations necessary, he saw the look on your face and wanted to be there. Sometimes that just meant being okay with dropping you off two blocks away from the dance so your friends wouldn't think you were still a little kid. He still told you to have a good time and then inched the car forward slowly till you got safely in the door. A good dad is like that.
The fathers we are celebrating this Sunday thought you were important enough to get up early on their day off to help you deliver newspapers or stayed up late to help you figure out geometry even if it meant reading the chapter a couple of times really slowly.
They are the dads who show up at parent/teacher conferences and sit in undersized chairs because they want to be there. They showed up at your Wednesday afternoon soccer game after a long day at work and were particularly enthusiastic when you finally got on the field and then talked about how well you stood there, ready for action, even though the ball never even came near you. By the time it was over, even you thought your contribution was a little special.
Include on the list all of the dads who sat on the floor outside their teenage daughter's bedroom telling her through the door that not all young men are jerks and tried to make lame jokes as their voices caught in their throat. Keep a place as well for the ones who patiently taught their sons how to shave or tie a Windsor knot or the right way to treat a girl.
For everyone else, like me, whose great dad has passed away there's still one more thing even we can do to honor our fathers as well. Go out and find some kid who could use a little encouragement and some of your undivided attention and spend the day with them. While you're at it, every now and then, say a quiet little thank you to your dad for teaching you that sometimes the best gift we can ever give to anyone is a little piece of ourselves. More adventures to follow.

Martha Randolph Carr's latest book, A Place to Call Home is available wherever books are sold. If you'd like Martha to come and speak to your group: www.newvoicespeakers.com
Author's email: Martha@martharandolphcarr.com
©2008 Martha Randolph Carr. Martha's column is distributed exclusively by Cagle Cartoons Inc.



Publish A Letter on SitNews Read Letters/Opinions
Submit A Letter to the Editor

Sitnews
Stories In The News
Ketchikan, Alaska
©2008

Articles & photographs that appear in SitNews are protected by copyright and may not be reprinted or redistributed without written permission from and payment of required fees to the proper sources.