Careers
A Success Story: Interview with Janis McElroy
By Dawn Rauwolf
May 08, 2008
Thursday

Ketchikan, Alaska - We can look up to our local mountains and feel their steadfast dependability; so too can we look up to Janis McElroy as an example of perseverance and determination.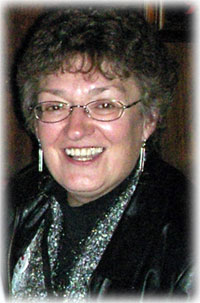 Janis McElroy
Though she started her career trek right after high school, throughout her life she has exemplified the qualities of an intelligent business woman by constantly keeping abreast of new technologies and opportunities. She is a lifelong learner, and highly successful because of it. In May of 2004, she graduated cum laude with an Associate of Applied Science Degree in Business Administration from the University of Alaska Southeast-Ketchikan. Her grades earned her the honor of Phi Theta Kappa membership. Today, McElroy is a self-employed bookkeeper and business secretary/office manager.
"Born and raised" in Ketchikan, McElroy exhibited dynamic qualities from a young age, to no one's surprise. In her senior year at Ketchikan High School, McElroy completed the Automatic Printing Calculator and the Ten Key Adding Machine classes, both of which were cutting-edge technologies for business students at the time. To this day, she uses the skills learned from those two classes. McElroy finished high school and went on to study at the ITT Peterson School of Business in Seattle. There, she completed the Bookkeeping/Clerical Course. McElroy returned to Ketchikan and in 1973 went to work in the Purchasing and Accounting Departments at the Ketchikan Pulp Mill.
While at the pulp mill, McElroy had many responsibilities, which included ordering supplies for every department. Her duties steadily increased each year. By today's standards, her office equipment was slow and gargantuan; McElroy says, "Before there were P.C.'s there were display writers. They were huge. Just big monsters. I could operate ours, and did for all of our letters and documents."
When the pulp mill closed, McElroy's job was still intact. She continued working as the Engineering/Technical/Environmental Secretary, as well as the overseer of a few more departments. In 2001, she decided, "that's enough, I've got to go." The closing of the pulp mill ended one phase of her life, but did not slow McElroy down. She recognized an opportunity to continue her education at UAS in Ketchikan. Her latest educational endeavor was accomplished with help from the Work Force Investment Act and the Trade Adjustment Act. The Job Center and the University worked together to coordinate McElroy's job retraining program. McElroy recalls, "Cathy LeCompte was very encouraging to me. Although it was tiring, I had to prove to myself that I could do it." McElroy thought she would "get a state job or something" after completing the 2-year program. She says, "I didn't think I'd be self-employed."
McElroy discovered that most UAS students and instructors were helpful. She remembers, "One gal - her name is Katy - came out to my house to help me with algebra. We would sit down and study together." Although McElroy needed that class to complete her degree, she says, "Have I used algebra? Absolutely not! I don't care what X plus whatever!" Though she does not use algebra on a daily basis, she notes, "Not a day or week goes by that I don't use something I've learned from one of my classes." An example she relates: "I was required to take a speech course. It was my turn to address the class and I was a nervous wreck. I did it and realized that I could stand up and speak in front of people. Taking that class made it easier for me to talk at the CHARR meetings. I learned that it's totally OK to be yourself. I learned that lesson at 51 years old! If I can do it, well" Her sense of humor, determination, and campus friends helped her to push through the difficult classes.
McElroy has never let anything intimidate her; she takes on each task as she takes on her life, methodically and determinedly. Cathy LeCompte, the UAS - Ketchikan Campus Director, remembers, "I was a faculty member in the Business department when Jan enrolled in the 2-year Business Administration program. Although it is not easy to complete, Jan's can-do attitude gave her an edge." Because of her winning demeanor, she now enjoys her career and her life entirely on her own terms. She chose to continue her education after retirement and her credentials are stellar. UAS-Ketchikan has been McElroy's latest stepping-stone to personal success.
On the Web:
University of Alaska Southeast Ketchikan
www.ketch.alaska.edu/

E-mail your news & photos to editor@sitnews.us


Publish A Letter in SitNews Read Letters/Opinions
Contact the Editor
SitNews ©2008
Stories In The News
Ketchikan, Alaska